I never did have a masochistic streak, but when I booked a trip to tropical Far North Queensland in the middle of summer – and during a time when deadly box jellyfish means you can't even swim in the ocean – people started to wonder. Worse still, I brought along my English boyfriend, a Northerner who's idea of hot is Lisbon in spring. In my defence, we both really wanted to see the Great Barrier Reef and we only had a few weeks to spare in Australia, so a summer sojourn to Cairns was necessary.
We went into the trip with mixed emotions – me: curiousity, him: fear – but on the whole, it turned out okay. We enjoyed our three-day stint much more than we thought we would. Read on to learn how to make the most of a trip to Cairns during the boiling summer months.
All the water
You've heard it all before but I cannot emphasize enough the importance of H20 when you take a trip to a tropical city during the hottest time of the year. We went through three or four two-litre bottles a day and could easily have drank more, so be sure to pack plenty of water during your travels through Far North Queensland.
Think before you drink
With temperatures and humidity levels being what they are in Cairns, drinking heavily before a big day of adventuring isn't the smartest move. We enjoyed a few wines while away but kept it pretty chilled overall, which worked for us considering our hectic schedule.
Don't walk, rail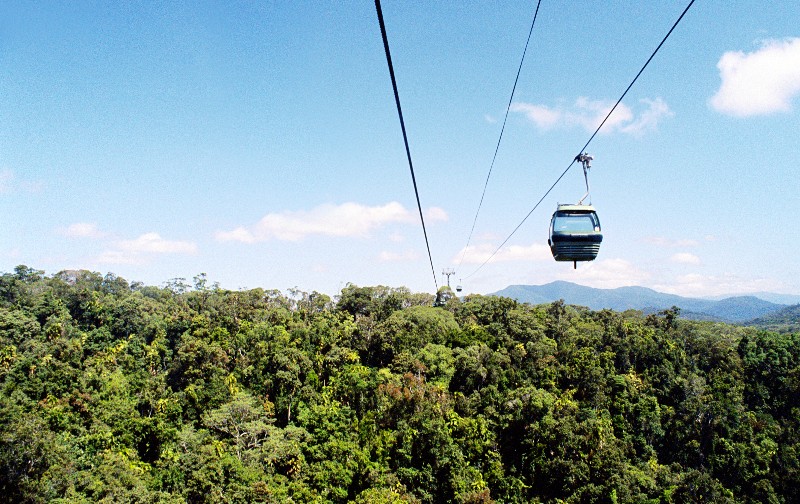 We only had two full days in Cairns so when we got there we hit the ground running, despite the heat. First up was breakfast at a cute cafe close to the Cairns Esplanade called Little Loco while we got our bearings. The food at Little Loco amazing, by the way, there were lots of healthy superfood-type bowls that you'd expect from a coastal Australian city as well as your classic brunch eats on offer, so it's definitely worth a visit while in Cairns. Despite our – mainly his – trepidations about the heat, we thought we better check out the local rainforest known as The Wet Tropics via the Skyrail Rainforest Cableway and the Kuranda Scenic Railway. Together it set us back only $110 and the trip was well worth it.
Far North Queensland's World Heritage-Listed rainforest known as The Wet Tropics is one of the oldest on earth. If you like variety, you'll love this setup: there's twelve hundred species of flowering plants, eight hundred different rainforest trees, orchids, strangler figs and exotic palms in The Wet Tropics, as well as countless animal species calling this rainforest home.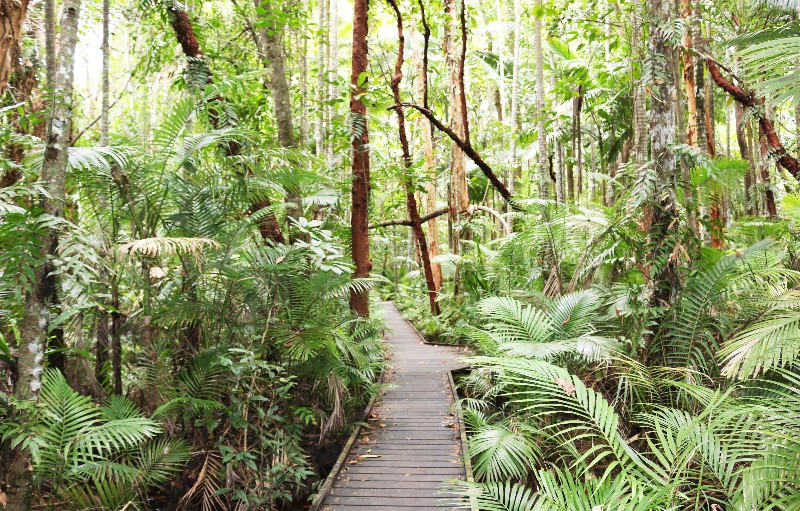 Remarkably, the heat wasn't so bad. Taking the Skyrail up to Kuranda meant we had a pretty breezy first hour and enjoyed beautiful aerial views of the treetops and the mighty Barron Falls below. Visiting Kuranda – a historic village in the middle of the rainforest – was definitely on the warmer side, but we both had an ice cream and kept a slow walking pace, so that was fine. We even managed to do a little rainforest trail walk around the outskirts of the village.
Our train journey back down was also pleasant. We had a big, spacious booth to ourselves, and the train's large open windows meant the ride was nice and cool. So nice and cool in fact, that my English companion fell asleep! He missed loads of interesting commentary, but I enjoyed being a know-it-all for the rest of the trip. To top it off, a nice man who worked on the railway also brought around cold towels for us. 
Sidenote: Unfortunately we couldn't squeeze in a trip to the Daintree Rainforest on our timetable, but you should. Follow this link for the best day trips to the Daintree Rainforest from Cairns.
Spend a day on a boat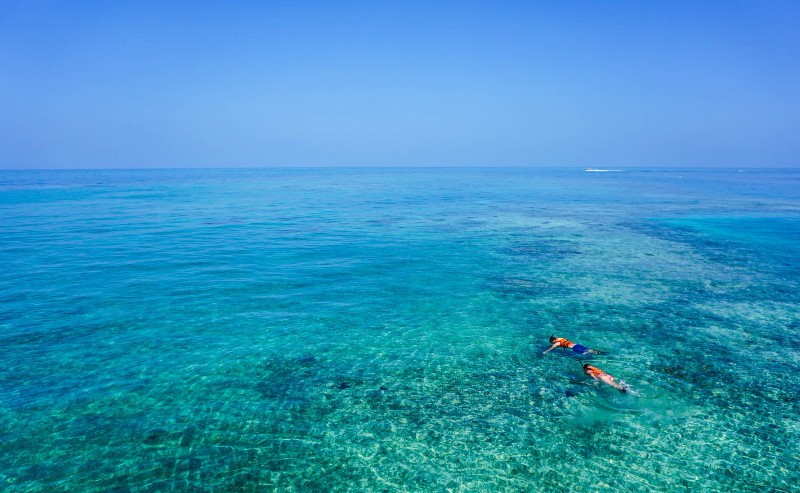 If you're visiting Cairns and you don't check out the Great Barrier Reef then we can no longer be friends. We did – I'll be writing all about it on The Guidebook soon – and it was amazing. As well as the awe-inspiring experience of seeing one of the wonders of the world, the trip is also great for keeping cool. The whole day was spent in and out of the water and relaxing on the boat with the wind in our hair – it got a big thumbs up from my flustered English traveller.
Or throw yourself out of a plane..?
I didn't do it myself, but I have it on good authority that Cairns is the place for skydiving. Hurtling through the air from heights of 14,000ft will provide winds better than any air conditioner.
Visit our saving grace

City slickers will revel in the blissful open-air lagoon on the Cairns Esplanade. Constructed just a few years ago, the man-made beach is in the heart of Cairns and is open to everyone free of charge. It was one of our favourite hangouts while we were there. The lagoon is open from 6am every day except Wednesdays (when it opens at noon) until 9pm in the evenings, so even after a day of activities you can head down to the Esplanade for a quick dip. Lifeguards keep an eye on things throughout the day too.
With just a few tricks up our sleeves, our trip to Far North Queensland in the middle of a scorching Australian summer was much more painless than we initially thought. And if an Englishman can enjoy a stint in Cairns during summer, you can too. Just follow these tips and tricks and be sure to share your experiences with us in the comments section below. Now on to the next holiday – I'm thinking somewhere bitterly cold…