Ready for a road trip? You don't have to decide between Bilbao and Barcelona, you can do both! From Bilbao's delicious pintxos to Barcelona's mouthwatering tapas, it's a mini-road-trip that combines the soft breeze of the Atlantic ocean with the mild winds of the Mediterranean. It's easily done by car, train or plane. Jump in and let's get going!
Bilbao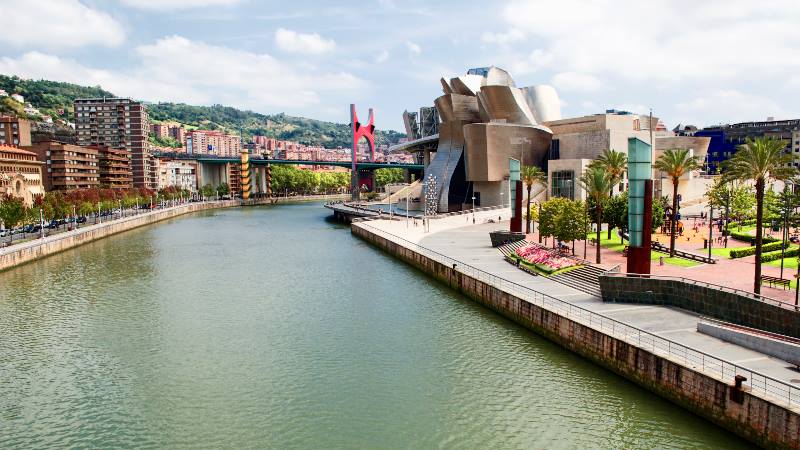 It's a little embarrassing to admit, but I seem to plan most of my trips around food. My calendar should read coffee-breakfast-snack-lunch-treat-drink-dinner-dessert-tea etc. instead of times and numbers. Bilbao works just great with this schedule! The city is easily digested in small doses, as the only really major must-see is the Guggenheim Museum. Try to get there very early or very late, to avoid crowds. Once inside, don't rush around but idle about and let the building enfold you.  Enjoy!
The contrast between Guggenheim and the older buildings in Bilbao is interesting, and I really like the way they compliment each other. To balance the difference, I took the metro (only 6 stops) to see the amazing Vizcaya Bridge and its' hanging condola, which crosses the river Nervion to the town of Getxo. The Bridge has been declared a World Heritage Site by UNESCO.
Back in the city, one more innovative architectural site caught my attention; Azkona Zentroa, a contemporary cultural centre. Its' run-down old brick buildings have been restored and are now sustained by 43 different, sculpture-like pillars designed by Philippe Starck. Very intense!
On the road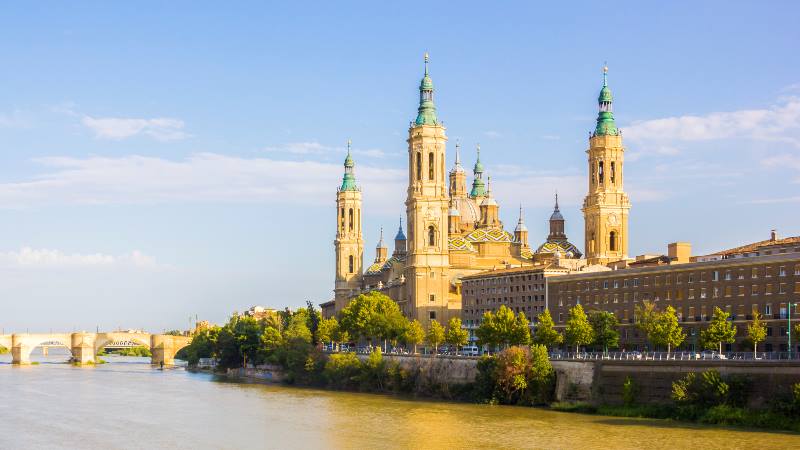 The flight from Bilbao to Barcelona takes only a little over an hour, but we decided to drive. Making short breaks over coffee and lunch (again, food is what is important!). By car, it took close to seven hours. The fastest route is the motorway passing the city of Zaragoza, and the roads through Pamplona take a little longer. We stopped in Zaragoza, which would have been worth a more extended visit. We just quickly checked out the baroque Nuestra Señora del Pilar Basilica, a famous pilgrimage site.
I don't usually like driving, but on this trip, the views made it very pleasant and not boring at all. Distant mountains, endless vineyards, traditional olive groves, fruit trees, cornfields, medieval villages and factory areas, so much to see!
Barcelona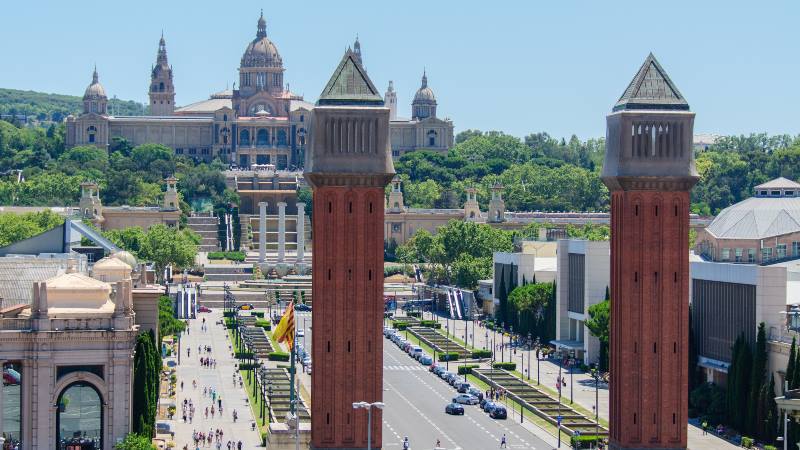 Thank you, navigator, we would not have made it without you! Barcelona is filled with one-way streets, that force you to manoeuvre bizarre routes. Once the car was returned, moving around by foot felt easy and straightforward.
On this trip, I spent a whole day walking around Vila de Gràcia, a neighbourhood in the Gràcia district. It was a Saturday, so the streets were filled with local farmers produce, arts and crafts, live music and board games for the children. Families had packed their babies, grannies and dogs along, and they were happily enjoying the day off eating tapas and meeting with friends. I could get used to this, lovely lazy days!
Wanting to avoid the crowds at Las Ramblas and having seen the Gaudi architecture before, I decided to visit the Castell de Montjuïc on Sunday. It's located on top of hill Montjuïc, in the middle of a park area very close to Barcelona's city centre. It was a fantastic way of spending the day outdoors. I had some exercise, enjoyed great ocean views, hoped to find dragons hiding in the dungeons of the old castle (did not) and finally cheated on the way back down by riding the exciting Funicular carriage. Again, it paid off getting up there early, as it seemed to get very busy after midday.
Cafes, bistros and bars!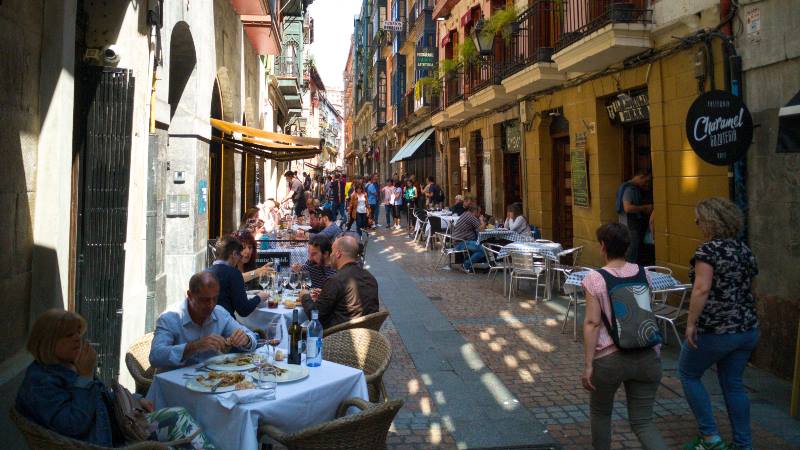 Since my travels are all about food ?, I have to confess that there were so many nice cafes, bistros and bars in Bilbao and Barcelona, that I can't make a complete list. If I had to choose, highest marks would go to 'Bistro Guggenheim' in Bilbao, which served a delicious and reasonably priced lunch, and to 'Lascar 74' in Barcelona, a tiny peruvian inspired seafood restaurant.  For a relaxed holiday mood, simply follow the locals and stuff yourself with endless pintxos and tapas, enjoyed with dry and cloudy ciders or basic lagers and wheat beer.
So, there we are. Bilbao and Barcelona. Two great cities and one perfect road trip. Osasun, Salud and salut, my Basque, Catalan and Spanish friends!