Think of Milan and there are possibly three words you'll come up with. Were they these? Fashion, football (AC Milan and Inter) and industry. All very relevent, and reason enough to come and visit. But that's not all, there are other reasons to come here! This powerhouse of an Italian city boasts one of the world's largest cathedrals (The Duomo) and one of the most famous and talked about paintings by a certain Leonardo da Vinci, the Last Supper. There's creativity running through every street, on every corner. So it's not just fashion, football and industry, there's history and culture too.
Let's start with the fashion. It's home to some of the most well-known fashion brands. Prada, Dolce & Gabbana for starters. No wonder they associate the word chic alongside Milan. Then there's the football. Italians are a passionate people at the best of times, but their football takes that passion to new highs. Well worth watching a game if you can. Away from the shopping and sport, you have a city that offers plenty of art and culture and good food.
We've picked out four places you must visit in between the shopping, cafe sitting and eating. If you're wondering, the Quadrilatero d'Oro is Milan's famous shopping street and eating (saffron risotto) is a Milan must do.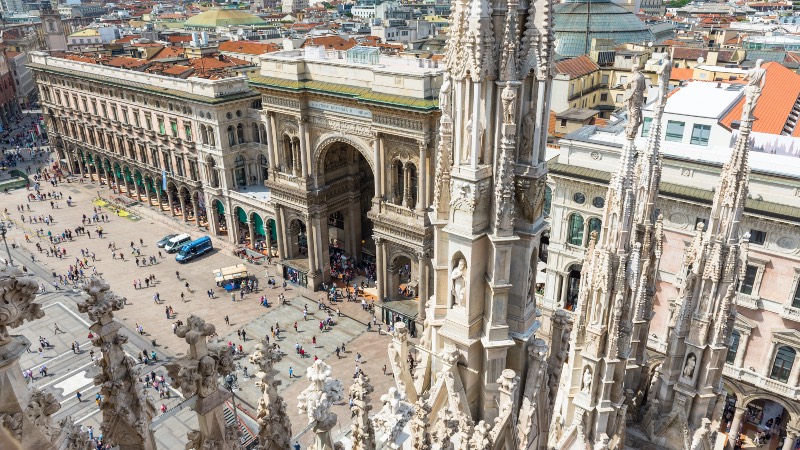 It's the gothic masterpiece that dominates the main square. Rising high into the Milan sky, all spires and statues! You can head up to the rooftop for some fabulous views, so allow time for that. Then inside you'll find plenty of other treasures, including stunning artwork. It's just a place that draws you in, and testament to that are the queues. Top tip, book skip-the-line tickets to ensure you whiz by the queuing crowds.
This painting has influenced best-selling novels and films. So, once you've got your ticket, stand there and take it all in. It won't be long before its mysteries take your mind on an epic journey. Just don't get lost in the Da Vinci code!  You can read more about it's appeal in our article – Da Vinci's Last Supper.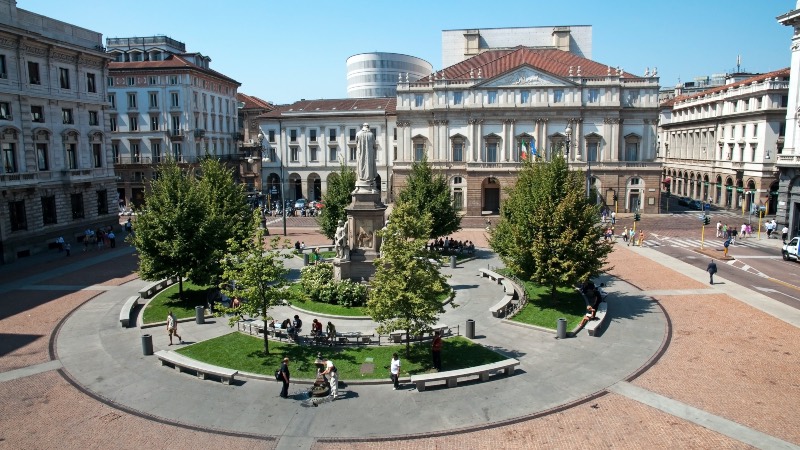 How many top music venues can you name? One or two, I reckon. Sydney Opera House, Royal Albert Hall and perhaps Madison Square Gardens. La Scala is up there with the best of them. It's world-renowned as being one of the top opera houses. A place the greats of the opera world have sang at. From the costumes to the instruments, there's the history to learn and famous moments to uncover. Get lucky and you might, just might, see artists rehearsing. Now that would be special.
The San Siro is a different cathedral to the one found in the centre! Yet a visit here can be as thrilling as The Duomo. If you're a football fan, that is! The towering home to AC Milan and Inter is one of Europe's most famous stadiums. Tour the changing rooms (contrasting), head into the tunnel and media room. Walk out into cauldron itself. Nothing shy of spectacular.
Come to Milan and it's part of the culture to look good. Discover its thriving art and culture scene through the eyes of the fashion and modern art. Yes, it's a business city but with such highly regarded attractions and history, it'll soon draw you in. So you can make that five words to summerise Milan, fashion, football, business, history and culture.
Have you been to Milan? Got some top tips or other attractions you'd add to the list? Comment and help us share in the Milan love.