Last year the only attraction I queued for was the supermarket, and the only hope of queue jump was rigorous retraining in order to work for the NHS. Now, don't get me wrong, my essential food shop was undoubtedly the highlight was every lockdown week but, this year, I'm looking to switch things up a little. Or a lot.
What better way to send off this sense of stasis than defying gravity and hurtling off on a wild and unpredictable course through the best theme parks in LA. If you ever needed a reason to visit LA, here's four…
Six Flags Magic Mountain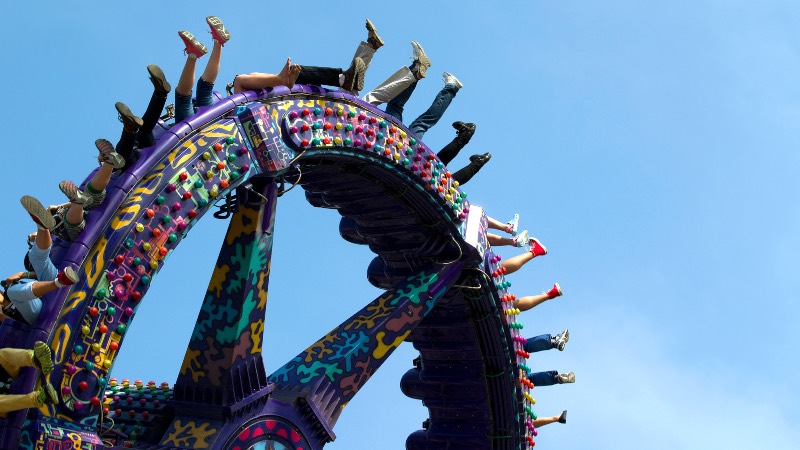 Best for: Rollercoasters
Does screaming yourself silly and adrenaline overdosing sound like the dream day out? Then look no further, Magic Mountain is the place for you. Six Flags boasts more rollercoasters than any other park on the planet with not one, not two, not three (…you get the picture!) but nineteen different coasters spread across its acres. Buckle up and blast off into stomach churning corkscrews, loop-the-loops and daredevil drops!
But don't worry, if the words 'dangling', 'plummeting' and 'free-fall' don't fill you with glee, or you find the feeling of your heart in your mouth just generally unsavoury, there's still plenty of fun to be had! For low-key thrills there's plenty more rides, live shows and character meet-and-greets to keep you keep you busy.
Best for: Behind-the-scenes sneak-peak
Universal Studios really ups the game when it comes to studio tours. If you're expecting a sedate informational walk-through filming history you're in for a big, animatronic surprise. Duuuunnnn duun… duuunnnnnnnn dun dun dun dun dun dun dun dun dun dun dunnnnnnnnnnn dunnnn! (Spoiler alert)
A shark attack is only the start: come face to face with a tyrannosaurus rex, shelter from a tidal wave explosion and fight a hippogriff in the Wizarding World of Harry Potter. This highbred studio tour come theme park is a must on any LA itinerary.
Pacific Park, Santa Monica Pier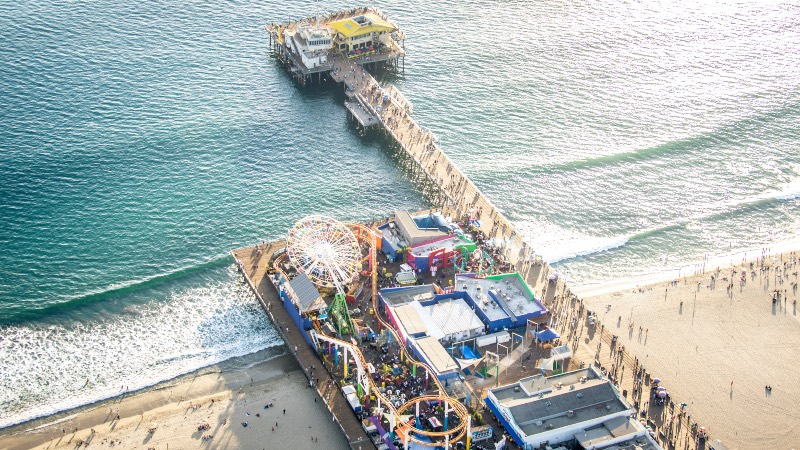 Best for: An iconic LA experience
In contrast to white-knuckle thrills of the bigger parks, Santa Monica's century-old pier offers a nostalgic kiss-at-the-top-of-the-ferris-wheel fairground experience. Open 24 hours a day 365 days a year, Pacific Park is the year-round photography destination; watch the sun melt into the Pacific Ocean on a sunset stroll or see the lights dance over the waves early into the morning. Admission is free but bring some cash for a round of whack-a-mole, a corndog and a ride on the world's only solar powered Ferris wheel.
Best for: Big kids to run wild
What could beat a park filled with fantasy, adventure and magic? TWO parks filled with fantasy adventure and magic, or so it goes in LA.
Disneyland Park and neighbouring Disney California Adventure Park require multiple days if you want to cover all the areas. Toon Town, Adventureland and Galaxy's Edge are just a few of the highlights and, whatever you do, be sure not to miss the parade. Here, Mickey is known for his big ears…and pyrotechnics!
So, movie buff, big kid, adrenaline-junkie or traditionalist. Which one are you?