Have a look at this place! A natural harbour which was once the home for Jurassic creatures and now, well, a playground for the tourist. Well, I never! It could only be Poole Harbour.

Welcome to Poole Harbour on the South Coast of England. A little left of Bournemouth and a little right of Weymouth. Say hello to one of the UK's most beautiful coastlines, the Jurassic coast, with Poole as its starting point. Thinking about heading this way for a southern coastline adventure? Then get ready, let's set sail!
Introduction to Poole Harbour
Search on the Poole website and they boldly announce that it feels like Sydney! Well, they aren't wrong, as this maritime town with its natural harbour and beautiful beaches, plus it's own micro-climate, feels far removed from the rest of the Southern England. Add in that it's the backdrop to the Jurassic coast and you have the perfect destination recipe.
Poole Harbour is the largest natural harbour in Europe, a place to enjoy all sorts of watersports, along with watching nature and enjoying walks along the coastline. Poole Harbour is home to more than 360 different marine species, making it an important eco-system as well as a tourist destination.
The above are good reasons to take a holiday down here. Let's delve in a little deeper and discover why.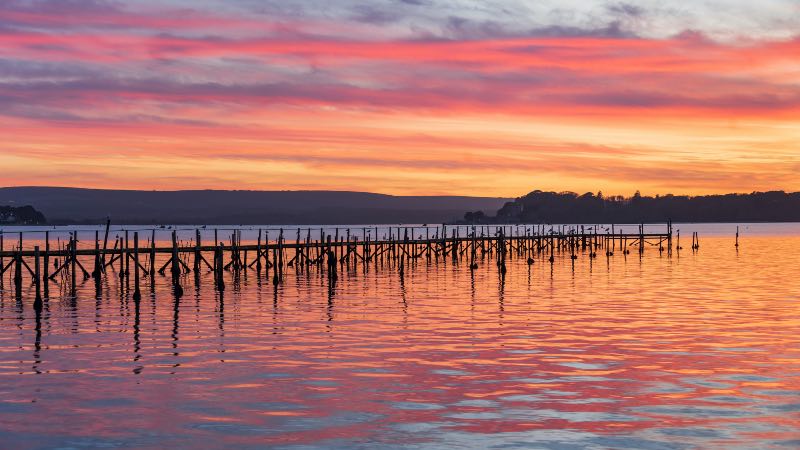 Things to do
There's a distinctive aquatic feel to Poole. Perhaps the natural harbour has much to do with that. It's actually the largest in Europe and you'll find there are 8 islands dotted around the bay too.
The place to start your touring though is in town, at the historic quayside. Tall ships and luxury yachts are moored here and is well worth mooching round. Then you can head for one of Poole's top restaurants and cafes to relax, and do some people watching. Poole Museum has free entry, yay, and with the Poole Trail interpretation panels you can read about Poole's past as you explore. The old town is also well worth wandering around, and you can imagine the sea captains and pirates once stepping where you step today.
Sandbanks beach is worth time at. Yes, it is a sandy beach here, and will get popular during the summer months. Especially when the sun shines. Oh, those mad dogs and Englishman! There are plenty of walks and cycle paths to discover, so you really can't sit still for long.
Take a cruise out into the harbour itself, and you really should check out the National Trust owned Brownsea Island. It's a wildlife sanctuary, so explore, discover and enjoy a picnic on the beach.
You'll have to get a boat out there, which can be taken from Poole Quay, but this small inconvenience is nothing compared to the joys of visiting the island.
Beyond the harbour
As mentioned, the Jurassic coastline heads off west of Poole, and if you have the transport, best to use your own vehicle, there are some beautiful places to discover. Use Poole as your base and explore the region is your best option.
The quaint seaside town of Swanage and Corfe Castle, are super places to spend a day. The town has the old seaside resort feel to it, a nice beach and plenty of activities including the wonderful Swanage Railway. One for the steam train enthuiast there. Corfe Castle, which you can't miss on the road into Swanage, is a small, quaint village and has a ruined castle. It's a place well worth spending time at and learning about how important the castle once was.
A little deeper into the Jurassic coastline, you'll find Durdle Door (pictured above). A natural rock formation. Sit up high on the grassy banks above and admire the view.
To the East you have Bournemouth, one of the UK's premier seaside towns. The sandy beaches stretch for miles and are the place for entertainment and seaside fun.
The pull of Poole though will draw you back, perhaps for some serious water sporting fun? Or the lure of the beach! Either way, time spent here is a delight, and yes, it really is like Sydney, just with the bridge!