Valencia is a city that is a brilliant mix of the ancient, medieval and ultra-modern.  Roman era monuments stand proudly alongside Christian cathedrals and Moorish style buildings.  The past is surrounded by futuristic bridges, gleaming exhibition centres and towering glass and steel buildings.
It has a huge commercial port.  Vibrant cultural and social activities combine with an enviable nightlife matched by the sparkling Mediterranean Sea.  This Spanish jewel on the Costa del Azahar (Orange Blossom Coast) is a city that is proud of its history but does not dwell in it. Rooted in the past but is happy in the present.
Join us as we show you what Valencia has to offer.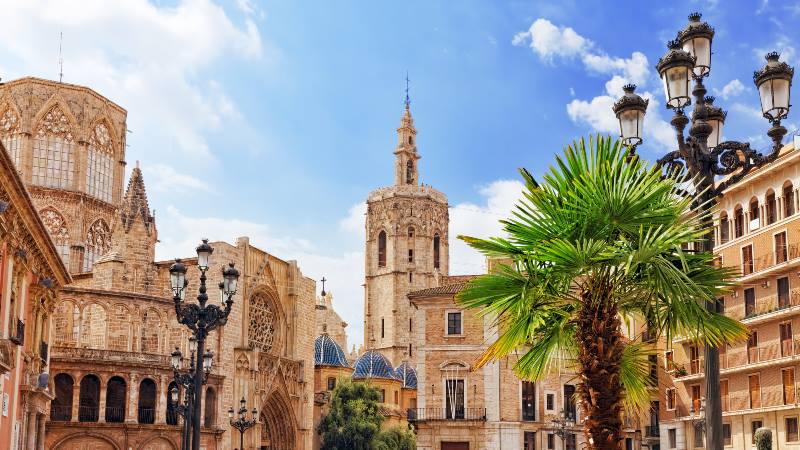 Basílica Metropolitana de la Asunción de Nuestra Señora de Valencia is a fabulous and eclectic building exemplifying Valencia.  A visit to this church is like seeing all of Valencia's history in one place; a history record – in stone.  It stands in the centre of what was once the Roman city.  Its original foundations are that of a temple dedicated to the goddess Diana that became a Visigoth cathedral, which became a Moorish mosque.  During the 13th century it was expanded and converted into a Gothic style church.  The 18th century involved restoration, building of the current façade, rounding of the Gothic arches and introduction of Corinthian columns.  It contains two wonderful paintings by the incomparable Francisco Goya.
However, the Cathedral is not all about stone.  The Tribunal de las Aguas (Water Court) dating from Moorish times still hears and mediates on matters relating to irrigation water.  The court sits at noon every Thursday outside the Puerta de Apostoles (Portal of the Apostles).
The City of Arts and Sciences
Santiago Calatrava is to Valencia what Anton Gaudi is to Barcelona.  His creations are everywhere and one of the most remarkable (in the world) is the fabulous Ciutat de les Arts i les Ciències (City of Arts and Sciences).
This sci-fi looking complex sits on the now diverted Túria river-bed.  It comprises of an opera house, a science museum, an IMAX cinema, planetarium, Europe's largest aquarium and restaurants.  Every one of the structures is a masterpiece of modern architecture. Also you can visit for a good price.
The Old City (Ciudad Vieja or Ciutat Vella) Of Valencia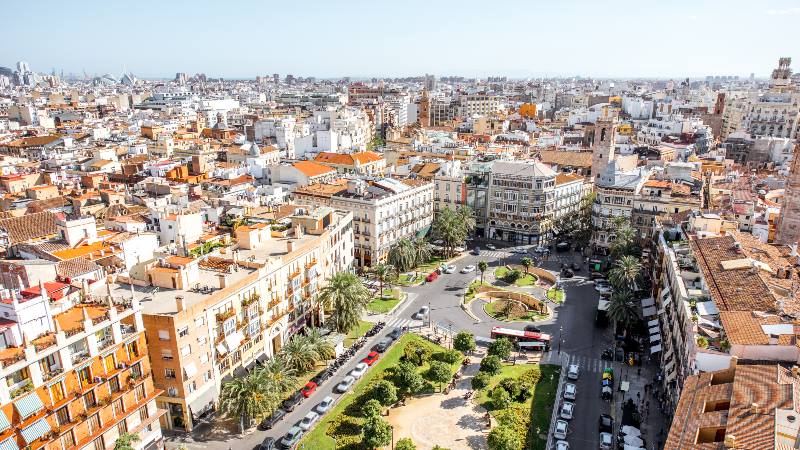 The old city is one of the best surviving, most beautiful, and well-preserved historic city centres in all of Europe.  It is a picturesque maze of ancient winding streets and 17th century (and older) buildings.  The loveliest section is the Barrio del Carmen.  Packed with churches, towers, museums, Roman walls and buildings covering every era of Valencia's history.  The old city is one of the most satisfying experiences in Valencia.
The Silk Exchange – La Lonja de la Seja
The extraordinary market was declared a World Heritage site by UNESCO in 1996.  It is a 15th century, early Gothic structure with a strong Valencian flavour.  One of the finest examples of Gothic architecture in Europe, the contract rooms and the series of spiral columns are stunningly beautiful.
La Tomatina, August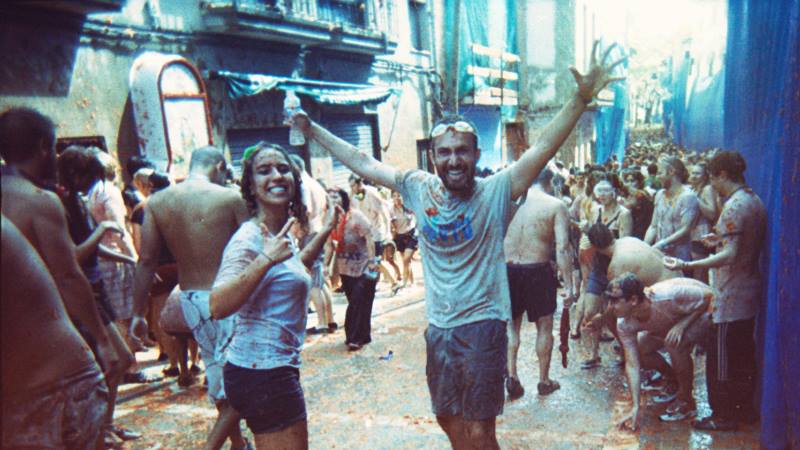 Buñol is a small, quiet town in Valencia province, not far from Valencia.  Every year on the last Wednesday in August it goes crazy when people from all over the world come to indulge in a tomato fight of epic proportions.  For just one hour the central square is a slippery red mayhem.
Today, the local authorities organise the spectacle and 150,000 kilos of tomatoes are trucked in from the Extremadura region as ammunition for the festivities.  Wear goggles if you are going to join in.
Mercado Central – Central Market
How such a glorious building was conceived as a market is incredible!  Buiilt in 1914 it still seems more modern than many a new skyscraper.  Its modernist styling and size makes it one of the largest and oldest markets in Europe.  With over a thousand stalls selling an unbelievable number of products, this graceful building boggles the mind.
While most stalls sell food there are also souvenir shops and restaurants are located inside the market.  It is a popular destination for tourists and locals alike.  The atmosphere is not to be missed.
It is open every day except on Sunday from 07:30-14:30.
Indulge in a Paella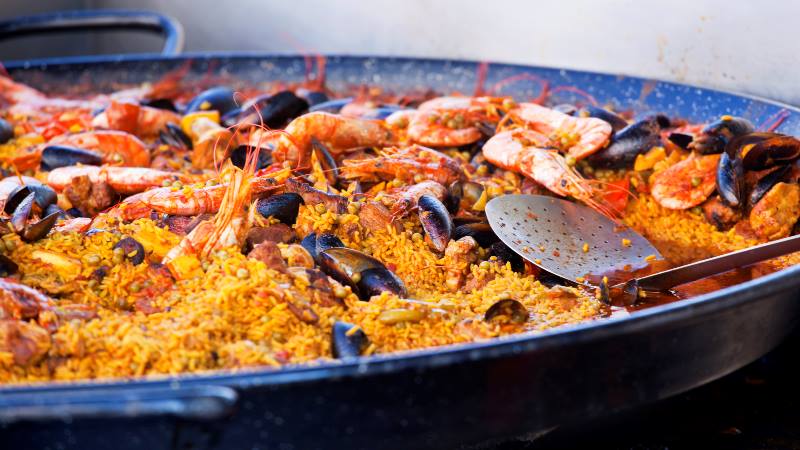 If ever a dish could be identified with a single city, then it would have to be paella.  This wonderful mouth-watering Valencian creation is rice-based.  Thereafter the chef's creativity takes over, adding anything from onions, tomatoes, beans or whatever vegetables are available to use.  Richer paella can consist of rabbit, snails, duck, meat and chicken too.  The contents of a paella pan once defined the status people.
Every restaurant in Valencia serves delicious paella.  Many establishments put paella filled pans in the window to advertise and draw in the clientele.
The Turia Gardens
The Turia Gardens are testament to man sometimes getting it right.  The River Turia flowed through the center of Valencia till the 1960s.  Several disastrous floods saw the authorities diverting the river to the south of the city.  The result today is the creation of the Turia Gardens – a spectacular setting for sports fields, walking, jogging and biking trails, plenty of trees and no motor traffic.  The Gardens are a wonderful oasis where you can spend several happy hours relaxing with a picnic meal.
Celebrate Las Fallas – Uniquely Valencian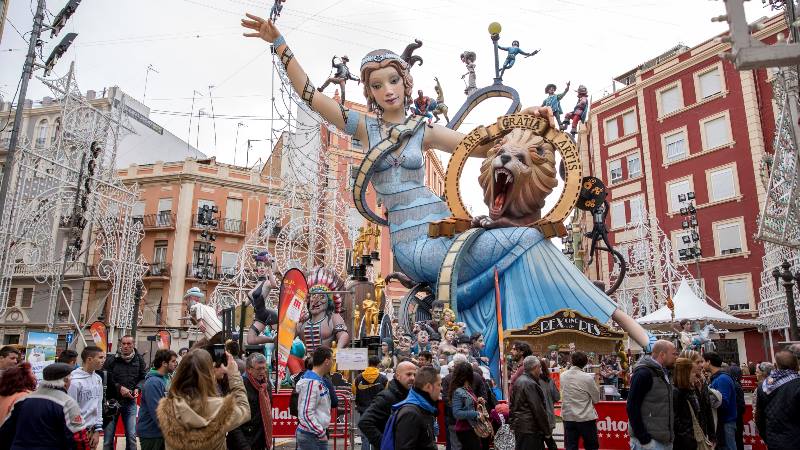 Come the month of March and its time for Valencia's largest and most colourful festival, Las Fallas.  The festival pays tribute to two distinct events.  The ancient reason was to bid goodbye to winter and welcome the advent of spring.  The other relatively recent one is to honour St Joseph, the carpenter.
Groups of people or communities build huge intricate and exotic floats populated by gigantic puppets (ninots in Spanish) and parade them through the streets.  There are plenty of fireworks, music and dancing all day and sometimes all night for a week.
At the end of the week – midnight 19th March – the fallas are burnt, accompanied by cultural and religious ceremonies.  Each year, one ninot, is 'pardoned' – by popular vote. Instead of being burned, it is installed in the local Museum of the Ninot.  This final act to the festivities is known as La Mascletà.  It is an exciting festival and anyone can join in.
Valencia Beaches
Valencia's eastern boundary is the azure Mediterranean Sea.  This beautiful body of water has blessed the coast with many of Spain's finest beaches.  It is magnet for sun worshippers; water sports aficionados and people who enjoy the sea.  There are wonderful beach restaurants and bars serving up delicious dishes.
The main city beaches are Playa Malvarrosa and Las Arenas.  Up and down the coast and not too far away are several more great beaches.  To the south are Pinedo, El Saler beaches and to the north lie the spectacular Puig, Canet and Puebla de Farnals beaches.  So go ahead and work on that tan.
Now there's no reason why Valencia shouldn't be on your places to visit!