For a city once voted as being among the world's worst, Tirana has certainly turned itself around. For the Albanian capital is now a different proposition. Yes, it's still a little chaotic, but it's a pleasant city to explore, friendly and colourful. We can confine the once grey image to the past. It's all change!
Make no mistake, Tirana is a much-changed destination. A city that is welcoming, and if you seek it out, full of colour and interesting places to visit. The beauty of this city lies in that it's easy to explore. You can easily cover the centre in a day. So, enjoy the city trappings and then head out into the surrounding countryside or head for the seafront. There's no disputing, the rest of the country will also deliver if you choose to seek it out.
A day in Tirana
A top tip: start at the centre and work your way out, then you'll be sure not to miss a beat. There are public squares to embrace, and many streets are pedestrianised, so makes wandering on foot the perfect way to get about. Sheshi Skanderbeg Square is the best starting point. Here you'll be able to watch Tirana go about its daily business, Albanian style, of course.
Then, once you've soaked that all in, head for a museum or gallery. The National History Museum is the largest and most in-depth and the National Gallery of Arts traces works from the early 19th century to today. There is also Bunk'Art 2. A smaller museum inside an old communist-era bunker. A place well worth exploring.
Talking of unusual places, seek out Piramida. It's a concrete pyramid. It's not large, but if you like the usual, then this is your kind of attraction. One thing you'll notice as you wander around are the cafes, so take a moment, enjoy a coffee. Sip and take it all in, and ponder your next move.
You'll have now experienced the newfound buzz of the city. So, it's also worth checking out the primary colours on display in the centre and around the neighbourhoods. They certainly add light to what was once best described as a very grim city. Complete your day with a walk in the Parku I Madh (Grand Park). A perfect way to end a busy day exploring this little city.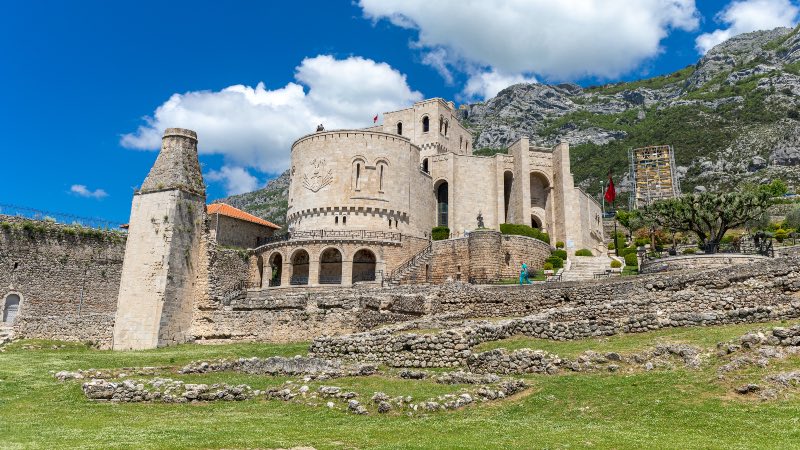 Heading out of town
Time to head out, explore the region a little. Mt Dajti National Park is only 25km away, and is an accessible place to head to get away from the city. You can catch the cable car, called Dajti Express to the top. Which is 1161m up. Find a spot beyond the cable car station, enjoy a picnic and the view.
Other options to get away include heading for the wine-growing regions. There are specific tours that'll combine a visit to villages like Kallmet and Fishte. Worth it to sample the wine and enjoy the landscape.
More inspiring places include Shakodra in the North of Albania and Berat city. Each place will show you more of the culture and history of this, let's not forget, once closed country.
Tirana though is your base, you'll find the people friendly, and happy to welcome you into their cafes and restaurants. It was a city once grim, but now is colourful and forward thinking. Now that's worth exploring.