There is something interesting on every corner of wonderful Singapore. A stroll in a public park opens a world of bizarre art, the glitz and glamour of an upscale locality breed a coral reef and secret tunnels underneath a hospital. Curious? Read on…
A 'Wackathon' at Haw Par Villa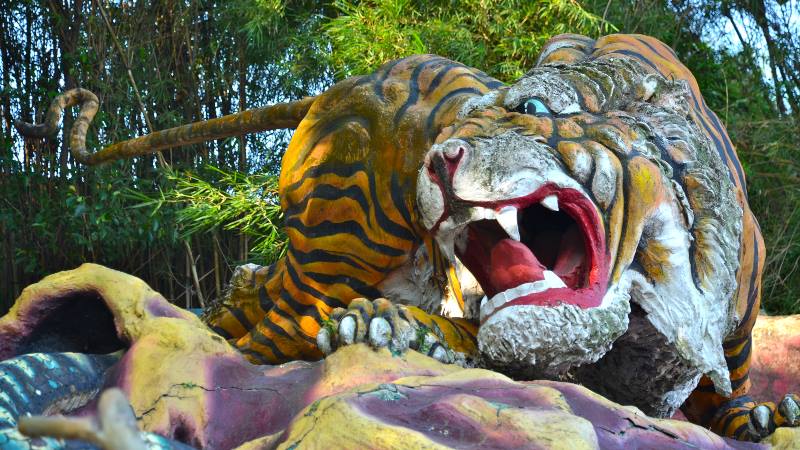 Tired of the tall buildings and malls, then drop by at this "weird" park built in 1937 by the inventors of the famous Tiger Balm. Haw Par Villa seems like a Singaporean version of Salvador Dali works – colourful, surreal and merely bizarre. There are statues of pigs pulling a goat's cheek. Naked mermaids swimming in a pool or tortoises riding ostriches. There's even a laughing Buddha who is seriously having a good laugh. The main highlight of the park is the 'Ten Courts of Hell', which in gruesome detail describes the consequences of sin as mentioned in Buddhist teachings about the afterlife. By the way, did we tell you the best part? The Haw Par Villa is FREE and open to all!
The GREAT Junkies Corner
It was just one of those times that I lost my way in Turf Club, that I came across this huge warehouse filled to the brim with random stuff. Love your junk and have the patience to sift through the many, many things piled up at this place, then you are more than welcome to enter. Junkies Corner has literally everything. From tables, dining chairs to robot toys and mirrors. Antique telephones, wooden hot tubs (yes, things like these exist), knives, keychains etc etc etc. If you like something, just dig into the mess (mind the cobwebs!), take a picture and show it to the staff and they will quote a price. You can also give your haggling and negotiation skills a try.
Forest Gumption in Rainforest Lumina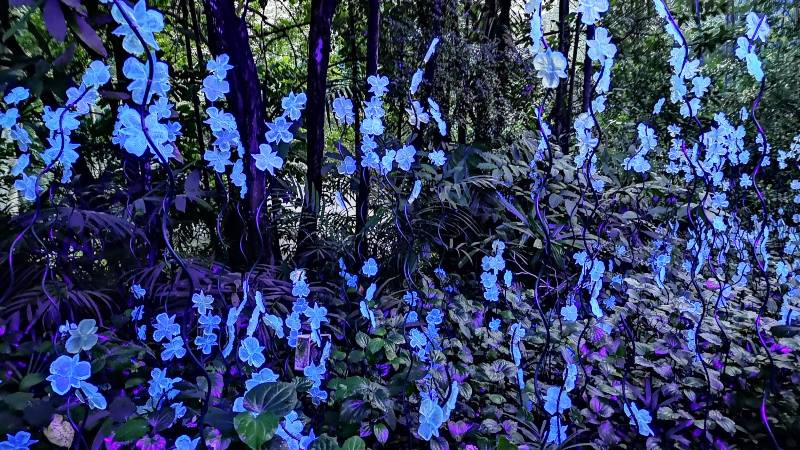 Quite a Life of Pi experience in Singapore Zoo. A night walk in the Rainforest Lumina is a visual extravagance where exotic animals and trees come to life through immersive technology. Join the Creature Crew and indulge in whimsical adventures. It is in the darkness of the rainforest that you become one with nature.
A 'Blind' Date
This Singapore restaurant has taken blind dating way too literally. Nox-Dine in the Dark offers a unique dining concept in which the food is served by visually impaired staff in pitch darkness. Here, it is all about putting your olfactory senses and taste buds at work while you eat. Just be careful not to drop food on yourself!
Corals under the Megapolis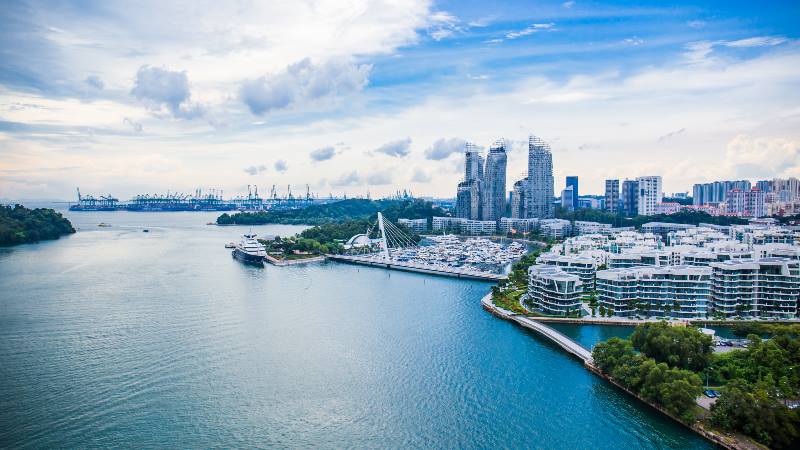 Singapore's Keppel Bay is all expensive yachts and modern buildings. A place where the rich and the famous reside. While walking headlong amidst the glitz and glamour of this posh locality, mind your step. Especially as a coral reef pops out of nowhere in this part of the city. Not only corals, but there are also lovely tiger-tail seahorses and clownfish swaying in the clear waters. From the Marina at Keppel Bay, you can see the beautiful flora and fauna flourishing, and if you want to know more about it, you can join the coral cultivation programme.
The Secret Tunnels of Alexandra Hospital
Secret tunnels are the stuff of adventure novels, and Singapore's oldest hospital has a fascinating history hidden underneath. During World War II, Alexandra Hospital was in the middle of a gruesome massacre. Underground tunnels were constructed as air raid shelters to connect one end of the hospital to the other. The hospital staff and patients took refuge in these tunnels until the Japanese barged in and open fired. One can see several vault-like structures built to store medicines and other medical supplies. Even though it may not be safe to venture into them alone and sometimes tricky to spot the entrance, there are extraordinary walking tours that take you to these hidden spaces full of history and intrigue.
So now that your curiosity has been stirred you can discover for yourself the hidden treasures of wonderful Singapore. Leave the featured attractions behind for a time and uncover the bizarre, the unique, the unusual. You won't regret it.