Casablanca, it seems to roll off the tongue when you say it. And it's a place that sounds exotic too. The question is, 'well is it?'
Well it's a city that sits on the Atlantic Ocean, where fine sandy beaches give way to top night-life spots, which leads to a city that's re-developing at an extraordinary pace. Would you say that was exotic? Play It Again Sam, more like visit once and visit again, Sam! 
Casablanca is Morocco's largest city, where greenery and swaying palm trees give way to bustling arcades and shady café terraces. It's the commercial capital of the country, where business and creatives mingle and blossom. A city where the Moroccan young come and pursue their fame and fortune. Its time join them, as you seek the best places to visit.
A city tour is the perfect way to ensure you see Casablanca's best bits. Highlights as you explore include:
Museum of Moroccan Judaism – a pleasant contrast to the mosque
Mohammed V Square – here you'll find striking buildings, including Wilaya and its attached clock tower.
Hassan II Mosque – which is the largest mosque outside Saudi Arabia
Areas in Casablanca
Exploring the key attractions is just one part of making your time here worthwhile. Head to the different areas around the city will give you a greater sense of what Casablanca offers in terms of its rich culture.
· Old Medina – the old city, a great place to wander even if it doesn't quite have the character of other Moroccan medinas. With its crooked lanes and local cafes, it makes for an arresting diversion.
· Quartier Habous – Although it's a New Medina, which was built by the French, it's a mix of Moroccan and European styles. There are tourist souqs to shop in if you're that way inclined.
By the Sea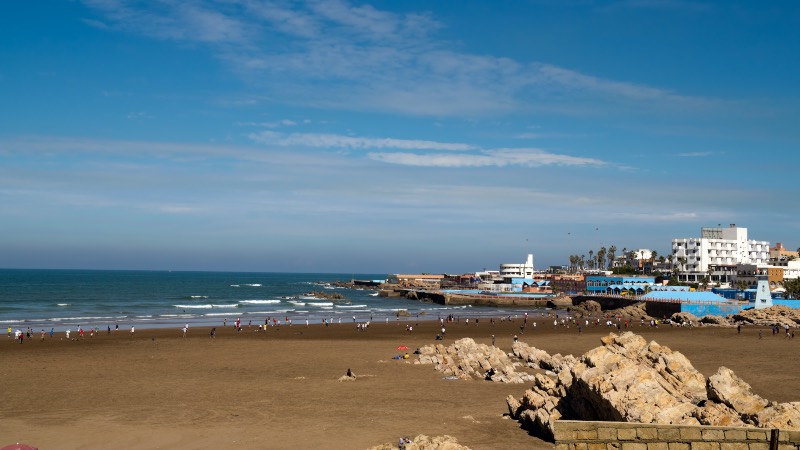 As Casablanca attracts the young and upcoming, you'd expect there to be a vibrant nightlife scene. You're not wrong! The beach area is the place to visit for night-time fun! Head to the Ain Diab area, as it's here you'll want to be seen! Expect a night of fun!
Casablanca, a city on the edge of the sea and close to the Sahara Desert and other top destinations like Tangier, Fez and Marrakech! Two extremes, but both with their appeal. Make the city your base, explore and immerse in the local cafes, the cuisine and explore these differing landscapes. Then you can say you're among the trendy crowd. Oh, and in an exotic place!