Seven hills and seven fjords. It could be the title to a best-selling novel. In fact, it's the easiest way of describing Bergen, and its place in Norway's landscape. This Southern Norwegian city is your gateway to exploring the stunning Norwegian fjords. But before you do, take the time, stay in the city and discover the best things to do in Bergen.
With some great attractions to visit, and a nightlife based around its thriving student population. Well, you've got your daytime activities and evening entertainment sorted.
Those stunning fjords are often the foreground to some stunning mountainous scenery. Meaning Bergen is a great base for exploring the regions nature too. Hiking shoes and walking poles at the ready!
And if that's not enough! Bergen also makes for an interesting alternative to the recognised capital, Oslo. Exploring the fjords and heading into the nature may be your primary reason for coming here but give the city's other features a chance to shine. You won't be disappointed.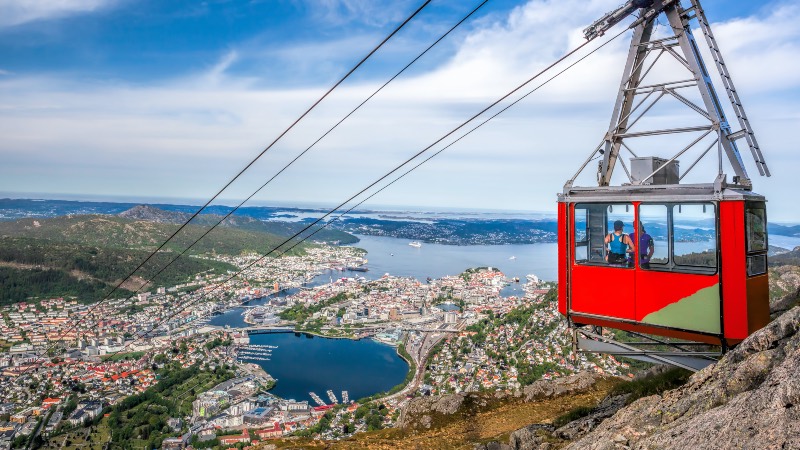 Bergen Top Attractions
How many museums do you like visiting on a trip? Two, maybe three? Bergen is a city with plenty to keep any museum loving fan happy, so take your pick from the following. All have something to offer, and with the city's unpredictable weather, well, a museum is a great place to learn something new while keep dry!
1. Edvard Grieg Museum – It's a place the composer stayed, and this wooden villa is now a museum. You'll discover how he got the inspiration for his works.
2. Ole Bull Museum – Heard of Ole Bull? No, well, he was Norway's musical superstar. A violinist, his estate is an interesting place to explore. It's on a private island and the building is worth seeing.
3. KODE 1 to 4 – there are four separate buildings that have their own focus on arts. KODE 1 has the national silver collection and Singer art collection. Whereas KODE 2 houses contemporary exhibitions. In KODE 3 you'll find all things Edvard Munch (the scream); and KODE 4 concentrates on modern art. Phew! They are easy to find so don't dismay. Head for Lille Lungegard Lake and a headful of art!
There are other museums, see told you there were many! The Fisheries Museum, Bergen Museum, there's even a Leprosy Museum. It may be macabre, but fascinating.
Bryggen
The old quarter gets its own section, and for good reason too. Bryggen translates as 'wharf', so no guessing where to find this area. At first sight, you'll wonder how all the buildings are staying up! History seeps out of this part of town. So well worth discovering what you can. And don't just stay on the waterfront. Head in a bit into the alleyways where you'll find artists and others selling their unique wears. It's a Bergen highlight exploring Bryggen.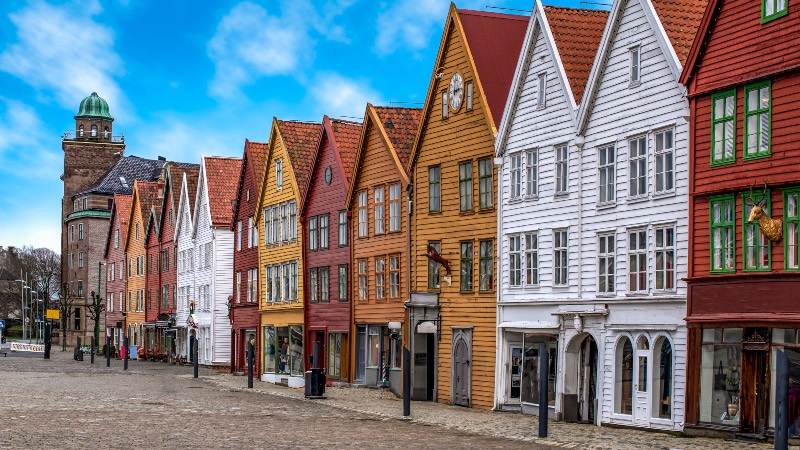 Bergen Bars and the Nightlife
There are plenty of bars and restaurants to frequent, as well as cafes. Terminas Bar has great whisky and Blom has great coffee, for example. With a student population, well, there's no shortage of fun nightlife to be had. Oh, it's also a UNESCO city of gastronomy! If you needed any more persuading.
Bergen is perfect for the fjords, which is why many pass through here. You have skiing and terrains for hiking and biking too. Making a stopover here is well worth your time, energy and money.
We've given you the best things to do in Bergen. Time to pen that Seven Hills, Seven Fjords novel!