Looking for a Winter getaway? A break from the norm? Then let me give you the lowdown on a perfect place to visit Warsaw. Poland's capital and often the arrival point for international visitors. Warsaw is a beautiful city, and here are five reasons why it's a must during the Winter season!
Christmas Markets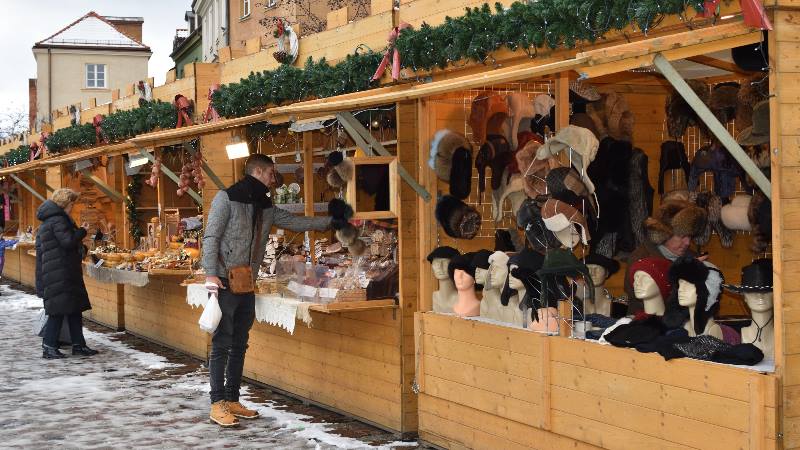 Called Jarmark Świąteczny – Christmas markets in Warsaw are full of delicious food (which we will talk about later) and beautiful handcrafted souvenirs. All around the city – you'll find pop-up markets of different sizes, each offering something unique or delicious. The cute wooden chalet stalls add to the cosy & Christmas vibe and the atmosphere that feels so much calmer than many other cities during this time of year. All of these make the experience pretty unforgettable.
If you're a fan of the bigger markets, head to the Castle Square, located in front of the Royal Castle (Zamek Królewski), you will definitely find something you like and the location is very unique and pretty. The markets usually start around the beginning of December so you have plenty of time to visit! So, to sum it up, a Warsaw Christmas market is simply a must.
Food (& Drink)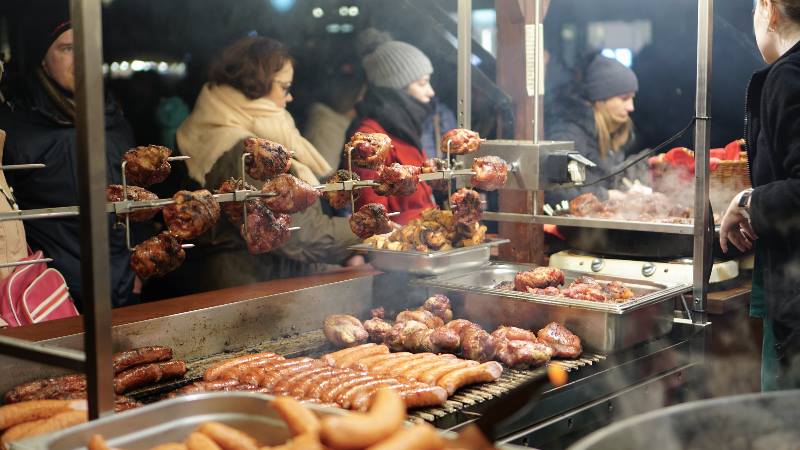 Of course food is one of the best things about Poland. And the Christmas season makes it even more special! Starting with herbatka (tea with usually a lemon slice), saying that – keep your eyes out for special teas with honey, orange and sometimes even homemade liqueur plus other delicious things = it will be one to remember. You can also go for herbata z pradem – a tea with a little (or a lot) of %, usually a little bit of vodka, rum or again – fruity liquor. Hot chocolate is also very popular (goraca czekolada) – there are many different tea houses as well as chocolatiers all around, which will no doubt warm you up in the cold season! Of course let's not forget about grzaniec (mulled wine)!
Coming back to food however, as you can imagine, there is a lot to choose from. One of the important Christmas dish is barszcz with porcini raviolis (uszka) – beetroot soup that tastes like heaven, even though it may not sound like it! You might also find drinkable versions – just 'barczsz' that is even better! Bigos (braised sauerkraut) is also a very traditional dish that tastes so comforting and is hard not to like. Makowiec (poppy seed cake) is a traditional Christmas cake, you can also find it in the other months of the year however it's slightly different. The poppy seed cake symbolises prosperity and is a must in the Christmas menu.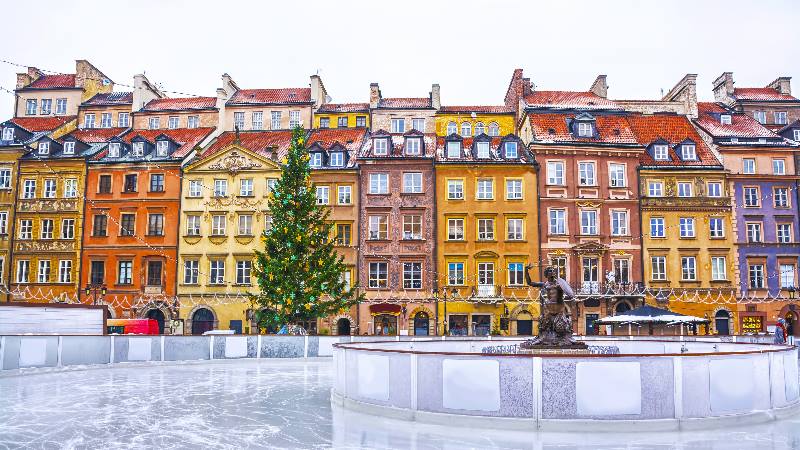 Old town in Warsaw is full of history and culture, it is in fact a UNESCO World Heritage site! The beautiful Renaissance and Baroque buildings, which were amazingly reconstructed after the WWII, plus the cobble stone streets – look like something taken out of a postcard.
The old town surely is a magical part of Warsaw, it's also where most of the Warsaw attractions are and this is where you might spend most of your time during your trip. The amazing thing about the old town in Warsaw is that it looks different during every season, you can only imagine how beautiful it is during winter with all the cosy cafe fronts, Christmas decorations and the general Christmas vibe!
Culture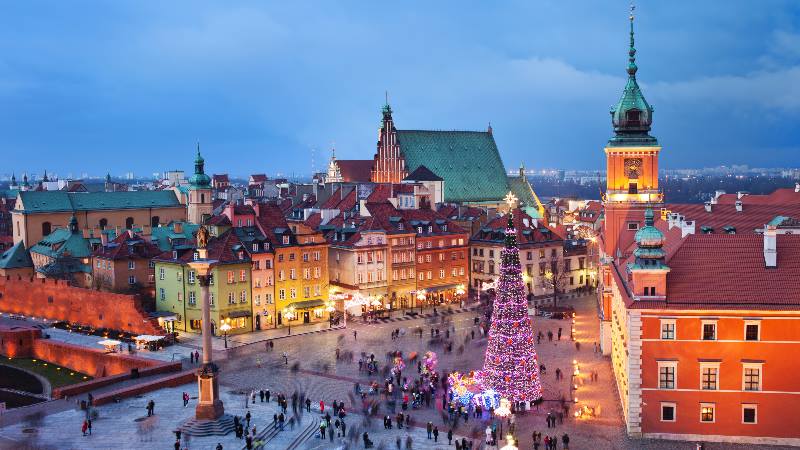 Polish culture has many unique and interesting traditions, and Christmas is a very special celebration throughout the whole country meaning there are extra activities that are very family oriented and fun too. One of the brilliant things is 'kulig' – a sleight party. Yup – if you're lucky, you might find yourself at an actual sleigh party. It's INSANE.
In areas with plenty of snow – best bet is usually the mountains area. Traditionally – people (often in villages) used to organise huge sleigh rides, and I mean huge. The sleigh ride party was consisted of horses (or cars also) pulling sleighs and sledges of most villagers after they would go from one house to the next with food and dancing. These days it'a mainly the sleigh party and then stopping somewhere in the woods for a bonfire, dancing around it, drinking and an absolute food feast! So much fun.
People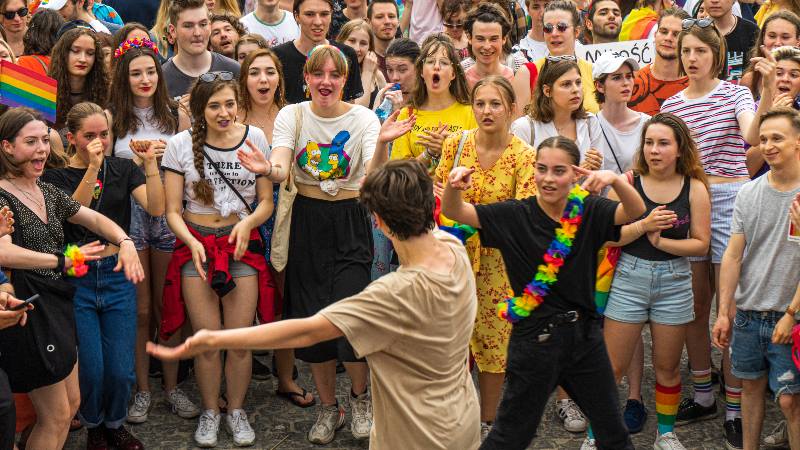 People in Poland are extremely warm and welcoming. Although, this becomes a lot more clear once a little bit of an effort is made from the visitors side – learning a few polish words can really take you far and you can easily end up making friends and sometimes even being invited to their homes for dinner or celebrations!
Enjoy your visit. Enjoy your Christmas and have an amazing 2020.