There's a lot of love for Paris, a city with so many famous attractions and iconic monuments, is it any wonder the city remains such a popular destination?
If you have visited before then no doubt, you'll have scaled the heights of the Eiffel Tower. Searched and fought your way to the front of the crowds for a look at The Mona Lisa in The Louvre. You've probably walked along the Champs Elysees and browsed through the fashion boutiques. Perhaps you even, imagined yourself riding up the cobbled street on your way to winning Le Tour De France (ok, maybe that's just me!).
So beyond all these top attractions, places of interest and activities, there are a whole plethora of new and unique experiences to discover. All of which are as rewarding as those famous attractions mentioned. In this article, we give you a taste of these unique Paris experiences. It'll add some fun to your time here.
Cooking
Smell that freshly baked baguette! Oh, what a smell, you really can't beat the whiff of freshly baked bread, can you? Or how about that perfect croissant or a cheeky cake with your morning coffee?
Imagine sitting in the sun outside a little café. Watching the people and the world go by! And before you ask, don't get us started on the cheese! It's a Parisian experience in itself.
It's great to taste it all, but how about trying to make your own? Whether that's mastering the croissants, bread or creating desserts. You can learn the secrets of French cooking and then taste and sample your works. Delicious.
Wine
What do you pair with French cuisine? Undoubtedly wine, right? Not forgetting to add in some cheese! There I go, talking about the cheese again! Most of us are no experts, so getting a helping hand on what wine to pair with your food or cheese is always appreciated. Sampling it first is even better!
Then why not take a specialised tour? Maybe you'll discover you have a nose for wine and cheese. You may also find where the best bars are. Now. that's worth raising a glass of wine for.
Shopping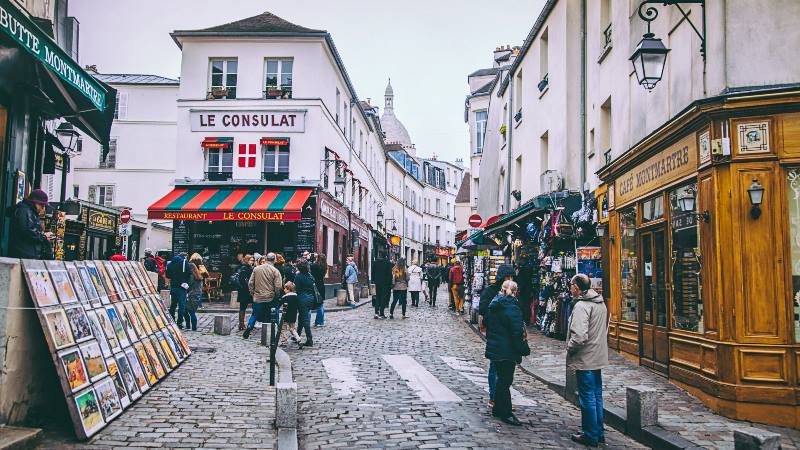 Paris and shopping, they go together like, well, wine and cheese! There are ways to take your shopping habits to new levels. Head out with a local, they know where is best after all. You'll get insights and tips that other tours don't provide.
Or tour around the boutique shops to find a real bargain. Paris has the places from its flea markets to arty districts there's a shop calling your name!
There's more!
It's not just about food and wine and shopping! You might want to walk off some of that excess!? Many of Paris's districts hold plenty of hidden treasures, so why not go and discover them on a walking tour? Like the food tours, your local guide will give you insider details and tips.
Perhaps you're looking for some sporting fun for a unique Paris experience? Then play a game of traditional petanque in a park. See if you can master the technique or take a ride in a 2CV. It's these kinds of tours that really get under the Parisian skin.
There is a wealth of possibilities in Paris just waiting to be discovered away from the populated tourist attractions. So by all means, go and see the top sites and the galleries but why not spend some time unlocking the real Paris? The unique Paris. The Paris you don't always see. You might just like it!