Sydney has the Opera House, Canberra claims the Capital and Cairns boasts the Great Barrier Reef…so what does that leave for the mainland's most Southern city? Melbourne consistently gets ranked the world's most liveable city, but why? With the help of a few mates down under I think I've got it sussed – check out our compilation of unique Melbourne moments below.
You haven't really seen Melbourne unless you've:
Snapped an artsy shot in a laneway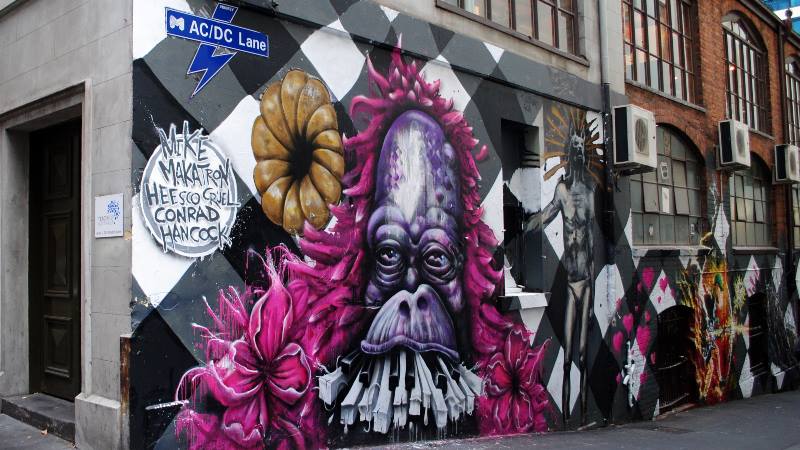 The streets of Melbourne could be compared to one massive, sprawling public gallery. Discover alleyways splattered with vibrant colours and glossy with the sheen of fresh spray paint. Here graffiti is not a public offence; it's an ever-transforming exhibit. My favourite backstreets to watch artists in action are Hosier Lane and AC/DC Lane – just watch you don't trip on the cobbles in your rapture.
Witnessed the Penguin Parade
A short waddle away from Melbourne you find Philip Island, home to more than 32,000 penguins. Although large in number they're oh so adorably little in stature. The aptly named fairy penguins can be seen emerging from the waves and waddling on mass back to their burrows every day at sunset. Just smile and wave boys, smile and wave…
Sunbaked on St Kilda Beach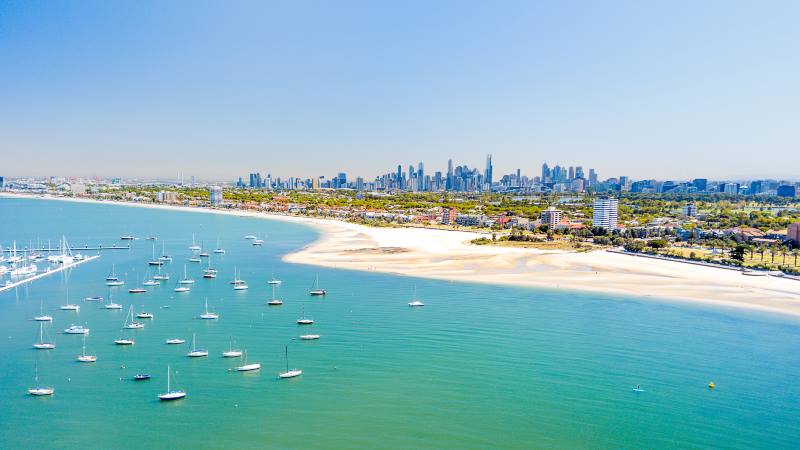 Head to Melbourne's bohemian seaside suburb to swim, sunbake and catch a sunset. Kick back and relax on the sand, cycle the coastal path, ride the Ferris wheel at Luna Park and spy penguins from the harbour.
Surfed (or at least attempted to)
Victoria's coastline infamous for its waves and while St Kilda's sheltered position doesn't make for the best surfing conditions, you're spoilt for choice in Melbourne's surrounds. You need not venture far afield to find beginner waves begging to be paddled – so test the waters and take a lesson. Instead, leave it to the professionals? Bell's Beach hosts the Rip Curl Pro at Bell's Beach every April.
Sank a couple of coldies at: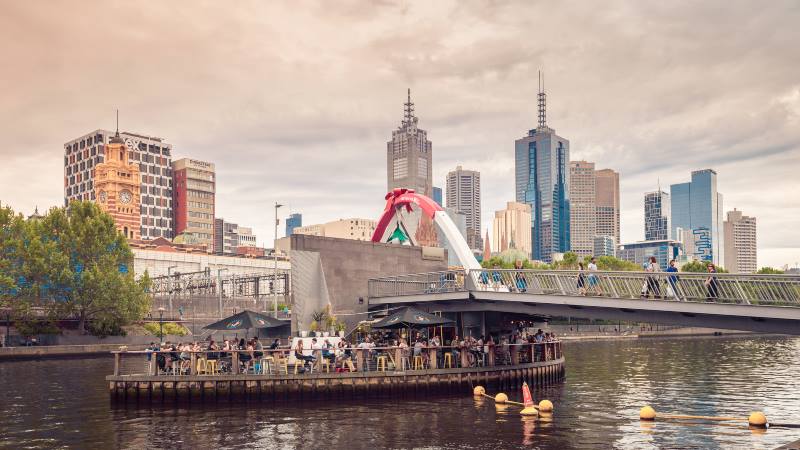 Ponyfish Island
Speakeasy style underground bars are the latest trend and Melbourne is always one step ahead of the hipster game. The bar under the bridge is a Melbourne institution and the perfect spot for a post-work bevvie. Access this floating free house by stairs descending from Southbank Bridge.
Naked for Satan
From sea level to sky-high, this rooftop bar embodies everything Melbourne represents: fashionable, unashamedly hipster and serving bootleg Kombucha! Brunswick Street is a lined with quirky cafes, multicultural restaurants and permanently buzzing bars and Naked for Satan is one of the more up-market, boasting epic views of the CBD as well as cocktails and tapas.
Grabbed a feed at: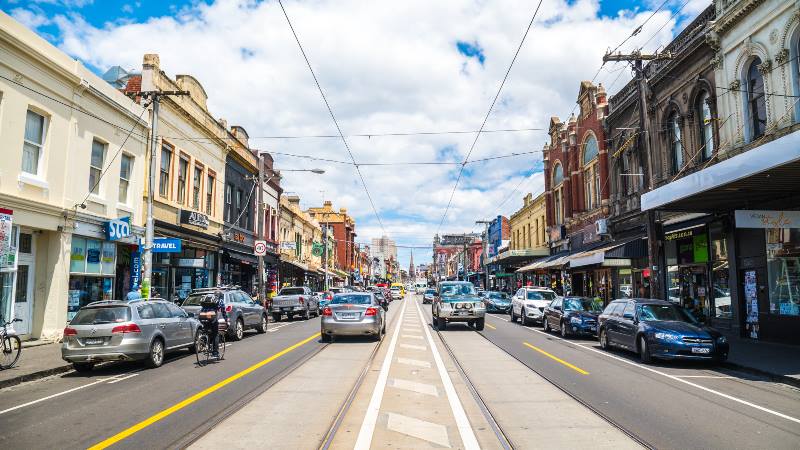 Vegie Bar
Picking the best eats of Brunswick Street is a near-impossible task. The foodie avenue is a metropolitan mecca and leaves vegetarians and vegans alike spoilt for choice. This converted warehouse in the heart of the hubbub offers low-key vibes, predominantly Asian-inspired cuisine and a plant-based menu. Think vegan pizzas, jackfruit tacos, hemp gnocchi and wok-tossed noodles.
Dinner in the Sky
If you suffer from vertigo, read no further. If your idea of fun is being served a 4-course meal while you dangle 50m up in the air the check out Dinner in the Sky. By no means a local haunt, this high-flying venue is a once in a lifetime dining experience. Canapés check. Cocktails check. Crane check! It's time to harness up and chow down.
Ordered a flat white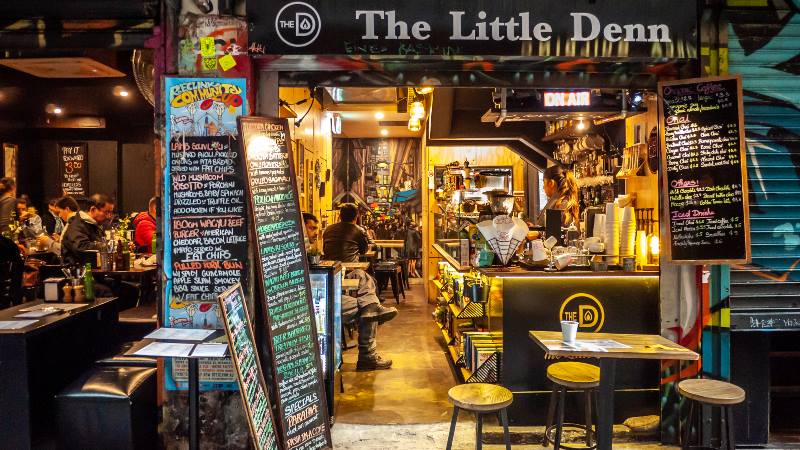 For Australia, coffee represents more than just a quick caffeine fix. Coffee is something to be nursed and savoured; it is both a ritual and an art form. In Melbourne, the cultural capital of Australia, I wouldn't be half surprised to find the Mona Lisa drawn into the foam on my flat white.
Their coffee culture is unsurpassable, and you're spoilt for choice when it comes to cafes. Settle down for a quintessentially Aussie flat white while tucking into some smashed avo or nibbling on a macaroon.
Learn the difference between footy and soccer
Love your sport? The if you haven't already heard of Aussie Rules, Melbourne is the place to educate yourself. Home to the oldest Australian Football League ground in the country, Melbourne hosts the grand final every year.
Between Formula 1, the Ashes and the Melbourne Cup (the biggest horse racing event in the world) Melbourne's sporting calendar is pretty jam-packed.
Rented a car
Melbourne is a gateway to the Great Ocean Road, one of the world's most scenic coastal drives, spanning over 400 kilometres. Rent yourself a car and get revved up for the road trip of a lifetime.