Italians are passionate about food and oh-so particular about its preparation. Short pasta goes with meat sauces, long pasta with seafood and all pasta is al-dente. In a nation of self-proclaimed culinary connoisseurs, it isn't tough to find prime produce and exceptional eateries to fill your holiday and your belly.
Steer clear of the 'tourist menus' to eat with the locals. Romans would sooner starve than eat somewhere serving spaghetti with meatballs or chicken parmigiana. These hole-in-the-walls rely on word-of-mouth and can be tricky to find if you're not in the know. So here are a few suggestions to set you off in the right direction:
Coffee @ Caffè Sant'Eustachio, Piazza di Sant'Eustachio 82
For such a fun-loving nation, the Italians take coffee very seriously! Lattes and cappuccinos are strictly a morning affair and espresso is taken express, or "banco", stood at the bar. Caffè Sant'Eustachio is a household name in Rome and the small shop sees big business. No frills, no fuss, just top-notch coffee and a top-secret house blend.
Sandwich @ Mordi e Vai, Testaccio Market
Head to Testaccio Market for gourmet grab-and-go. Mordi e Vai assembles paninos unlike anyone else. Sink your teeth into bread heartily stuffed with regional specialities – for the real Roman relish, order the  'trippa alla romana' – tripe in a rich tomato sauce – bellisimo!
Fritti @ Trastevere Market, Via della Luce 3/5
Fritti, literally  'fried', is something the Romans do frequently and fabulously. If it hadn't already, this is where the diet really goes out the window. After all, when in Rome…
Get your fried fix in at the city's bustling fish market. Pick from this morning's catch in Trastevere Market and gorge on Rome's freshest fish, fried until light and crispy.
Suppli @ L'Arcangelo, Via Giuseppe Gioacchino Belli, 59
Rome specialises in all things fritti, but these savoury spheres of rice and ragout are its crowning glory. L'Arcangelo's version of suppli are modestly presented in recycled egg-boxes but liberally loaded with rice, mozzarella and chicken gizzards. Take a seat at the counter to have your order finished off by Arcangelo himself.
Pizza @ Pizzarium, Via della Meloria 43
The idea of reheated Dominos leftovers would have Nonna turning in her grave. In Rome, you won't find a good pizzeria open until evening when pies are fresh and rustically charred from the wood-fired oven.
But, when those thin and crispy cravings take hold and pizza can't be postponed until dinner, Pizzarium is your oasis in the desert. The takeaway joint dishes up pizza dressed in creative combinations all daylong. And when it sells by the slice it'd be rude not to sample a selection.
Cacio e pepe @ Flavio al Velavevodetto Via di Monte Testaccio 97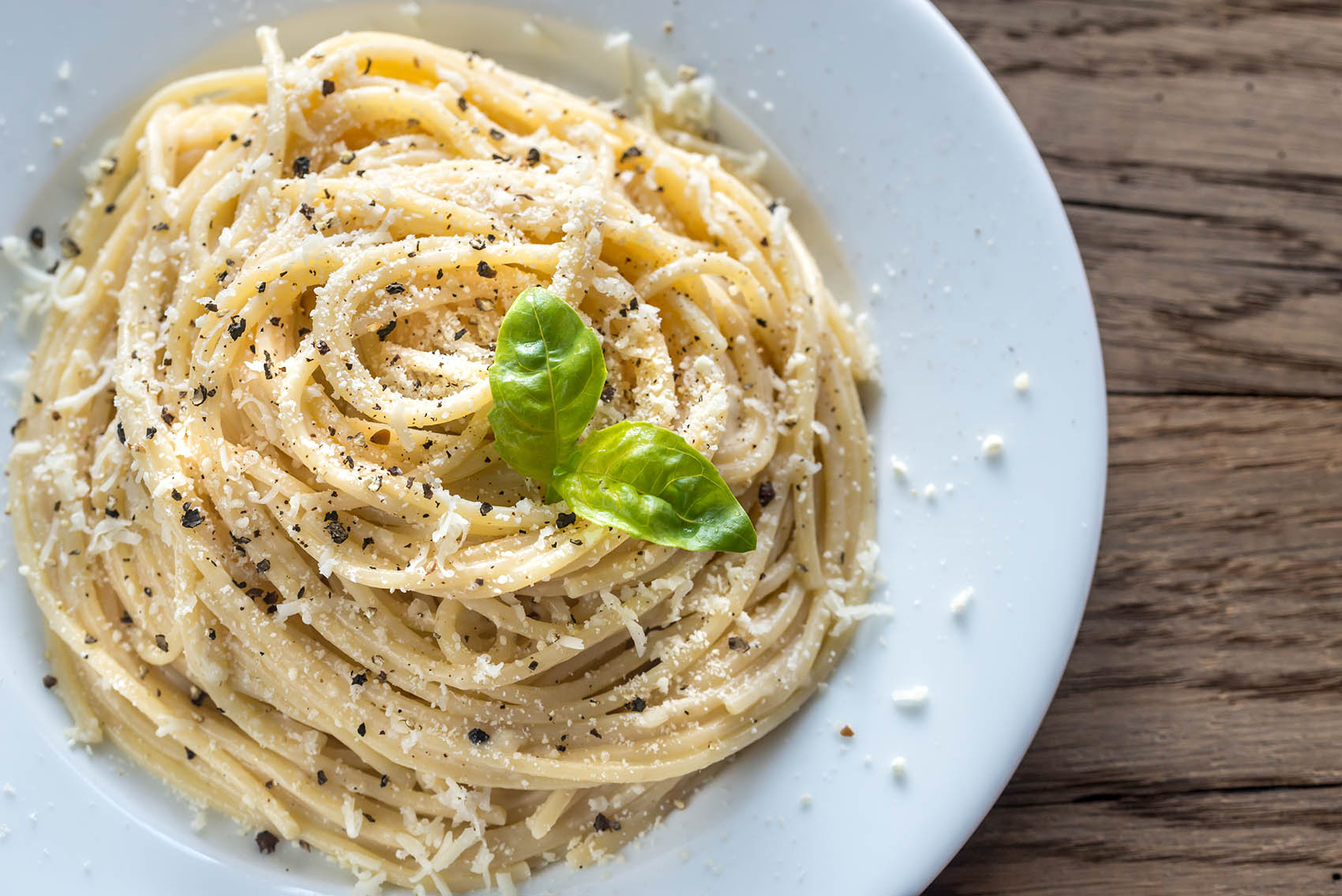 Velavevodetto's menu changes from season to season but never varies in quality. In winter, tuck into artichokes in cavernous rooms amongst the ruins. In summer, zucchini blossoms are best-enjoyed al fresco on the upstairs terrace.
Carbonara @ Roscioli Via Giubbonari, 21
Romans wouldn't recognise our Western cheesy counterfeit as Carbonara at all. For the real shebang, taste Roscioli's. An egg-based sauce sprinkled with cured pork and good grind of black pepper combines with pasta to create creamy, dreamy bliss in a bowl. Perfectly simple and simply perfect.
Fill up on the finished product in the restaurant before picking up the raw materials from the attached delicatessen. You can recreate the recipe when carbonara cravings strike again.
Learn the ropes first with…
Cooking Classes @ Alfredo Alla Scrofa Via della Scrofa, 104/a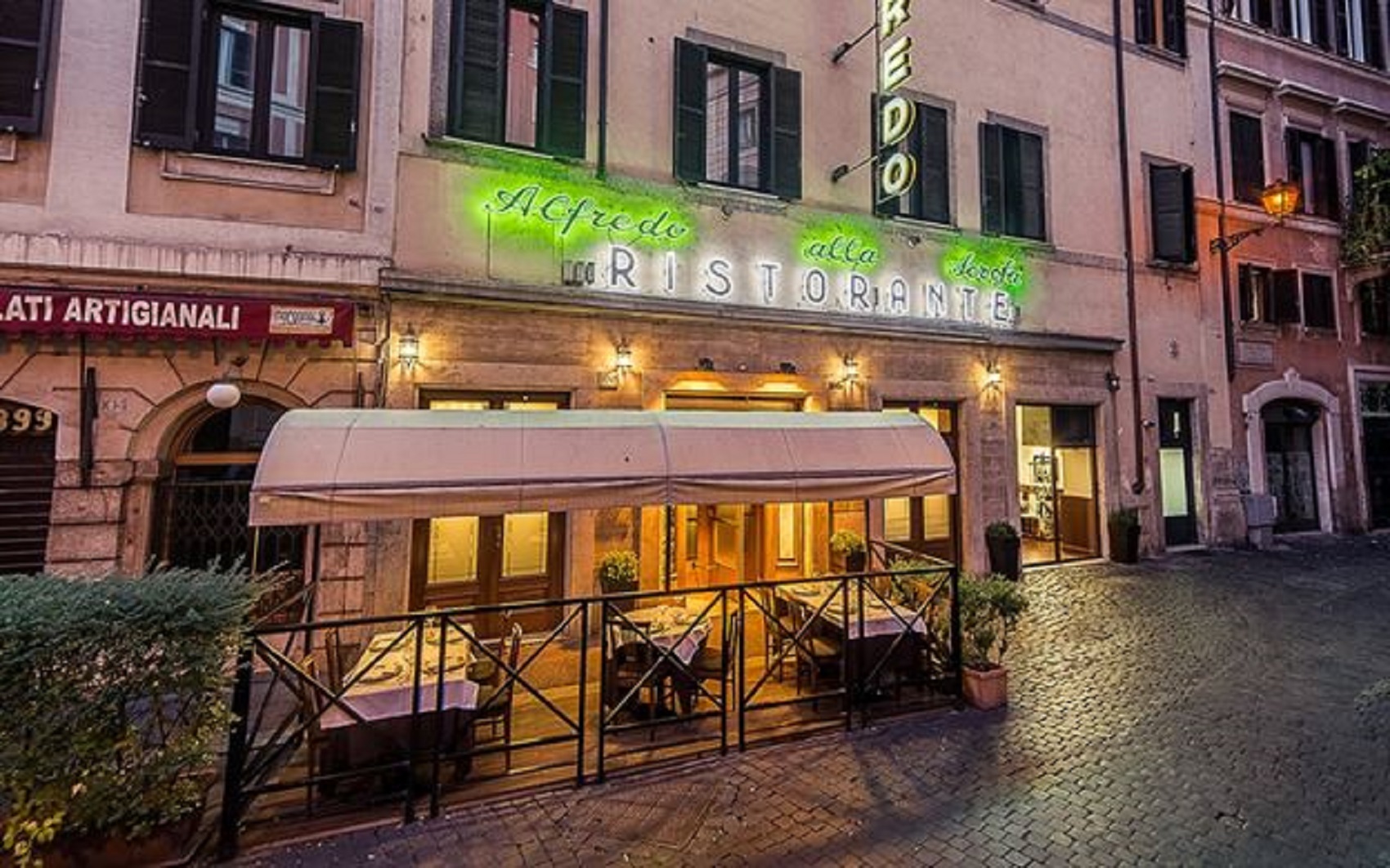 Countless chefs have tried to recreate Alfredo Alla Scrofa's signature dish. None have succeeded. Alfredo's recipe for Fettuccine Alfredo (pasta and parmesan) is the original and the best. It even has the rich and famous smacking their lips. Audrey Hepburn ate breakfast at Tiffany's and dinner at Alfredo's.
Learn from the best by booking a master-class here. Alfredo will have you whipping up pizza, pasta and pastry like a pro in no time. And why not stay for lunch?
Fresh produce @ Pro Loco DOL Via Domenico Panaroli 35
Another day, another delicatessen. DOL is famous amongst foodies and its locally sourced ingredients and artisanal products draw in clientele from all over Rome. A treasure chest of cheese, cured meats, olive oil and legumes makes for high-quality browsing.
Cross the road to taste regional specialities off a seasonally changing menu in the attached restaurant, Pro Loco.
Fiori di Zucca @ Emma Via del Monte della Farina 28
Another fried favourite is Fiori di Zucca – battered zucchini flowers. The flora is flavour-packed with molten mozzarella and salty anchovies – a mouth-watering matrimony that really packs a punch.  Emma's take on the dish forgoes the fish but none of the tang.
Cucina Romana @ Cesare al Casaletto Via del Casaletto, 45 and Armando al Pantheon Salita dei Crescenzi, 31
As a general rule, prices fall and authenticity increases away from the tourist centre. Cesare al Casaletto is the case in point, located at the last stop on the no.8 tram. This traditional trattoria cooks up all the button-bursting classics just like mama used to make.
If Cesare is the case in point, Armando al Pantheon is the exception. Situated slap-bang in the centre of the hullaballoo, Armando delivers authenticity at its most appetising. Touted by all the guidebooks and only a stone's throw away from the Pantheon, you'll need to book a table in advance.
Gelato @ Fatamorgana Via Roma Libera 11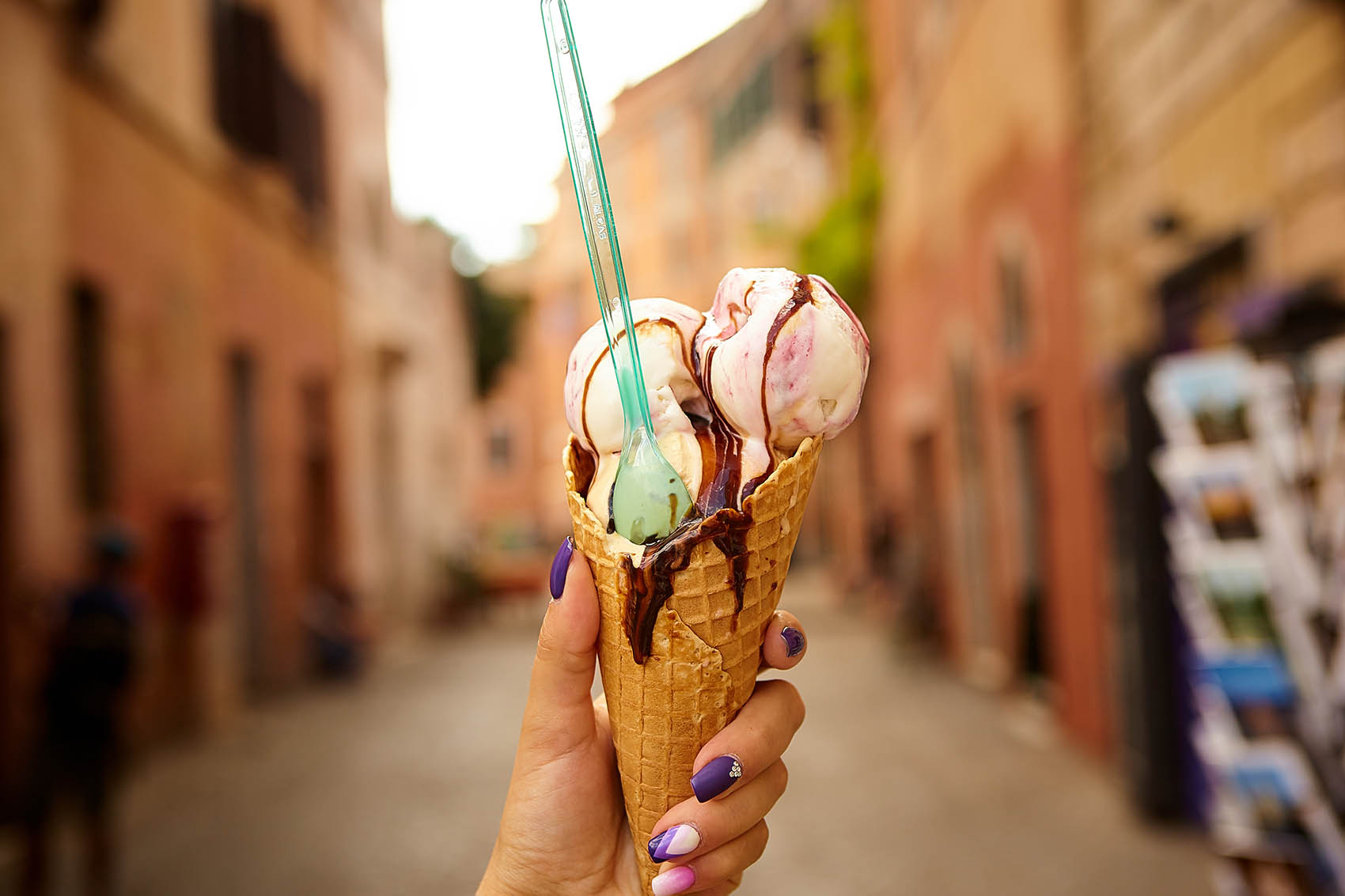 Italy and ice cream come hand-in-hand and no trip to Rome would be complete without gelato. Tourists are spoilt for choice but locals know to be more discerning. Here's the scoop: if it's fluorescent, it's fake. For the real deal, Romans love Fatamorgana for its natural and organic flavours. Additive free but extremely addictive. From classic pistachio to wild cards like wasabi chocolate and Gorgonzola cheese – this is gelato like you've never tasted it before.
Wine @ Litro Via Fratelli Bonnet 5
Rome is abounding with wines just waiting to be uncorked and bars in which to enjoy them. Our watering hole of choice has to be Litro. This whimsically decorated establishment has almost as many clocks on its walls as wines in its cellar. Choose from a miscellany of natural wines or sip on one of many signature mezcal concoctions.
This delicious dozen is mere foreplay to your foodie fling. Take to the side streets and stumble upon something special for yourself by experiencing our food and wine tours in Rome. And then let us know…which hole-in-the-wall did you fall into in Rome?