The Dutch capital of Amsterdam is a beautiful city, rich in history and culture. Offering exciting nightlife, its renowned red light district, world-class museums, great architecture, and superb restaurants. 
Whatever your taste or objectives Amsterdam will have it for you by the bucket-load. Here we give you 7 things to do that should guide you through the maze of Amsterdam's streets and activity offerings. Oh yes, there are plenty of tulips too!
1. Amsterdams Museums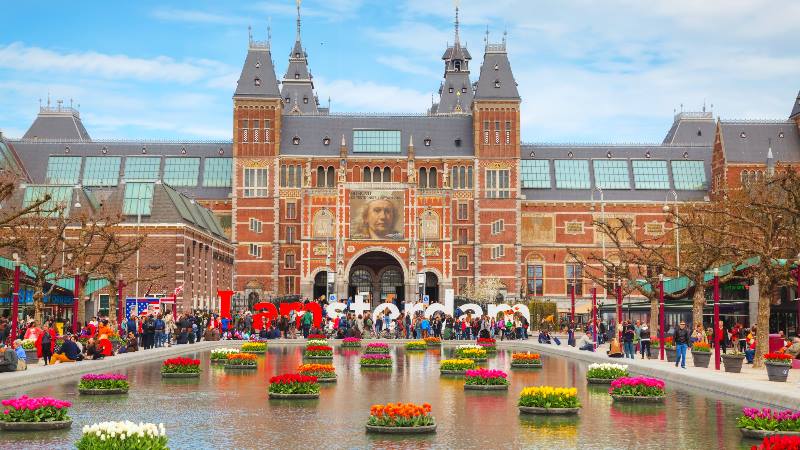 Amsterdam is home to seventy-five museums of all kinds. There are those devoted to classic Old Masters' paintings, modern art, press, technology, film, theatre and photography museums. Many of them conveniently located in the Museum Quarter.
The better-known ones are the Rijksmuseum (housing Rembrandt's The Night Watch) and the Stedelijk museum of modern art. For kids there is the NEMO; a hands-on science and technology museum housed in a unique, boat-shaped building. Let's just say that you'll never be short of a museum to visit!
2. The Floating Flower Market
The Bloemenmarkt is the only floating flower market in the world and the most famous place to buy tulips. The flowers are sold from stalls placed on houseboats, now that's worth a photo or two! Founded in 1862, it is situated on Singel between Muntplein and Koningsplein in the city's southern canal belt. There are also garden and souvenir gift shops.
3. Catch The Action In The Red Light District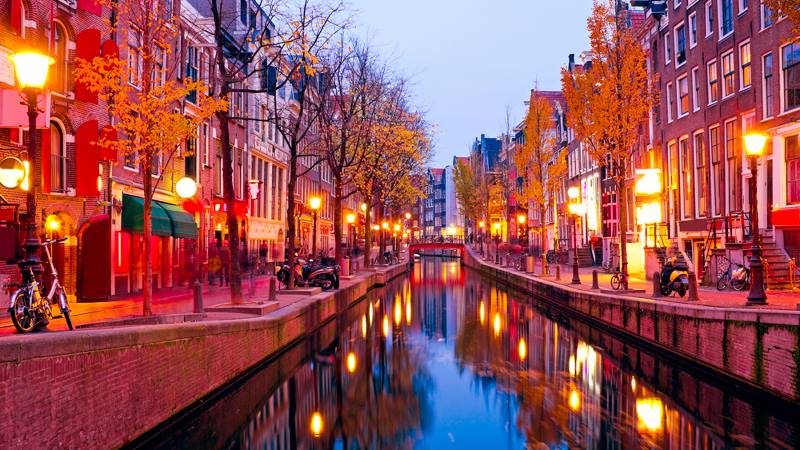 This is a Dutch treat unlike any other in the world. Everything you have heard about this place is true and probably more. From brothels to sex shops to the famous ladies displaying their wares in red-fringed window parlours (many ready to offer more than a schoolboy peep-show in a private cabin!)
Known as The Rossebuurt, by the locals, the Amsterdam Red Light District is an incongruous mix of old-world charm (buildings that lean at odd-angles and tree-lined canals) and sleaze. It also has a social blend you will probably not find elsewhere in the world. You can check out the pleasures for yourself or merely play voyeur and window shop.
4. Explore Amsterdam's Canal Belt
Amsterdam has always been intricately linked to her canals. Her 165 waterways and 90 islands are served by 1,500 bridges (more than Venice!) Known as Grachtengordel, the canals form concentric belts around the city. You could spend days exploring them!
The bridges and canals are lovely backdrops for shops, galleries, tiny squares, historic buildings and inventively styled houseboats. And floating down Amsterdam's canals is one of the best ways to explore the city.
5. Cycle Around Amsterdam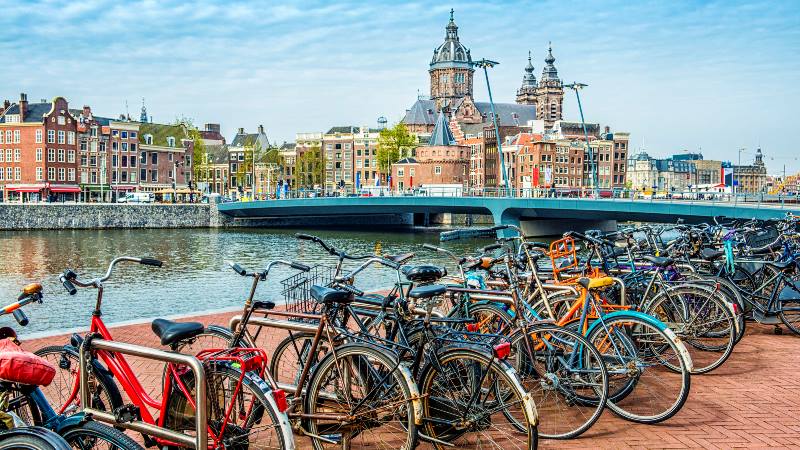 Just as clogs are quintessentially Dutch, so is the bicycle. It is also one of the nicest ways of getting around Amsterdam. Especially as this is one of the most bicycle-friendly cities in the world. Thank heavens the Dutch countryside, and Amsterdam, in particular, are flat! So makes for pleasurable riding.
You could explore the city on your own or take a bike tour. Although be careful where you leave your bike! Amsterdam has a problem that every other city in the world would love to have; bicycle congestion. Despite the humongous kilometres of bicycle paths and parking areas, cycles are clogging the streets and train stations.
6. Chill Out In Amsterdam's Parks And Gardens
Amsterdam has plenty of open green spaces. What can be better than picnicking with a bottle of chilled wine and sandwiches as you watch the grass grow and the people go by? Also several parks allow barbeques and open-air cooking, which are an added treat.
One of the better-known parks is Vondelpark (the largest), which houses sculptures by the likes of Picasso and features music and dance programmes. Well worth checking out. Many of Amsterdam's cultural activities take place in the city parks including the De Parade in the Martin Luther Kingpark and Oosterpark, whixh hosts the annual July Amsterdam Roots Festival (the world's largest musical event).
7. Street Art: Alive And Kicking
Amsterdam's street art is visible wherever you go. It is a highly visually colourful mark of the healthy alternative 'guerrilla' sub-culture of the city. The graffiti practitioners are often connected to hip-hop, skating and BMX biking.
Happily, much of this rebel art expression is officially sanctioned by city authorities. Many of the artists or "bombers" are sponsored, some achieving a measure of fame. The exciting graffiti crews are given commissions to decorate and exhibit legally. Go seek them out.
Amsterdam is a wonderfully eclectic city that embraces both high and low culture with unashamed gusto. It has numerous treasures tucked away in hidden groves. I hope that the places highlighted gives you a shop window into the Dutch capital? Now go and explore.