On a rocky hilltop, on the banks of the River Darro, an imposing fortress dominates the skyline. It's reddish hues standing out from the distance green of the surrounding forests and mountains. You would be forgiven for thinking I was describing a scene from a fairy tale. Where a knight comes to save his maiden trapped in an impregnable tower, having fought a fierce dragon on-route.
In many ways I am, although this is a modern-day fairytale setting and the heroes of the piece are you, the tourists that have the opportunity to visit this enchanting place. Alhambra Palace and Gardens in Granada is one of Europe's historical gems, situated on the Southern coastline of Spain. If you've never considered visiting the castle before, then maybe we can change your mind.
Alhambra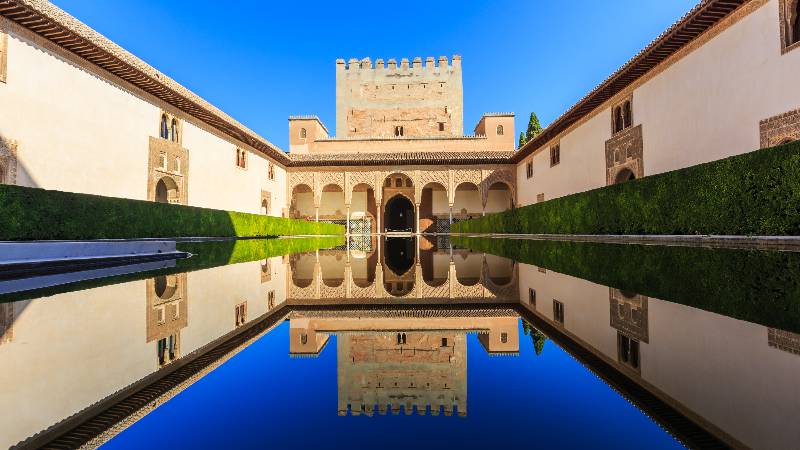 Alhambra has its origins from an Arabic word meaning 'Red castle,' due to the colour of its walls, and remains as one of the last pillars of Islamic rule in Spain. The palaces roots can be traced back to 1238 during the reign of Ibn al-Ahmar, founder of the Nasrid dynasty. His subsequent successors have added their footprints ever since, with restoration work continuing to this day.
As a result, the palace has gone through various architectural changes throughout its history, including Renaissance stylings, which give it a unique aesthetic mix.
Alhambra, now a UNESCO World Heritage site, is the central attraction when visiting Granada, and it's not hard to see why. The palaces majestic feel with have you spellbound.  With this in mind, you should look to book your Alhambra tickets in advance. Ensuring you can spend the day exploring rather than queuing.
Of the various Alhambra tours available you'll see a fantastic architectural mix. You'll discover geometric patterns, columns and archways. Find peaceful gardens and be able to gaze in awe at exotic halls and chambers. You start to get an idea why this attraction is a favourite to over 2 million visitors a year. A word of warning! There is a restriction on the number of visitors each day, also very few travel companies are allowed to sell tickets. isango! are proud of being one of the few that are able to offer tickets. Another reason why booking your Alhambra Palace tickets is a necessity.
More to Granada Than Meets The Eye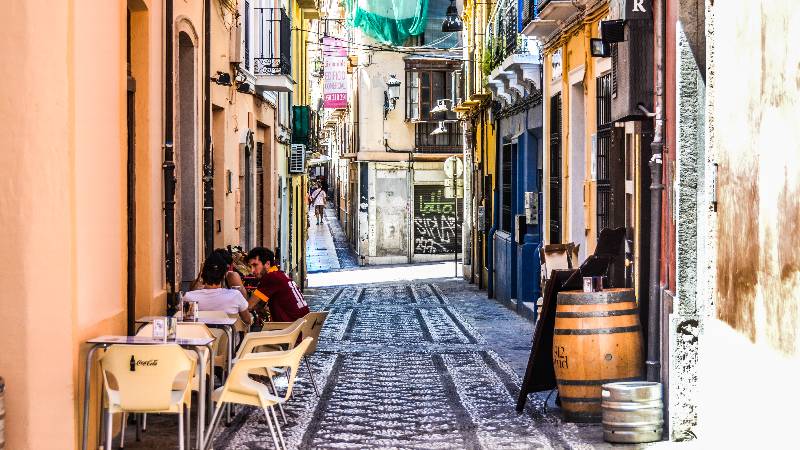 Below the castle, the town is also worth some serious tourist investigating.  Granada is a 16th Century city that you can easily explore on foot. Walk around the streets, and you'll find crumbling courtyard gardens, avenues of quaint shops and restaurants. Look around you, and you'll see the cultural and religious influences everywhere. Be sure to look high and low, down side streets and around corners. An overnight stay gives you the opportunity to indulge in some of the local culture. A flamenco show for some evening entertainment. Or after your day of exploring Alhambra a bit of relaxation. A visit to the Hammam experience will tick that box.
Away from Spain's more famous tourism hotspots of Barcelona and Madrid, Granada and more significantly Alhambra Castle are places that any culture seeker need to add to their bucket list. Book your Alhambra tickets early, and you can create your own Spanish fairytale story. Now that would be special.