It took my partner and I a while to decide on our Great Barrier Reef experience. Between snorkelling or scuba diving, island hopping or straight-up reef cruises, and of course, price, there were lots of things to consider. When we finally settled on the Paradise Reef and Michaelmas Cay cruise operated by Passions of Paradise, we felt pretty confident – and rightly so. Having taken home plenty of tourism awards over the years – from both the Queensland Tourism and Australian Tourism boards, and Ecotourism Australia – the Passions of Paradise team is known for their down-to-earth customer service, commitment to sustainable tourism and of course, their diving experiences. Here's everything you need to know about the day.
An overview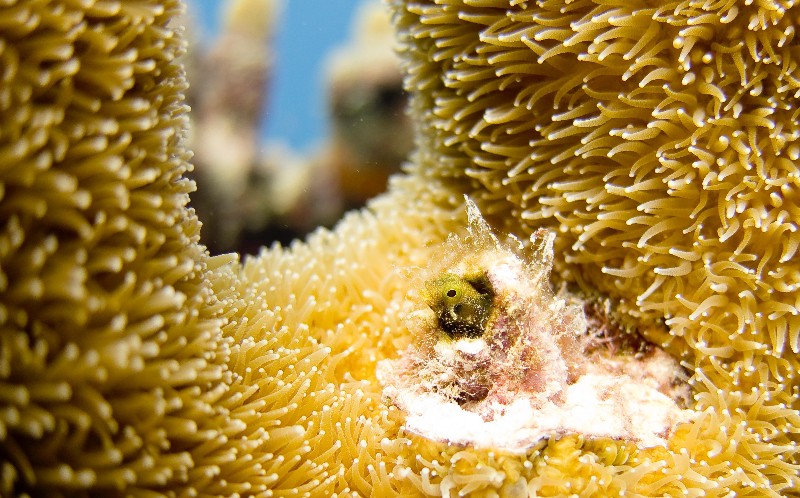 The tour takes travellers to the Outer Barrier Reef (this is the part of the reef that grows closest to Australian land) for snorkeling and scuba diving. The full-day tour takes place on a luxury, modern maxi-catamaran which sails daily from Cairns at around 8am and returns at 4.30-5pm. On the way to the diving and swimming spots, Passions of Paradise provide tea, coffee, snacks and a hot and cold tropical buffet lunch, cooked by an on-board chef. Passions of Paradise is one of the last Australian-owned tour companies that visits the Great Barrier Reef, a difference which is seen through the crew's local knowledge, quality service and environmental stance.  
On the day…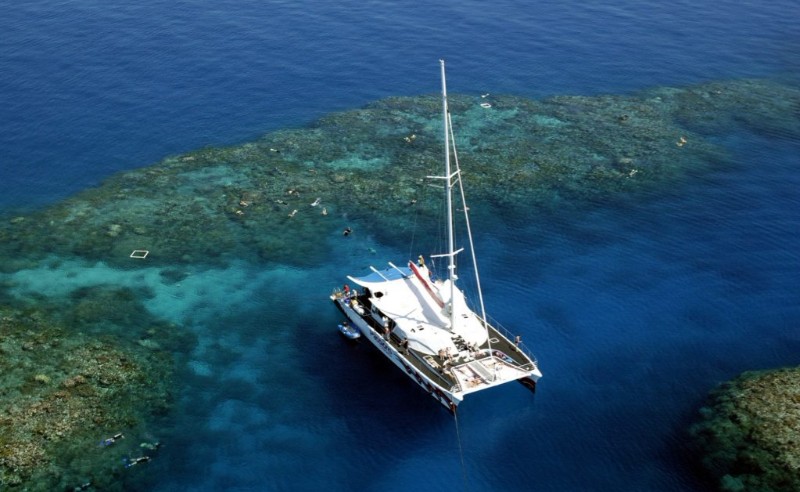 We set off from Cairns at around 9.30am (after expecting an 8am sharp arrival, but more on that later), and the team introduced themselves and ran through the safety instructions. With all the logistics stuff done, we were free to move around the boat, have a tea or coffee and a muffin and relax. As we pulled away from Cairns, we could see the tall hinterland mountains in the background and the open ocean ahead – it was a really beautiful ride to our first swimming spot, which took around two hours in total. The team selects the day's diving spots depending on the weather, in order to give divers the best experience.
On both dives, we lucked out. The Passions of Paradise captain told us that the day was what they call a "tourism day", the clear waters making it the perfect day for photo-taking. "This is the sort of day where they take the shots for the tourist brochures, you see." Of course, we didn't bring an underwater camera. Typical.
During our first snorkel we couldn't believe just how beautiful and close the reef was. Every minute or so I would wildly gesticulate to my swimming buddy, pointing out a peculiar coral formation, or pretty and/or "funny looking" fish. We were both in complete awe.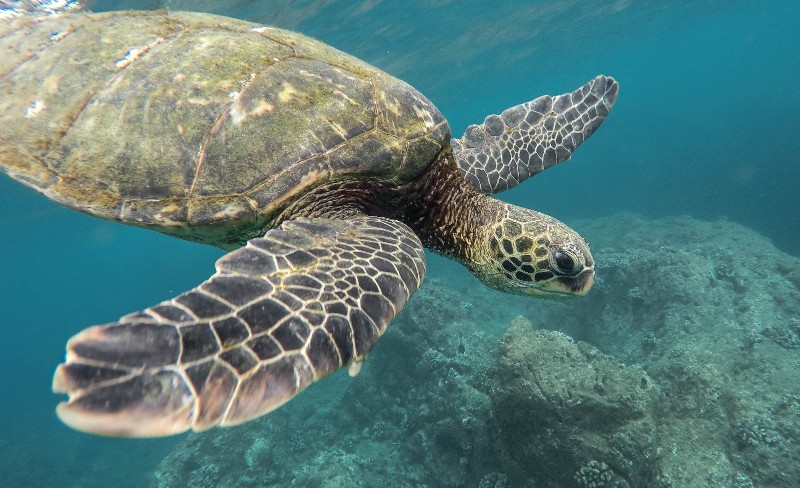 Our second snorkel was better still – we saw dolphins! They kept their distance more than the fish, but it was still great to see them. Everyone was really appreciative of the chance to see Australia's ocean wildlife. So appreciative in fact, that when someone yelled "there's a shark over here!" we all swam in the direction of the yell. My boyfriend noted that this may be the first time in history that people actually eagerly swim towards a shark, rather than away. I admit, it did feel a bit weird. The shark turned out to be a little reef shark, so we were in the clear.
Sidenote: I found out later that there's a very, very, very slim chance of seeing a larger shark on this experience. Passions of Paradise only take tour groups to areas not populated by the larger types. Here's what they say on the topic on their website…
"You may be lucky enough to see a little white or black tip reef shark pass you by as small reef sharks are common. However, they are very shy."
Throughout the day, the crew were on-hand, both leading scuba diving and snorkelling tours and answering questions. They had a few spotters on the boat too, to watch the divers and respond quickly should anyone get stuck or need extra support in the water. Although I'm a pretty good swimmer, we both opted to wear life jackets while snorkelling. This was for comfort more than for safety. A life jacket makes it easier to float on the surface and take in the sights below while snorkelling. Both options are available to everyone, and plenty of others were less lazy than us and opted to swim without a life jacket.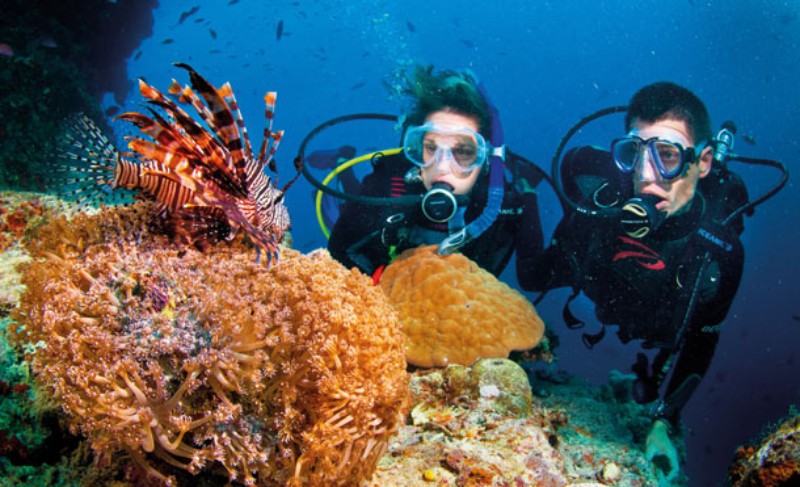 Then, there was the lunch. Fresh prawns, pasta, salad, meats, bread rolls – no luxury was spared by the on-board chef. Buffets always get a thumbs up from me.
The in-between times on the boat were fun! The crew had fun games on-hand to play, and went out of their way to chat and check in with everyone. When we got back to shore the crew invited everyone to meet them at the local pub for drinks and more of a chat too.
The drawbacks
The only thing that was slightly annoying was arriving. We were told to be checked in and ready at the boat by 8am sharp, however we didn't set off until at least an hour later. We were still waiting for the last stragglers to board the boat at 9.30am. But hey, you're waiting on a really nice, comfortable boat and there's tea and coffee, so it isn't so bad.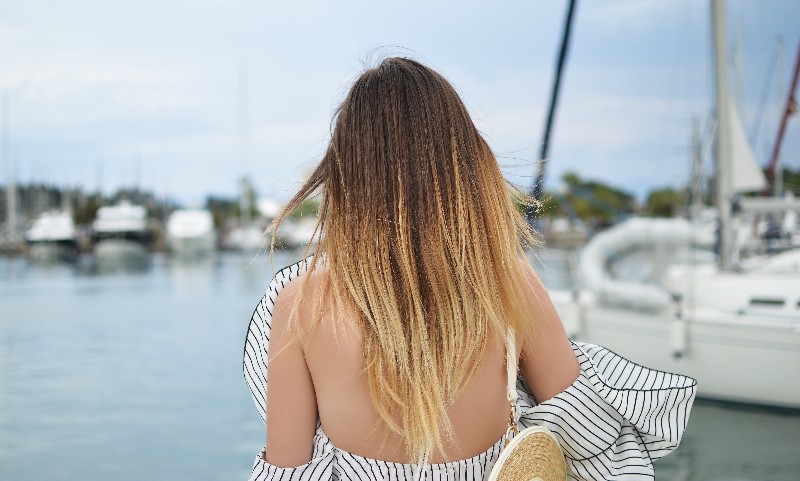 Top tips
Bring a book.

You have a fair bit of time on the boat – it takes about two hours to get to the Outer Barrier Reef – so bring along a book to read along the way.

Wear sunscreen

. It's hot out there and although the boat has plenty of shaded areas, you'll need to pop some sunscreen on too.

Don't get seasick.

There's nothing worse than being seasick. Thankfully, the Passions of Paradise crew have seasick tablets on board, and they available for a small price – take them.  

Have a chat.

The crew are well-trained and very knowledgeable on the Great Barrier Reef. They'll happily answer any questions you may have, and will provide a lot more context to the experience, so do have a chat.

Watch the presentation

. On the way back to Cairns, the crew puts on a brief presentation about the Great Barrier Reef and the importance of sustainable tourism. Don't miss it!
Worth doing?
Yes. If not just for the once-in-a-lifetime sight of the Great Barrier Reef, then for the beautiful cruise itself. Throughout the day, the crew went above and beyond for their guests – assisting in any way that they could to make the experience the most comfortable and fun as possible. I would definitely recommend this tour to visitors in Cairns. 
The Guidebook sidenote: This journalist was subsidised to test out and write about this experience, but all the thoughts listed here are her own. To find out more about this experience, check out all the Paradise Reef and Michalamas Bay tour details here.