As a kid growing up in Orange County, I made my fair share of family roadtrips to Las Vegas.  But, it wasn't until I turned 21 years of age that I finally got behind the wheel for the long haul.  I leveraged my way into borrowing my sister's "baby", a cherry red 1966 Mustang Fastback, and my friends and I hit the road.  I already knew the vast stretch of nothingness that lay before us was punctuated with little oases in the form of Podunk towns.  But, as the driver, this trip represented a rite of passage for me, which breathed freshness into the roadtrip experience.  Or, maybe that freshness stemmed from the car itself.  With no A/C and only an FM radio to entertain us, we cruised with the windows down, looking forward to each and every one of these pit stops that dot the road to Vegas:
Get your kicks: A Route 66 Roadtrip
For decades, Route 66 has sparked the imagination of millions of would-be roadtrippers.  The name alone conjures up images of sleepy diners, abandoned homesteads, and of course, the wide-open road.  And, for the most part, this stretch of Route 66 in California delivers on those daydreams.  As perhaps the most recognizable attraction on Route 66, Elmer's Bottle Tree Ranch might cause a bit of déjà vu.  That's because you've seen it on T.V. and in films.  And, if you watch Diners, Drive-ins, and Dives, then you must try the Truckers' Special at Emma Jean's Holland Burger Café like we did.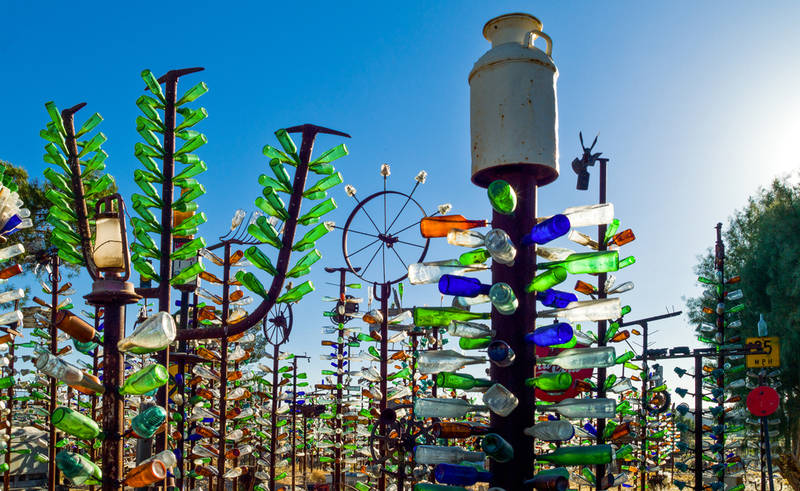 Barstow:  Beef Jerky, Meteorites, & Fast Food
It never entered my mind that I'd ever write about the town of Barstow.  It stands as your last chance to stock up on the essential four food groups of an L.A. to Vegas roadtrip:  Beef jerky, nuts, gum, and soda pop.  But, it also boasts of a few minor attractions if you know where to look.  The Route 66 Mother Road Museum and the Desert Discovery Center both represent good options.  Inside the latter, we spied the second largest meteorite in America:  The Old Woman Meteorite.  Or, if fast food culture interests you, you can dine at either the original Del Taco or inside a modified McDonald's railcar.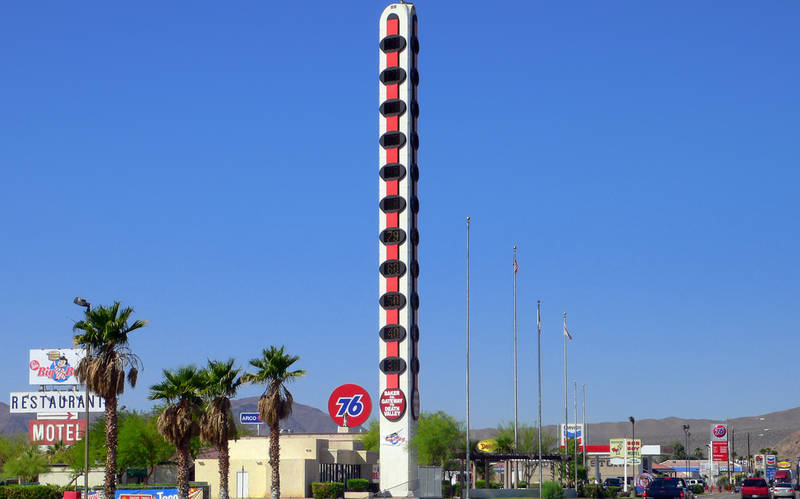 Baker:  High Temps & Even Higher Thermometers
The town of Baker epitomizes small town America.  And, in line with its small town status, it plays host to a rather silly attraction:  The world's largest thermometer!  I can't emphasize enough how much this thermometer meant to me as a child.  It signified hope.  When I saw this novelty-sized measuring device, I knew that this was the last stop before the state line.  And, since we had been seeing the signs for The Mad Greek Restaurant and Alien Jerky every few miles or so, we decided to drop in and enjoy some air-conditioning.
Stateline:  Gangsters, Rollercoasters, & More!
From a child's perspective, reaching Stateline means you've arrived in Las Vegas.  It has all the neon lights, clanking slot machines, and buffets that you'd expect in Sin City.  It even has one of the tallest and fastest roller coasters on Earth inside Buffalo Bill's Resort & Casino.  Another attraction that has been in place for years is the Bonnie & Clyde Death Car inside Whiskey Pete's Hotel & Casino.  If you plan to visit Las Vegas on a shoestring budget, staying at these hotels can represent a significant savings.  And, you can reach the exciting Las Vegas Strip in less than 40 minutes.  This time, though, we just blew right through.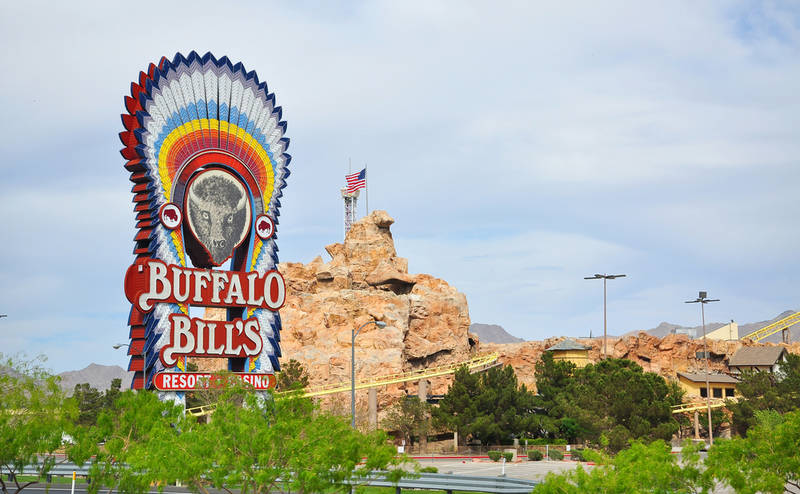 Hey you!  Have you ever completed this same roadtrip in a classic car?  If so, mention which car you drove in the comments below!