Istanbul, gateway to the East and the West depending on which way you're facing! The Greeks, Romans and Venetians all came and ruled over the city for a while. But decided to leave. The Ottomans, though, stayed. They must have liked it, as there are reminders all across the city. It's not only the fact that this city touches Asia and Europe that so interests people. It's the city's history too. It's the end of the silk road, and many of its merchants so liked it here they stayed too! Bringing with them and implanting their rich culture into those already here. Istanbul is quite the place.
Exploring Istanbul is a pleasure of sight, sound, and taste. As well as the attractions, you have the tea gardens, coffee houses, taverns and kebab shops offering its unique and sort after cuisine. Touring around is definately a pleasure, not a pain.
With that in mind, it's time to get exploring. We've picked out six places you should visit. There's no specific order, just enjoy them as you desire.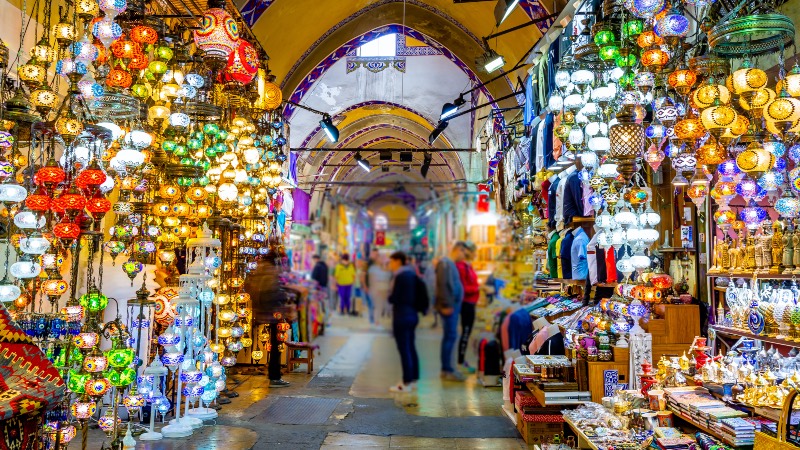 It may only be a covered market, but it's still one of the oldest and largest. Oh, and most famous. Let's give you the statistics first. There are 61 covered streets and around 4000 shops and it attracts close to half a million visitors a day! It's the place for all your shopping needs under one roof. Although, of course, with the sights, sounds and smells, it's much more than that. Carpets, lamps, to tea are among the items sold, and oh, don't forget to barter for your gifts. It's part of the deal when visiting here.
Talking of the Ottomans, as we were, the Blue Mosque (Sultan Ahmed Mosque) is one of Istanbul's most recognised buildings. It's a functioning mosque, but you can still visit. If you're wondering why The Blue Mosque, well wait until you're inside. It's painted blue on the upper levels, hence its name.
Riots and sport and 500 years of history! Byzantine Hippodrome was once at the heart of Constantinople's political and sporting life, hence those scenes! We're talking Ottoman history here. It's a city park and a popular place to visit. There are plenty of treasures to be found, including a stone tower (all part of the city's system of aqueducts). It's also close to the Blue Mosque, so some easy touring for you.
Looking for somewhere regal? Well, Beylerbeyi Palace is one of two palaces on our list. Built for a summer residence to entertain visiting heads of state. It's well worth your time, and the place oozes with history. By the way, Beylerbeyi means 'lord of lords', so gives you some idea what to expect. It's grand!
Onto another Ottoman residence. Topkapi Palace is a large museum, serving as a residence and administrative headquarters for the Ottoman sultans. It's another big place, but once again packed with interesting artefacts and history to devour.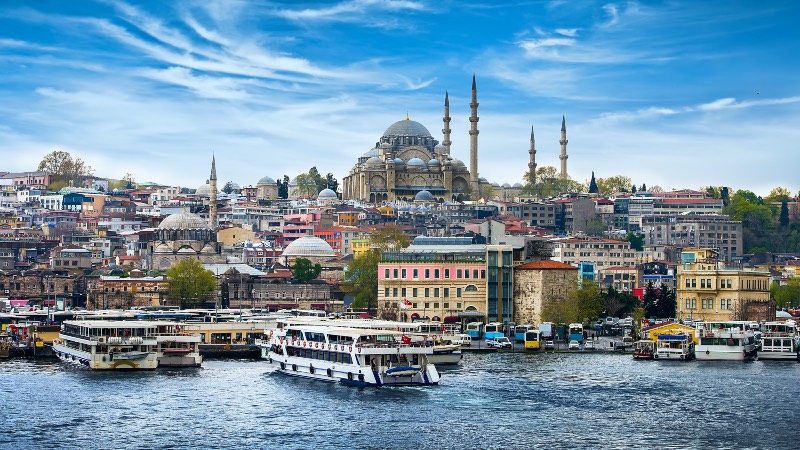 Our last choice is a cruise along the Bosphorus. On the one side you have Asia, and the other Europe. The cruise also gives you a different perspective of Istanbul's major sites, so camera at the ready.
There is much to admire and enjoy in Istanbul. A city that has an abundance of history to learn about, stunning architectural buildings to see and a rich, diverse culture to experience. East meets West and West meets East, and out pops this city. What a joyous, exciting place to explore.