It may be November, with Christmas around the corner but only now is Autumn in Japan really showing its colours! It's like the trees have decided 'Ok, let's get this show on the road!' A splash of colour is coming and experiencing them in the Japanese capital should be among your first choice of things to do in Tokyo, if you're lucky enough to visit in the coming weeks.
Now is an especially good time to be visiting Japan, and Tokyo in particular.  Tokyo is currently centre stage for sporting events. The Rugby World Cup has just successfully been completed, well done to South Africa. And next all eyes turn to the Summer Olympics in 2020. Before that celebration of sport begins, let Autumn take centre stage and delight you with its array of stunning colours.
Where can you go to see this colour show among all the other things to do in Tokyo? We give you a guide to the best spots to witness and enjoy the autumn at it's grandest.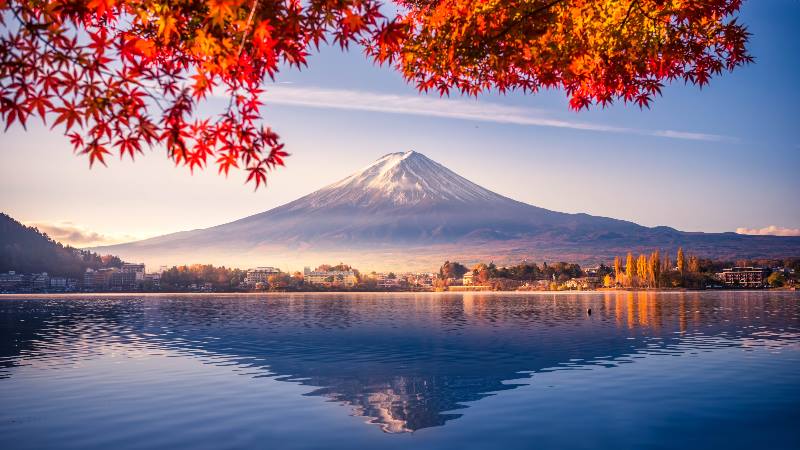 There is no better time to see Mt Fuji than during the Autumn months. Visible from many districts within the Tokyo region on a clear day. Look West and its snow-covered peak juts above the surrounding mountains, dominating the distant skyline. Add in the vibrant Autumnal colours at its base, and you have a scene from some magical fairy tale.
To witness this scene, you can take organised trips from Central Tokyo. It's a day trip so prepare for a long day of exploring (9 to 11 hours). Alternatively, you can get the train from Shinjuku to Hakone. Whichever, your journey, make sure to take in the sights, the sounds and the smells of the countryside. It's as far removed from the concrete jungle as you can get. It's a Tokyo treat.
Tokyo Parks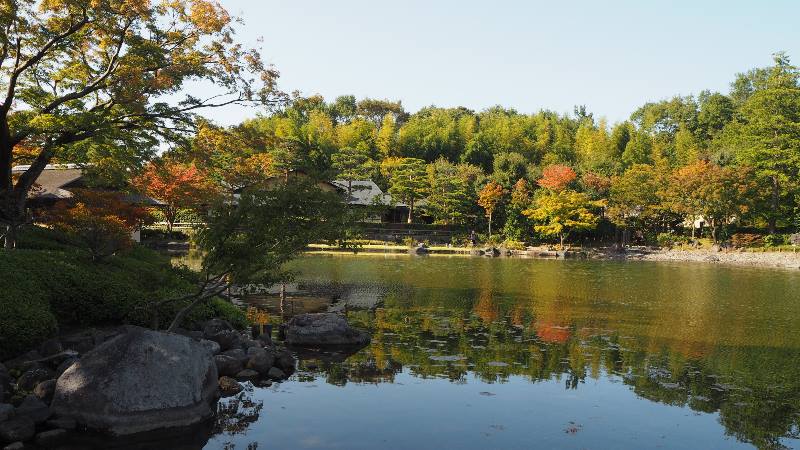 There may be 20 million residents in the regions of Tokyo, but that doesn't mean there aren't plenty of parks and open spaces, where nature has found its way to brighten up the concrete landscape. Visiting one should be among your picks of the things to do in Tokyo. Many of the major parks are a sea of orange, yellow, green and red at this time of year. It's a season that is as celebrated as the Sakura (Cherry Blossoms), with people taking the time to stroll around and enjoy the colours and the cooler weather.
Among the places to visit in Tokyo include the Japanese landscape gardens of Rikugien and Koishikawa Korakuen. With their manicured gardens and ponds – it's the image you imagine when you think Japanese garden. Beautifully manicured, quiet, tranquil places. With stunning fountains and strategically placed seats to enjoy the surroundings best describes it.
Some of the more famous gardens are also worth visiting such as Shinjuku Gyoen, Showa Kinen Koen (near Tachikawa station) and Yoyogi Koen – a more western-style park. All offer stunning scenic views and are close to stations. Leave the shopping behind and check them out!
Mount Takao and Mount Mitake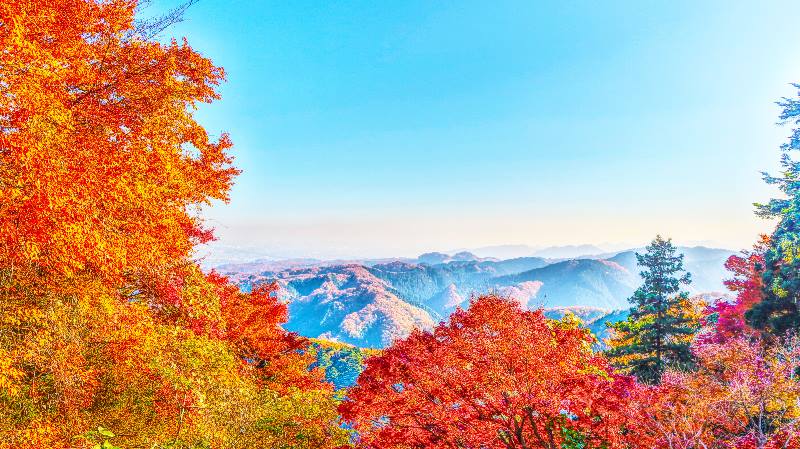 If your Tokyo autumn itinerary allows then head for one of these mountain areas on the outskirts of the city. Mount Takeo is west of Tokyo and a popular hiking route, not to be outdone by it's Autumn colours. You can get a cable car or chair lift up – so it's accessible for all.
Mount Mitake is out near Chichibu, North West of Tokyo, and can be found in the Chichibu Tama Kai National Park. Again a popular hiking destination, where the colours arrive a couple of weeks ahead of the city. It's within easy reach of a day trip out of Tokyo and as an added bonus (you also get to travel on the awesome trains! – check out the fast train to Chichibu – Laview Red Arrow). They are an experience in itself and another of the things to do in Tokyo!
November / December is the time when Autumn and the Christmas season harmoniously mix together. The colours of the trees are the real winners here. Visit Japan at this time, and you will experience a sight for the eyes. Witness the spectacular colours and you will fully appreciate why this time of year is so revered. Seek and enjoy. 
Where would you go to see the Autumn colours? Why not give us some tips and we'll be sure to check them out.