Everyone has found themselves in that situation where you visit a new city and have no idea where to eat.  And, I'm amazed how certain restaurants in Los Angeles and other cities enjoy such fame and success locally, while remaining anonymous to outsiders.  So, I compiled this list to help every tourist visiting Los Angeles for the first time.  All of these food establishments grew deep roots in L.A. decades ago and provide some of the best opportunities for spotting a celebrity.  If you'd like an authentic taste of Los Angeles, stop by one of these iconic L.A. mainstays.
Philippe's
Boasting the longest history in Los Angeles, you'd have to go back over one hundred years to enjoy Philippe's French Dip sandwich in its original form.  A huge debate exists whether Philippe Mathieu discovered the French Dip first.  All I know is that Philippe's does it best.  The bread roll, roast beef, and au jus create a one-of-a-kind taste you won't find anywhere else.  I don't know how they do it.  If you like pickled eggs, they got the purple kind here.  The confusing counter service and sawdust floors might scare away certain types of potential customers; but, if you want the best, then these minor details won't stop you.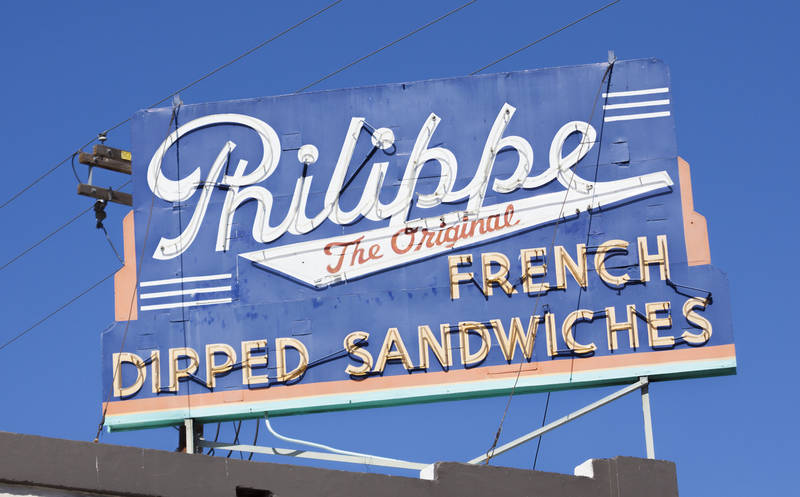 El Cholo
I have to admit that I owe El Cholo big time!  The original downtown location provided certain students in the area with a 50% discount on all food items.  That amounted to four (and a half) years of shrimp fajitas marked down from $14.95 to… what, $7.48?  Regardless, El Cholo delivers delicious Mexican food, outstanding margaritas, and an escape into what seems like a Mexican villa.  El Cholo's history in Los Angeles dates back to the early 1920's.  And, you'll find a great deal of black and whites from that era hanging on the walls.  As you might suspect, I recommend the shrimp fajitas.  And, an L.A. Lemonade.  Oh, and guacamole prepared tableside.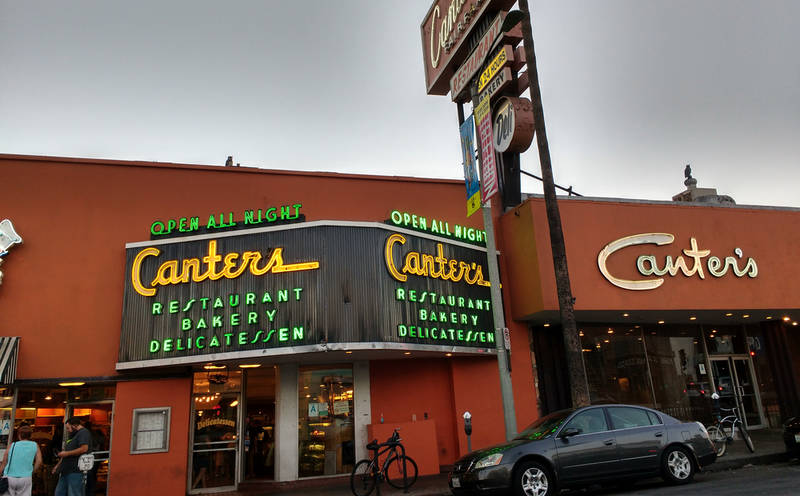 Canter's Deli
One of the most famous 24-hour restaurants in Los Angeles comes in the form of a Jewish-style deli.  And, Canter's Deli has been serving up traditional Jewish dishes since the early 1930's.  Many people point out that Canter's Deli isn't Kosher since it is open on Saturdays and serves pork products.  Nevertheless, after a night out on the town, a Canter's Reuben or Pastrami sandwich really hits the spot.  .  So, if you find yourself in L.A. and have a 2:00 a.m. hankering for lox and bagels or matzoh ball soup, head over to Canter's Deli for an old-fashioned Los Angeles experience.
Pink's Hot Dogs
What can I say?  I like hotdogs.  I like chili.  But, I have never been a big fan of Pink's Hot Dogs despite having been there several times at different stages in my life.  Yet, I do recognize that Pink's Hot Dogs enjoys more fame than almost any other eatery in Los Angeles.  And, countless celebrities have eaten there, making it a fun stop for any first-timer.  Pink's nearly 80-year history, from pushcart to world-famous pit stop, also draws international food tourists.  I'd say, go ahead and enjoy an iconic L.A. experience; but, bring an antacid!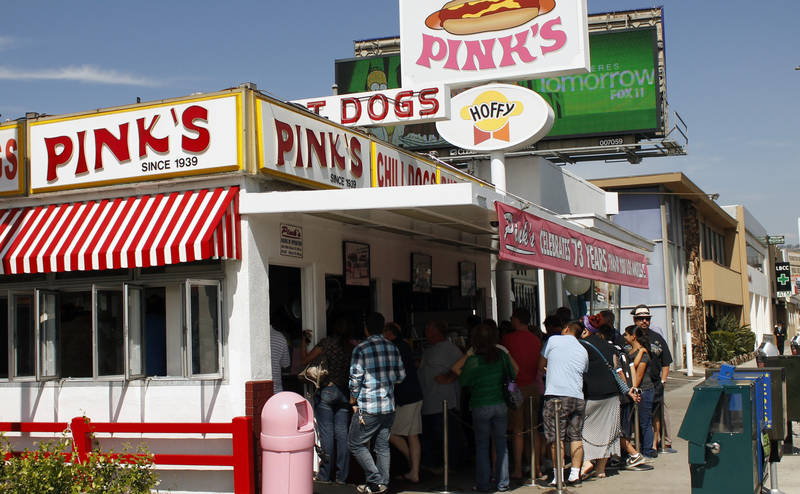 Hey!  Have I been gone for far too long and forgot an obvious, iconic restaurant in L.A.?  Let me know in the comments below and I'll add it to the list.