Hollywood a.k.a Tinsel Town. Famous for all things cinematic. While that is a richly earned image of Los Angeles, there is more substance to this sprawling metropolis than just the movies. There is a more extensive artistic and cultural soul to LA. It has excellent shopping, dining experiences, museums to visit and of course stargazing!
So let's get you on that sparkly LA train and show you the town, and beyond!
Theme Parks
You're spoilt for choice when it comes to theme park fun! From the world-famous theme park that is dedicated to all things Disney. To Warner Brothers Studio and Universal Tours, the word 'blockbuster' is a pretty good summary of these theme park giants. You know Disney – I mean who doesn't? At Warner Bros as well as the rides there is a museum with classic Hollywood memorabilia.  And at Universal Studios you get a chance to see how the special effects are created and be scared silly in the terrifying House of Horrors.
Grauman's Chinese Theatre And Walk Of Fame
Now officially the TLC Chinese Theatre it is still commonly called Grauman's. Whatever its name, this is where Hollywood legends from the 1920s till today have been immortalised by having their handprints, footprints and signatures captured on pink terrazzo tiles in the forecourt. Appropriately Grauman's and the Walk of Fame are on Hollywood Boulevard. No one can leave LA without making a pilgrimage to this famed avenue so closely linked with the movies.
Venice Beach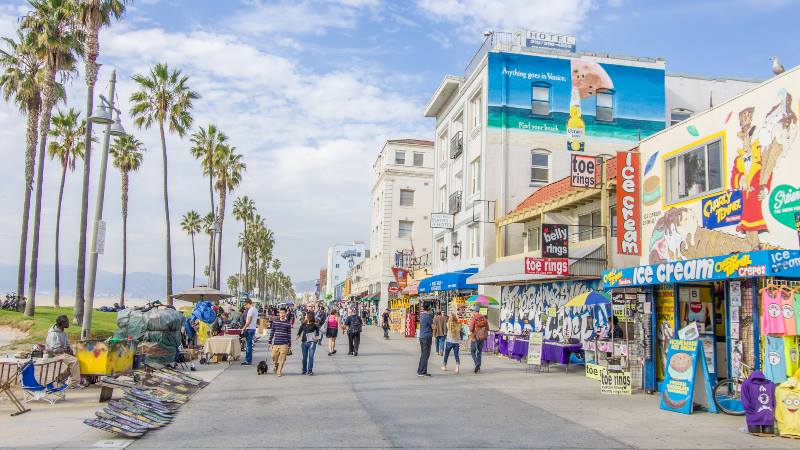 There are beaches, and there are beaches, but Venice Beach is entirely something else. It is a state of mind that is continuously amazing you visually. If you visit LA and don't go to Venice Beach, you have not lived.
Venice is the fount of all things eccentric (some would say zany). It is a hive of street entertainment with Ocean Front Walk where the main action happens. You will find instrumental musicians, singers, jugglers, acrobats, mimes, comics, magicians, prophets and fortune tellers. Hairdos will shock you; so will the painted faces, weird tattoos, and the minimum clothing on folks will have you rubber-necking to the point of your head almost falling off. There are other beaches to explore and experience of course, including, Malibu Surfrider Beach, and (the classic sands of) Santa Monica Beach.
The Getty Center
The Getty Center is the most famous museum in Los Angeles. A visit to the place means you get a four in one pleasure pack. The architecture of the buildings are superb; perched high on a hilltop the views of Santa Monica and Beverly Hills are breathtaking; the exhibits of the museum and finally the fountains, walkways and ever flowering gardens are unbeatable experiences.
The Griffith Observatory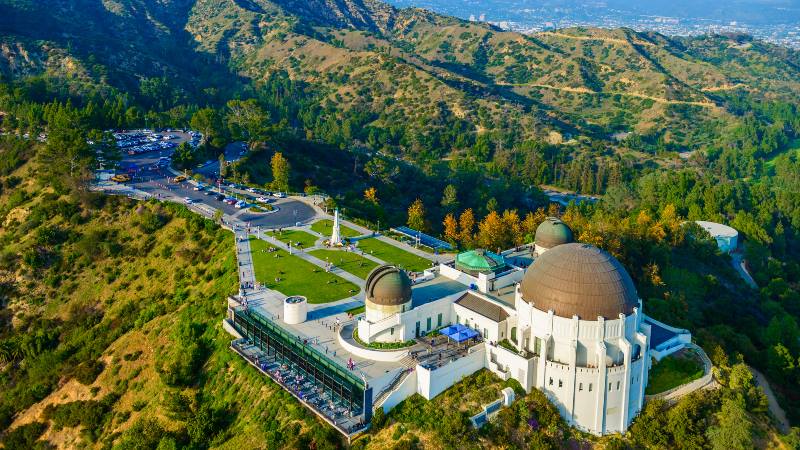 The Griffith Observatory is where you can gaze out at the stars (the celestial kind), but the impressive building is itself visible from most parts of Los Angeles. The telescopes, scientific exhibits and planetarium are free to the public. The observatory has two favourite displays – the Hall of the Sky and the Hall of the Eye explain and explore the connections between humankind and space.
Located on Mt Hollywood, one favourite activity among visitors here is having their picture taken with a bust of the legendary James Dean and the famous Hollywood sign in the background.
Watts Towers
The Watts Towers is the child of Italian-born tile-setter Simon Rodia's determination and vision. Starting in the 1920s, he took over thirty-three years to construct these fascinating and ethereal towers reaching 100 feet into the sky. He built these fragile-looking structures from bottles of 7-Up, Canada Dry and tiles from Malibu Pottery, as well as jewellery, marble and seashells.
Next door is the Watts Towers Art Center. They hold regular workshops, arts and dance performances, exhibits. In September the Center holds the Watts Towers Day of the Drum and Jazz Festival.
Runyon Canyon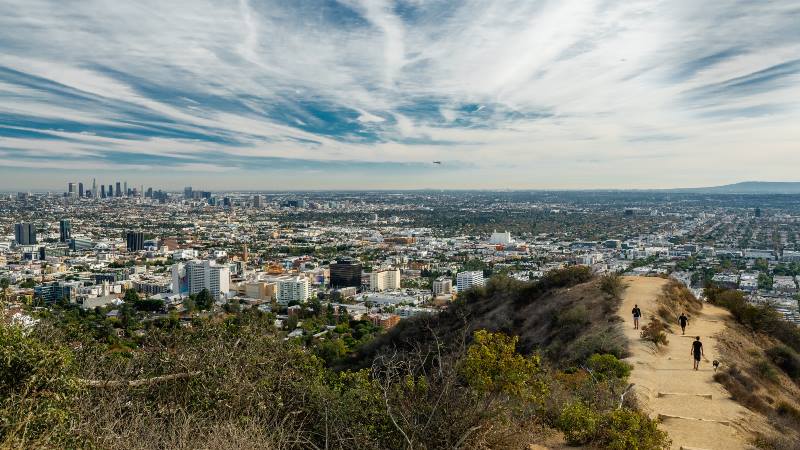 Los Angeles is an outdoors kind of city and all of it beautiful – including its citizens. Runyon Canyon Park exemplifies Los Angeles as Venice Beach does. This superb park is close to the celebrity residential areas of Hollywood Boulevard, Hollywood Hills and Mulholland Drive. Tucked into the beautiful Santa Monica Mountains, it has some great walking and hiking trails. The views of the mountain range and the city are just fabulous. It is also one of the best places for people watching and celeb spotting.
Shop and Gawk on Rodeo Drive
You could spend the whole day indulging in these two activities on Rodeo Drive. One of them will, however, deprive you of plenty of your hard earned dollars. You will get plenty of star-spotting to talk about when you get back home. Window shopping is the main activity (besides serious buying) on this cobbled faux European style street.
There is much, much more to Los Angeles or should we say Tinsel Town than we listed here. There are plenty of great museums, eating places, night-life spots and incredible landscapes scattered everywhere. You will not come away disappointed by your visit to this beautiful west coast city.