Welcome to Genoa, gateway to the Riviera, grandiose in style and rejuvenated. Yet somehow still with a deep appreciation of its past. Genoa is a city that once helped rule the Mediterranean waters, now a port city that welcomes arrivals who then head straight onto more illustrious destinations. It's time that changed.
Just because it's a bustling port city, don't let that put you off spending some time here. For this much revitalised town has enough to offer any tourist willing to explore its narrow streets, ducking the washing lines and discovering the recently opened cafes, restaurants and shops.
When Genoa ruled the waves, back in the 12th and 13th Century, little would they realise that tourism would be a reason for visiting. It's once tatty port, the beacon of this revitalised destination is just the start of your adventures here. So where should you go sightseeing in Genoa? What are the must-do's when you come here? We take a look.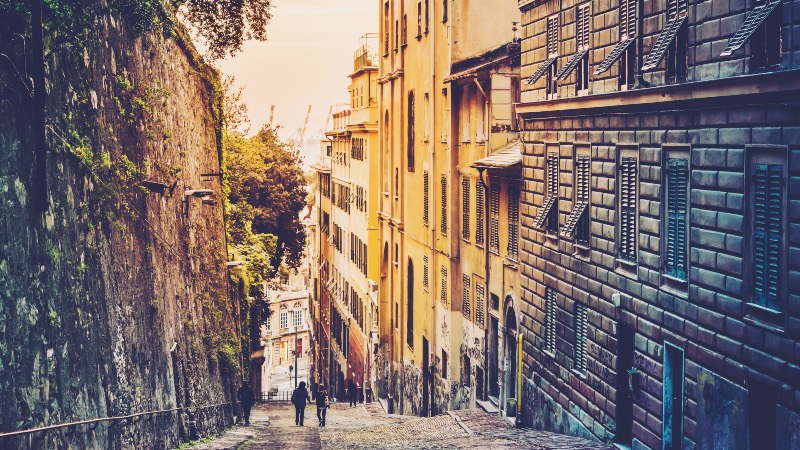 There are several places of interest to visit during your stay. Museums that will give you the history of the town and attractions that will show-off their opulent wares. You have the UNESCO-listed Palazzi dei Rolli to explore. It comprises streets and palaces in central Genoa, and well-worth your time. Make sure to visit Musei di Strada Nuova. A place that houses works of the masters, well you are in Italy after all.
Not forgetting its marine heritage, you have museums such as the Galata Sea Museum and the Aquarium to enjoy.
The Old Town
From the moment you step through the Porta deo Vacca or Soprana gates, you'll feel you're heading into the dark ages or, at the very least, a residential district! Narrow streets and lines of washing will be a common sight. Don't let that put you off. There are plenty of cafes, bars, restaurants and shops to find, so let your body and mind wander. It's a great way to get a feel for a place. Then when you need to rest, settle back and take in the moment at one of the cafes or bars.
A Genoa Must do
A visit here should never go without trying Pesto Genovese. You'll be familiar with it, but the sauce that originates from Genoa always seems to taste better in the place of its birth. Crushed garlic, European pine nut, salt, and basil leaves. Mix with meatballs and pasta, and well. Enjoy!
The hilly capital of the Liguria region, Genoa, along with being the birthplace of Christopher Columbus, its palaces, marine history and food is a great Italian city to visit. A place well worth immersing in and is as colourful as its houses. Italy's port city is waiting for you.