Sugar, spice and all things nice await in India's chaotic capital.
As the country's ultimate gourmet hotspot, New Delhi's food finesse goes unrivalled, with an aroma of spices found on every alley, by-lane and corner of this age-old city. With so much to do and so little time, here's our breakdown of what to eat in Delhi, with all our guidance taken from a local's first-hand experiences.
Breakfast in New Delhi: the most important meal of the day calls for all-you-can-eat mains with a sweet treat to follow.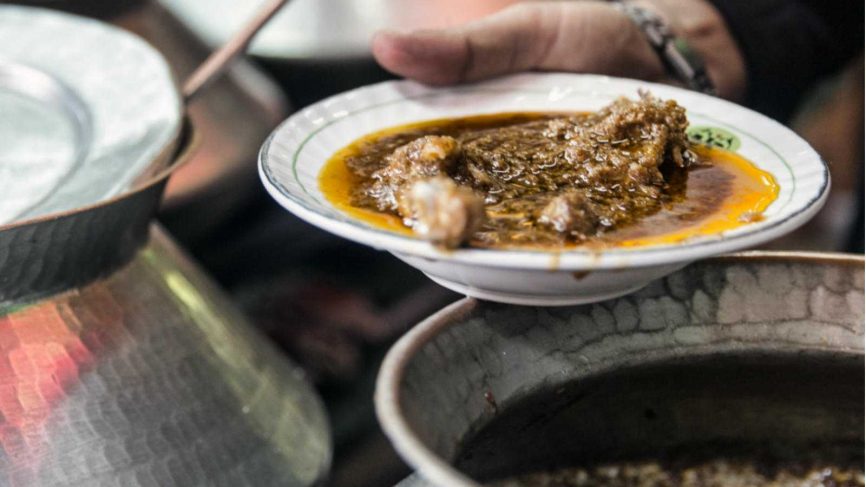 1. Nihari and Paya at Al Jawahar, Matia Mahal, Old Delhi
It may be one of the most chaotic areas in Delhi, but the city's historic quarter of Purani Dilli in Old Delhi is busy for a reason. Getting among the action in the chaotic mornings of Old Town – when local folks get ready to start their business day and young lads throw meat to feed famished eagles – is one of the key reasons this is the best spot to start a foodie trail.
Rush past local shops and make your way to Matia Mahal, a narrow alleyway across the gate to Jama Masjid, where you will find the famous Al Jawahar restaurant that serves Mughlai cuisine's essential breakfast starters, Nihari and Paya dishes. Nihari is mutton fat along with bone marrow, cooked overnight with spices, turmeric and chillies, and Paya is a soup-like dish made of goat's trotters. Hurry though sleepyheads, these delicacies are only available between 9:30am – 11am.
2. Bedmi Pooris at Sham Sweets, Chawri Bazaar, Old Delhi
Old Delhi is a treasure trove for food lovers of all ages, with every nook and cranny of this historic region boasting a tasty food joint or two. Vegetarians visiting the Purani Dilli can head to Shyam Sweets, an eatery serving delicious Bedmi Pooris since 1910. Served until 1pm, Bedmi Pooris are deep fried breads made of wheat flour, spices and lentils, and come with pickle and potato curry.
Did someone say dessert? Sham Sweets are also famous for its special Nagori Halwa dish, a crispy, sweet bread made with semolina and ghee (Indian butter).
3. Chole Bhatura at Bille Di Hatti, Kamla Nagar
Head to Kamla Nagar near Delhi's college district to savour a plate of spicy chole bhature, one of the city's most typical breakfast options. Chole bhatura is a spicy curry made from chickpeas, and served with fried flatbread.
Did someone say dessert? Enjoy a tall glass of thick, creamy Lassi, a sweetened yogurt drink.
Brunch in New Delhi: the best of breakfast and lunch come together in a joyous union where 'everything in moderation' is easier said than done.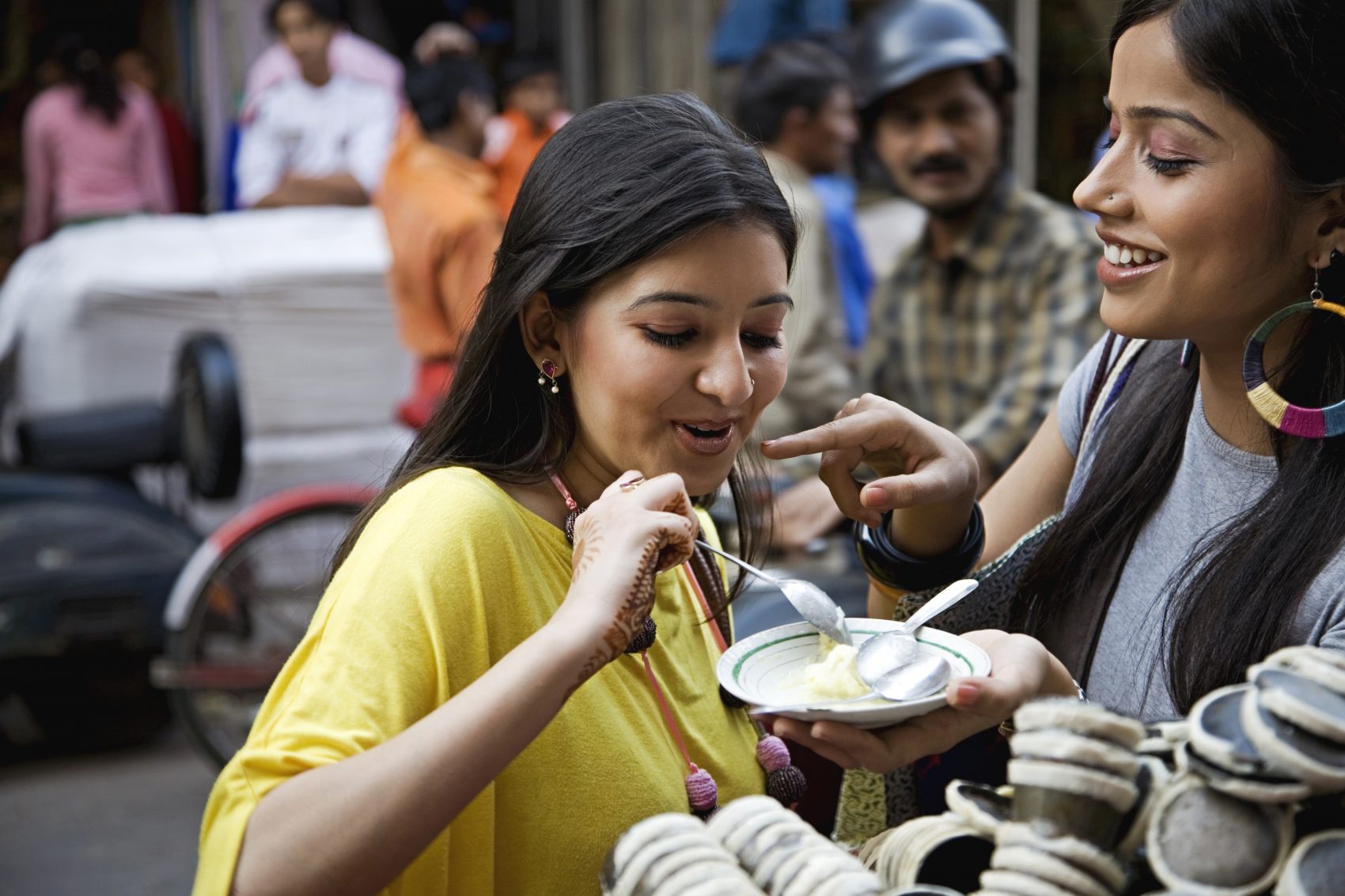 1. Jalebis at the Old Famous Jalebiwala, Chandni Chowk
Enjoy jalebis, a warm pretzel generously doused in syrup. It's unique, sweet taste will linger in your foodie memory long after inhaling this sweet treat.
2. Daulat ki Chaat in Old Delhi
Perhaps Delhi's lightest dessert, Daulat ki Chaat is a light, frothy paste made of milk and cream. This culinary basic is found only on wooden carts and street vendors.
Did you know? Daulat ki Chaat is prepared early each morning, with cooks whisking cream and milk for up to three hours until the froth builds consistency. Talk about dedication!
3. Kesar Pista Badam milk at Kanwarji Confectioners, Chandni Chowk
Healthy and delicious, gulp down a glass of this milkshake flavoured with saffron (kesar) and crushed pistachios.
Lunch in New Delhi: Call halftime on your tourist activities with these amazing lunch offerings.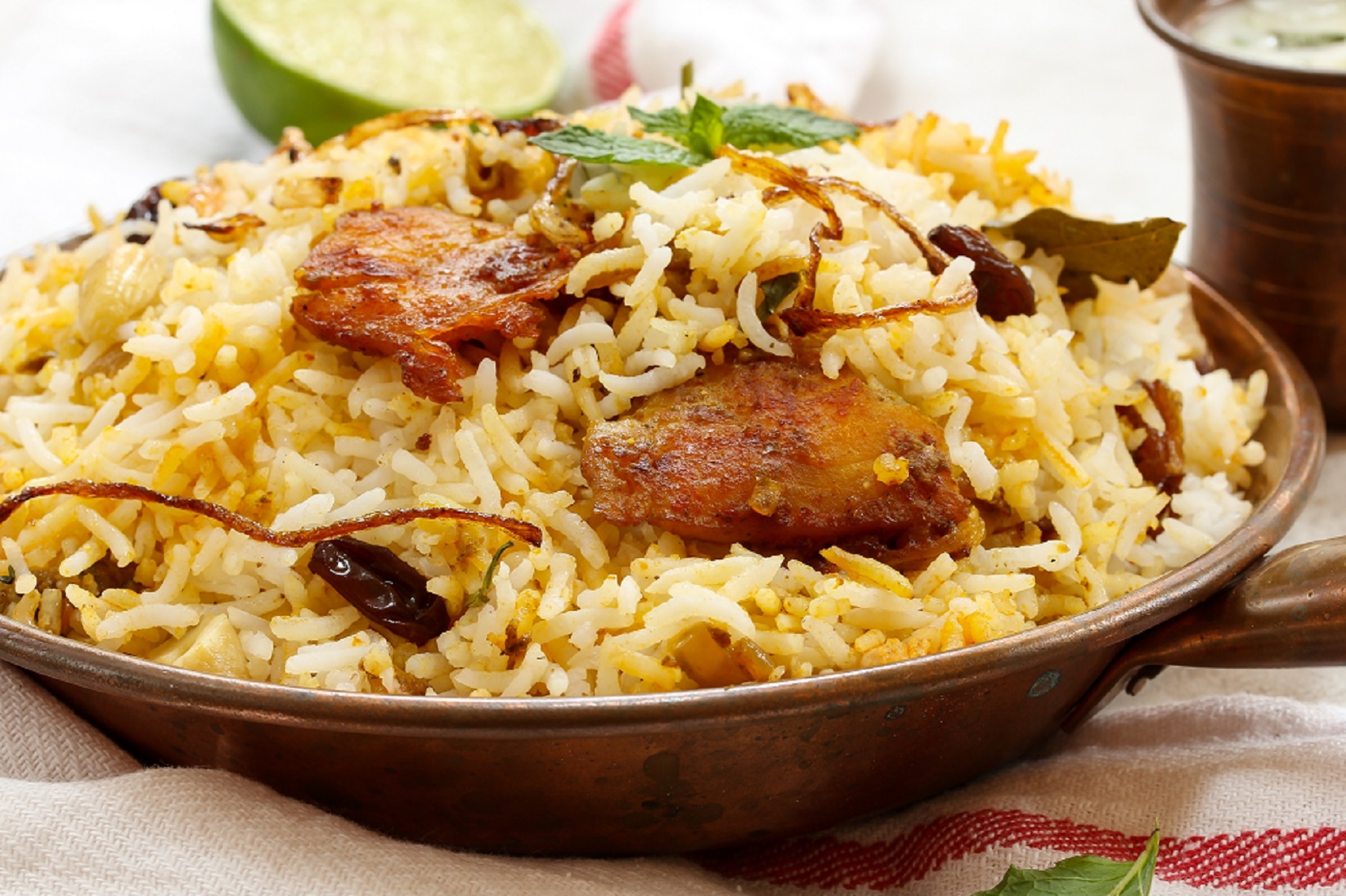 1. Matka Pir ki Biryani and Giloti Kebabs at Babu Shahi Bawarchi, Nizamuddin
This ramshackle shop's rough-and-ready appearance may encourage second thoughts, but one whiff of the fragrant foods on offer here brings groups by the dozen to Babu Shahi Bawarchi. Dig into the famous Matka Pir ki Biryani, a rice dish prepared with spices and meat, and enjoy authentic, crunchy Giloti kebabs on the side, with chefs using an age-old recipe dating back to 1870. Run by a long lineage of chefs who once served the Mughal Emperor, Shahjehan, Babu Shai Bawarchi is the perfect lunchtime spot.
Did someone say dessert? Indulge in imartis, a deep-fried sweet made of lentils and dipped in sugar syrup. You can find imartis in many of the local sweet shops.
2. Stuffed paranthas at Gali Paranthe Wali, Chandni Chowki
The narrow alleys of Chandni Chowk is home to a series of restaurants boasting the most delicious of Indian breads, the parantha. Various veggie options are stuffed with spices in the dough, rolled into a flatbread and deep-fried in oil until it's golden and crispy. The paranthas are served with pumpkin curry and pickle.
Did someone say dessert? Rabri, a dessert made of condensed milk and served in terracotta bowls are the perfect end to your lunch. Find our favourite  at New Delhi's Rabri Bhandar.
3. Chur Chur Naan at Pradeep Corner, Paharganj
Explore the vibrant lanes of Delhi's hip neighbourhood of Paharganj, heading to Pardeep Corner for delicious Chur Chur Naan. Bread stuffed with cottage cheese, potato and onions may sound simple, but this stall is packed for a reason!
Did someone say dessert? A dose of succulent gulab jamun, a stuffed brown ball dipped in sweet syrup, at the Shri Bankey Bihari Samosa Wala will complete your meal.
Dinner in New Delhi: End your Delhi day on a high with an evening at one of these top foodie hotspots.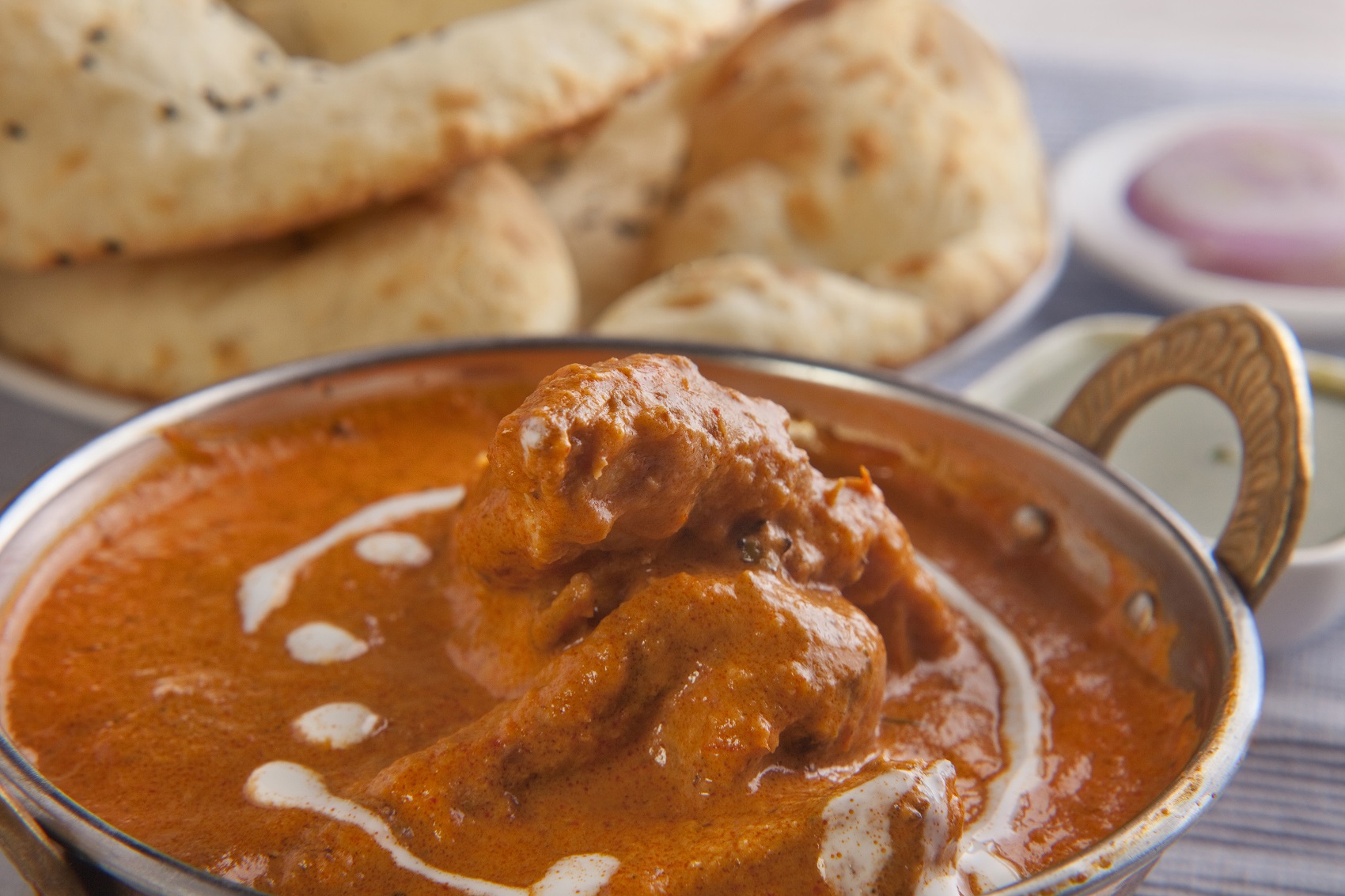 1. Butter Chicken and Roomali Roti at Aslam Chicken Corner, Old Delhi
Amid the hustle and bustle of Delhi old quarters lies Aslam Chicken Corner, famous for its own unique (and secret!) recipe of Indian butter chicken. Boasting the best-food-is-shared philosophy, at Aslam Chick Corner a bowl of juicy butter chicken is served around the table to a group. Eat like a local and enjoy your meal with your hands, with the thin flatbread roomali rotis, on the side to accompany.
Did someone say dessert? Savour a plate of shahi tukda, a local dessert made with bread deep-fried in ghee, and dipped in thick cream and sugar syrup, at Cool Point – just around the corner from Aslam Chicken Corner.
2. Mutton Barra and Brain Curry at

Karim's

, Matia Mahal, Old Delhi
One of the most famous culinary landmarks in Delhi, Karim's Restaurant was established in 1913, it's kitchen maintained by the descendants of royal cooks who once served the Mughal Emperor of India, Bahadur Shah Zafar. Take pleasure in a plate of succulent mutton barra, meat roasted in a barbeque and served straight out of the searing coal. Barra is best served with Indian breads and brain curry, lamb's brain cooked with spices and oil.
Did someone say dessert? Enjoy a cool glass of gur ka sharbat, a juice of jaggery flavoured with lemon at Akhil Ahmed's shop at Moholla Pahadi Imli, Matia Mahal.
3. Mutton Qorma and Sheermal at Jahangeer Foods, Daryaganj, Old Delhi
Just across Jama Masjid lies the famous Jahangeer Foods known for its scrumptious mutton qorma, a signature delicacy in Mughlai cuisine. Meat stirred with yogurt and spices melts in your mouth with every bite, accompanied by sheermal, a saffron-flavoured thick flatbread. Heavenly!
Did someone say dessert? Slurp away on India's quintessential frozen dessert, the kulfi, at Kuremal Mahavir Prasad Kulfiwale at Kucha Pati Ram, Bazar Sita Ram in Old Delhi. Pick your favourite flavour from a range of fruits like mango, pomegranate, blackberry, litchi and guava, and enjoy!
And that's a wrap! What are your favourite foodie spots in Delhi?