Is it altitude making me woozy, the flood of endorphins released after all that physical exertion or have I literally just climbed into heaven? I can't quite pinpoint the route of my obsession with mountaineering, but there is nothing in this world I would trade for my desire of natural high Mountains To Climb before I die.
Someone wiser than myself once said: "I have two doctors, my left leg and my right".
Walking is my mindfulness. The top of the mountain is where I find my zen and summiting is less about physical achievement than challenging my own self-conceived limitations and harnessing my full potential – the view is just the icing on top!
It's from this motivation that my ultimate hiking bucket-list has grown. How many can you tick off?
1. Snowdon, UK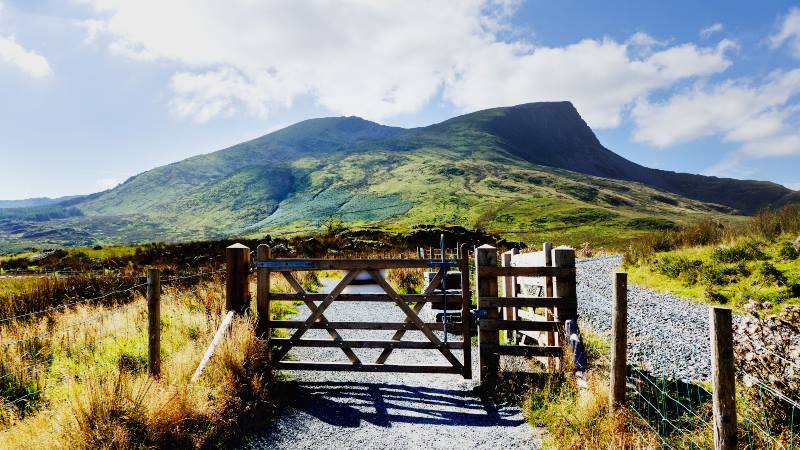 Ailing from a small Welsh village with enough "ll"s in its name to warrant English translation it's only natural that the highest peak in Wales made a list. I only hiked Mt Snowdon for the first time last year and was wowed by the trail; waterfalls, lakes, a right section of a scramble towards the top and a café to buy a beer at the summit. Yaki-Da!
Height: 1085 metres
Fun fact: In Welsh, the mountain is called Yr Wyddfa Fawr meaning the 'Great Tomb' and is said to be the resting place of a giant slain by King Arthur.
2. Cradle Mountain, Tasmania
Wombats, Tasmanian devils, crystal clear lakes and a mountain so distinctive and jagged it looks like an illustration you might find in The Hobbit or as a Disney villain's lair. The trails in the National park are diverse and offer hiking opportunities for all fitness levels. B-E-A-U-tiful!
Height: 1545 metres
Fun fact: Tasmania has a reputation for creative place names. Cradle Mountain is named after it's resemblance to a gold mining cradle, but I wonder how they explain Eggs and Bacon Bay, Granny's Gut and Lovely Bottom…
3. Huangshan, China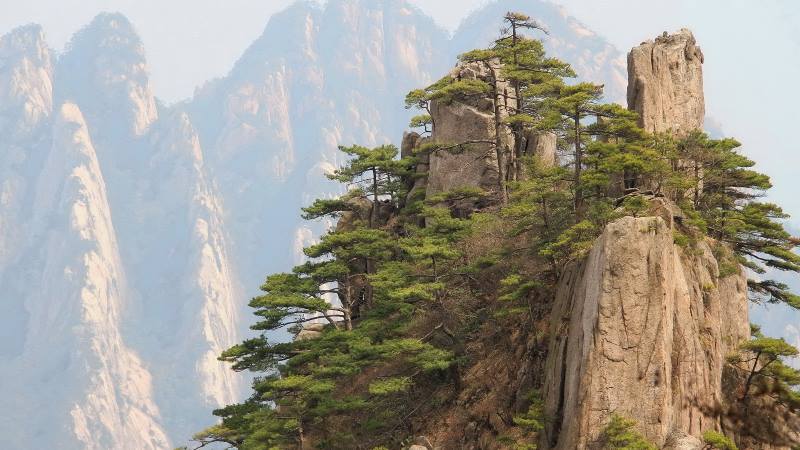 This UNESCO World Heritage Site is located only 6 hours from Shanghai, which is practically next-door for China. Escape the skyscrapers of Pudong to retreat into the wilderness. There are multiple trails up the mountain, but my one tip remains the same: make sure you overnight so that you can enjoy the sunrise.
Height: 1864 metres
Fun fact: Huangshan means 'yellow mountain', but the rock isn't yellow at all. The original name Yishan or 'black mountain' is much apter but was changed to honour the Yellow Emperor who, as legend states, created an elixir of immortality from herbs foraged in these mountains.
4. Kosciusko, Australia
Alpine hiking is not first on the agenda when travelling to Australia. In fact, most people don't realise that the land of red rock and the outback is also a ski spot. I never got around to climbing Kozzy when I lived in Oz so I'll have to make a trip back Downunder for this one (…what a shame!)
Height: 2228 metres
Fun fact: Although the highest on the continent, Kozzy ranks a measly 71st in the world for its altitude.
5. Half Dome, USA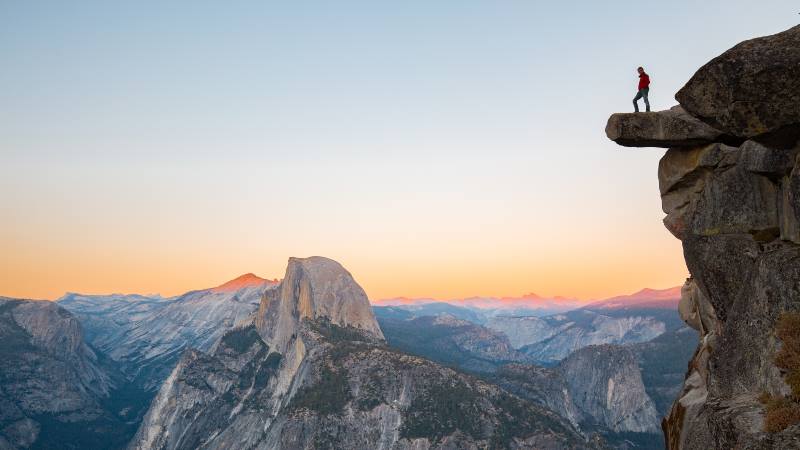 Free-solo artist and climbing madman Alex Honnold really put this peak on the map when he free-climbed the North-West face in 2 hours 50 minutes in 2012. While my amateur climbing skills will never see me ascending the face – let alone without ropes! – I dream of hiking up Half Dome. I didn't have enough time (or forward-planning) to tick this off on my road trip around the USA, but there's always next time…
Height: 2694 metres
Fun fact: Indian legend says the streaked dome was formed when a native woman, inconsolable after fighting with her husband, sat atop and stained the rock with her tears.
6. Acatenango, Guatemala
Not a mountain per se but this active volcano hike is no walk in the park either. The volcanic scree makes for a challenging trek, and it'll feel like every step forward is two steps back. At the top, you're rewarded with camping under the glimmer of neighbouring Fuego's eruptions. Don't stay up too late watching the show because you'll be setting off again at 4am to the summit for sunrise.
Height: 3976 metres
Fun fact: Neighbouring Fuego erupts on average every 20 minutes
7. Annapurna Base Camp, Nepal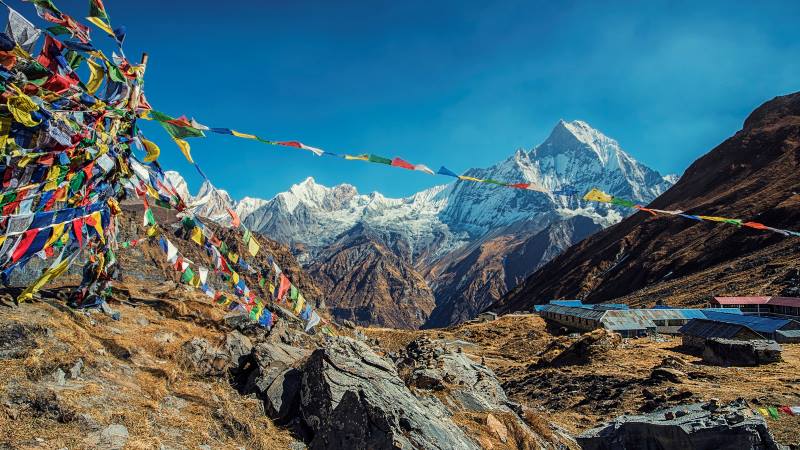 Not many hiking bucket lists miss off Everest, but ABC is my reason why. Same mountain range, smaller crowd and it shares a name with a Jackson 5 song, so that's your hiking playlist sorted too. I ticked Annapurna Base Camp off in 2015: the views were sublime, and tea houses along the way mean you can pack light.
Height: 4130 metres
Fun Fact: This trek requires patience and strong glutes with 3300 step stone stairs.
8. Vinson Massif, Antarctica
Antarctica was already on my bucket list before I heard about this mountain climb. Summit Vinson Massif is a massive feat guaranteed to redefine any notion of wilderness you might already have formed. Only 1200 people have summited so far, but the coolest thing about this climb is that you can ski some of the ways back down.
Height: 4892 metres
Fun fact: VM is the most expensive mountain in the world to climb, costing on average £1,666.00 per day for the 19.5 days it takes to the summit. I might need significant sponsorship to tick this one off the bucket list.
9. Kilimanjaro, Tanzania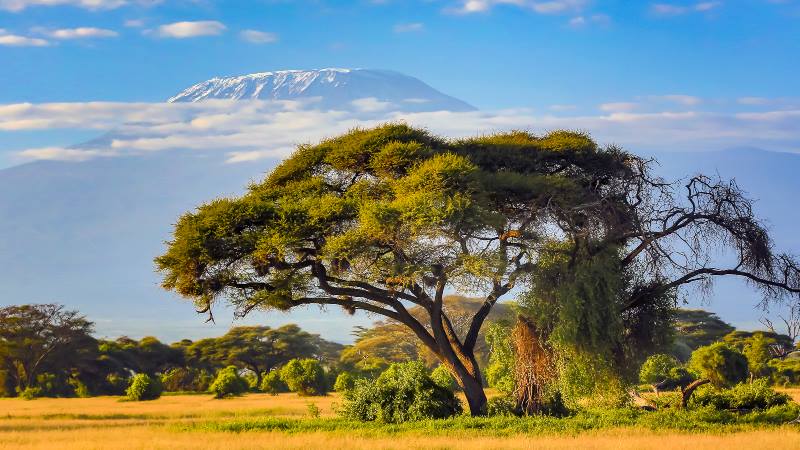 Kili has been on my bucket-list a while – ever since my brother summited in 2010 in fact. Sibling rivalry demands that I follow suit and then – naturally and most condescendingly – pretend to him that I found it easier than pie afterwards.
Height: 5895 metres
Fun fact: Kili requires no technical skill, climbing ropes or crampons to reach the summit but that doesn't make it safe and, according to scientists, the volcano isn't dead it's just dormant!
10. Aconcagua, Argentina
I love Latin America and have been lucky enough to go hiking in the Andes on more than one occasion. The worlds longest mountain range is punctuated with some epic climbs including the highest outside of Asia: Aconcagua. The climb itself is an arduous 20 days but once you return you're in the best place for relaxation and recovery. Mendoza is famous for its vino, and I'm blaming the Malbec for keeping me from ticking this one off my bucket list!
Height: 6962 metres
Fun fact: Hikers discovered the frozen mummy of a small boy here in 1985. Pilgrimage and sacrifice was an important part of Incan culture and thanks to the high altitude conditions, we have been able to learn so much about their civilisation and customs.
Where will your feet take you next? What mountains to climb would you recommend?