Ready! Here goes! All secure, the light is green, and you're to ready to go. And then…"Ohhhh that is fast, think I've left my head behind at the start!" That could well be you saying that as you take that adrenaline rush on one of the top Dubai Theme Parks rides.
If you are a roller coaster lover, an enjoyer of theme parks, Dubai has theme parks that'll suit all types. Water-based, Bollywood themed, car manufacturer, themed! If that's you then hop aboard, strap yourself in and let's go on a roller coaster journey around the best of Dubai's theme parks! Warning: In some theme parks, you may get wet!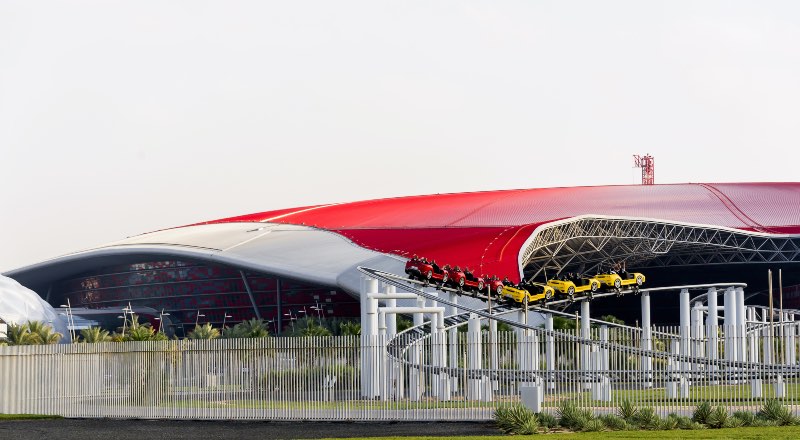 The Rossa Corsa red (Racing Red) is as famous as any colour and when you add the yellow of the prancing pony, well you know you're entering the court of the unique Ferrari World. Bold and stylish, and that's just the building! This theme park is a car lovers dream. It has the world's fastest roller coaster, is the world's largest indoor theme park and offers Ferrari experiences that'll have any petrolhead, well dizzy with delight.
2. Waterparks
It gets blinking hot in the summer months. We're talking hitting the 40's and beyond. Phew, thank goodness for a water theme park! You have plenty to choose from in and around the desert city, including the following:
LEGOLAND Waterpark
Laguna Water park
A visit to any of these parks and you'll be enjoying rides that take you to new heights! Or should that be new drops! Scream and have fun, oh, and it may sound silly but do expect to get very wet!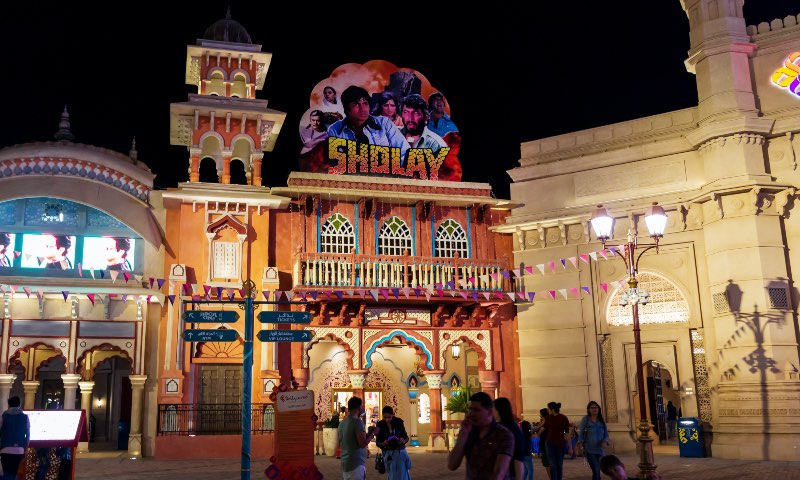 You know the score. Dance, action, romance and suspense wrapped up in an exceptional blend, a Bollywood blend. Expect all that colour and glamour in the world's first Bollywood themed park. There cinematic action, thrilling rides and well all things Bollywood! It's that simple.
Hollywood comes to Dubai! With 27 attractions to enjoy, it's guaranteeing you high-octane fun with that LA twist. Enjoy your favourite movie characters from animation films to blockbusting Ghostbusters! Film buffs will love it.
You got to love those bricks! And why wouldn't you? LEGOLAND Dubai is the perfect place for young and old to take their brick passion to the theme park. Rides and attractions that'll have you smiling from ear to ear. And if you head there at the twilight hour, the theme park takes on a whole new light — fun with the bricks, oh, most definitely.
6. IMG World
Talking of cartoon characters, IMG World (the world's largest indoor theme park) lets you meet up with your favourite Marvel and Cartoon Network heroes. Mix with the Avengers and The Powerpuff Girls! There are also life-size dinosaurs to encounter in the Lost Valley! If you dare to enter?
Bringing the world together under one roof is no mean feat! In Dubai, anything goes, and Global Village is just that! Cultures from around the globe juxtapose to create an environment where we are all as one. Try the food, see shows, get with the culture and feel like you've travelled around the world in just a few hours.
8. VR Super 7 Park
Mind-bending! And that's just the concept of a theme park for virtual reality and augmented reality! Enjoy games and take yourself into new wondrous places. The future of theme parks? Quite possibly.
9. Warner Bros World
Although in Abu Dhabi like Ferrari World, Warner Bros World Adu Dhabi is still accessible from Dubai and is perfect for anyone with love for those Warner Bros characters. Looney for Looney Tunes or prefer your DC Comics? Then this theme park will have you purring with delight. It's an immersive experience that'll keep you entertained for hours!
Dubai is a destination for shopping, but it's also a destination of varied, exciting theme parks. Each individual in their style, each with thrills to delight all ages. And while you contemplate which Dubai theme parks to visit, they are probably in the process of creating something even more magical, and that will out-theme park all others! Thrills in the desert city. Most definitely.