Mumbai, home to one of the world's largest film industries and a city of colourful contrasts. Where some of the biggest slums sit alongside ultra-expensive houses. Where you'll find a tropical forest among an urban landscape and that it's India's financial powerhouse.
Visit Mumbai, and you'll realise it's the beating pulse of India's entertainment and fashion. A place where millionaires mingle with hardworking locals, stray dogs, and dreamers crave a future in the limelight. It's quite a place.
India is a country with many bustling cities high on energy, with vibrant districts, stunning attractions, and public transport unlike any other. Mumbai is perhaps the most energetic of the lot. Add in the horrific pollution and any visitor arriving here will find Mumbai a challenge. That shouldn't put you off, for its mix of colonial-era architecture, unique markets and bazaars, stunning temples and premier nightlife is more than enough to keep you entertained. Let's hop in a rickshaw, it's time to explore!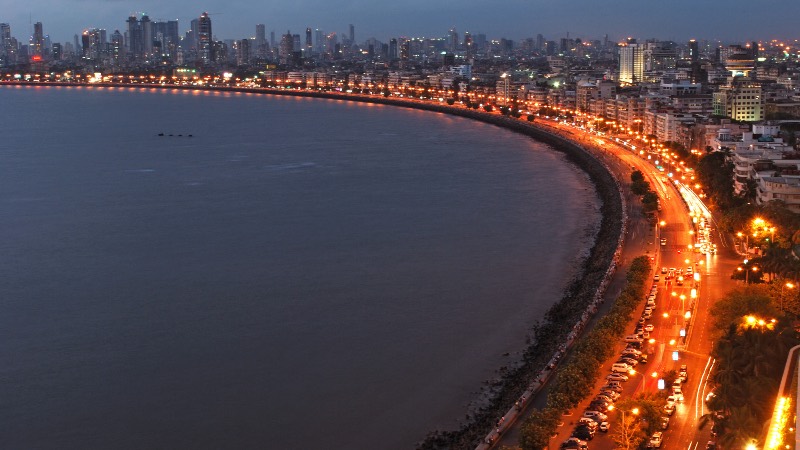 To get a true essence of Mumbai, a tour around the temples and mosques, structures and streets is the best way forward. Places like the Gateway of India, the Afghan Church should be high on your list. A meander along Marine Drive, which is also known as 'Queens Necklace' makes for sightseeing pleasures.
Even watching a local train chug by is a pleasure that will live long in the memory. You'll be hoping that the passengers leaning out hang on! Also, a look at the colourful Crawford market and the Flora fountain at the city's beating heart are worth every second.
There are many ways to see this city. After dark, on a bike, even in the early morning, if you can get up in time! Whatever time of day and how you wander around the city, each will bring its own unique taste and feel. Just try them all! You'll have no regrets.
Like LA, Mumbai is as famous for its movie scene as anything else! So, if you want to see the workings of this powerhouse of an industry, then a tour is a must. But, better put your glad rags on as these kinds of tours are all about the glitz and the glam!
See sets, maybe even productions in progress and perhaps, if you're lucky, bump into a Bollywood celebrity! Well, you never know.
The thing with Mumbai is that there is a fresh experience on every street corner. Enjoy looking around the top tourism sites or cooking dinner with a family. Yep, you can do that too. Your time here is about experiences. After all, it's not every day you get the chance to visit such a place —Marvel at the opulence and despair at the poverty.
Mumbai is an Indian experience unlike any other. It's time to embrace it, immerse in it and enjoy.