Sometimes you just want to enjoy a lovely night out at a romantic restaurant with your significant other. In Stockholm, the cozy winter nights and fruitfully long summer days already help to set the mood especially if love is in the air. However, a little extra help from white tablecloths, candlelight and an intimate atmosphere certainly wouldn't hurt in propelling your night to greater heights.
Whether you're looking for a restaurant to spark some romance. Celebrate a milestone or to enjoy each other's company? We've got it covered. For a perfect day, you can tour the beautiful list, gaining some inspiration from travel guides on Trip101, before starting the evening with a romantic dinner at one of these top restaurants.
1. Operakällaren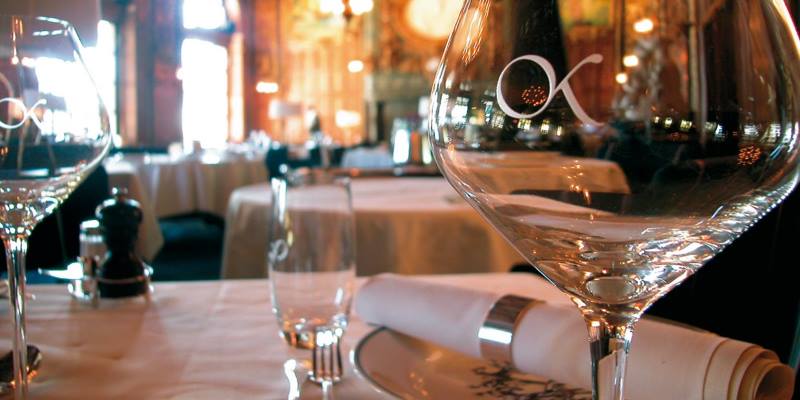 Photo Credit: Visit Stockholm 
On the edge of Kungsträdgården, the Operakällaren is one of the most elegant restaurants in Sweden. Helmed by acclaimed Chef Stefano Catenacci, the restaurant serves international haute cuisine and lays claim to a newly minted Michelin star. Elevate your romantic dinner by selecting a fine wine from the restaurant's global wine cellar to complement the meal.
With the newly renovated restaurant's interior, the restaurant retains its charm and has melded the old and the new. Relish in the glided oak panels, suspended panel ceiling, wall paintings and gorgeous chandeliers. These lavish furnishings will surely make you feel like royalty.
2. Le Rogue
Draped in red fabric for a playful tone while still exuding a luxurious ambiance. Le Rogue seduces all who step through her doors. Having been around since the 1700s, Le Rogue rates highly on the gastronomic level with a focus on meat and fish and is located in Stockholm's historic Gamla Stan.
There's so much to take in at Le Rogue with its mood-setting music, delicious aromas, and mouth-watering food. You'll be back for more!
3. Fem Små Hus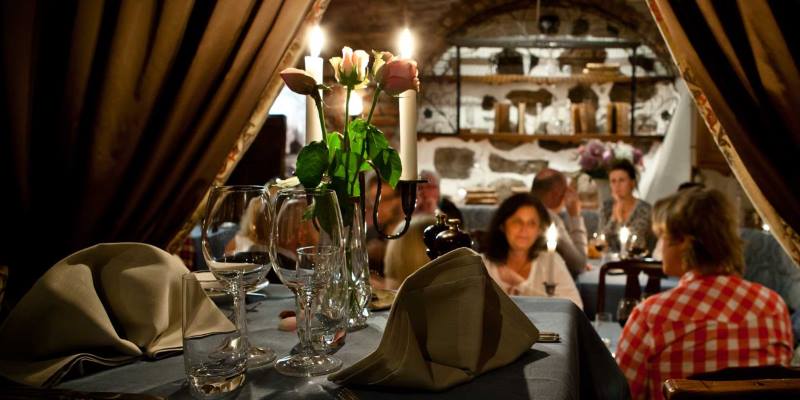 Photo Credit: Visit Stockholm  
Housed in a cozy vaulted cellar located at Stockholm's Old Town. The restaurant exudes a romantic ambiance with its crisp white tablecloth, dimmed candle lights and warm atmosphere. While enjoying your meal, don't forget to complement it with a perfect glass of wine from the restaurant's seven beautiful and well-stocked cellar vaults.
Take your time to enjoy the food that's a mix of Swedish and French cuisine. You're both bound to appreciate this exquisite culinary experience that takes you through a myriad of flavors paired with impeccable service.
4. Beirut Café 
For a more laid-back night out, Beirut Café is a perfect choice. The atmosphere is quirky but cozy with vibrant hues and ornate lanterns. There's even a lounge that you can head to after dinner to enjoy the comfortable cushions and soft lighting.
The food pays homage to Lebanese heritage. Eat your way through the menu's 40 mezze dishes or be wowed by the Chef's tasting menu paired with wines. It can get busy as the restaurant is incredibly popular with tourists, locals, and even celebrities. Best to reserve seats beforehand.
5. Himlen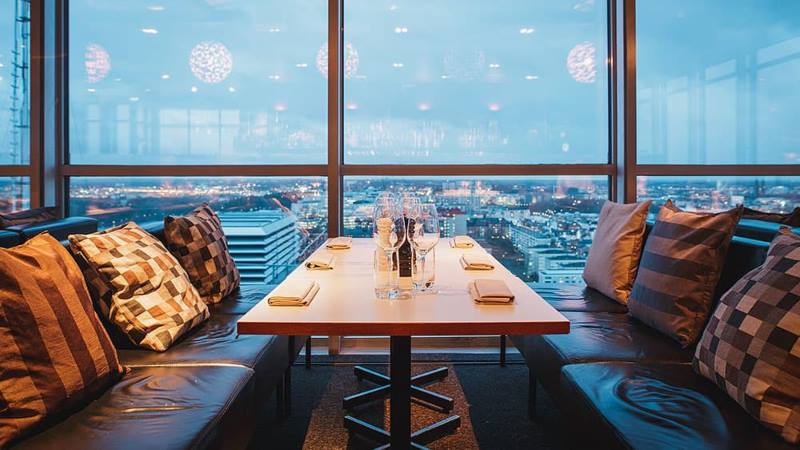 Photo Credit: Thats Up 
This intimate, glamorous restaurant is located on the 25th floor, 104 meters above street level and offers stunning views of the city. After the intimate meal of French and Swedish cuisine, you can continue the romance on the 26th-floor lounge and cocktail bar.
6. Stadshuskällaren
The location of where the annual Nobel Prize dinner is held, Stadshuskällaren has long-standing traditions and history since it opened its doors in 1922.
The menu is also impressive as Chef Magnus Santesson prepares delightful contemporary Swedish dishes that are inspired by the wildlife of the North to the crops of the South. As the candlelight flickers within the brick walls and your dinner comes to an end. Why not take a romantic walk down to the water to end off a perfect night.
7. Eriks Gondolen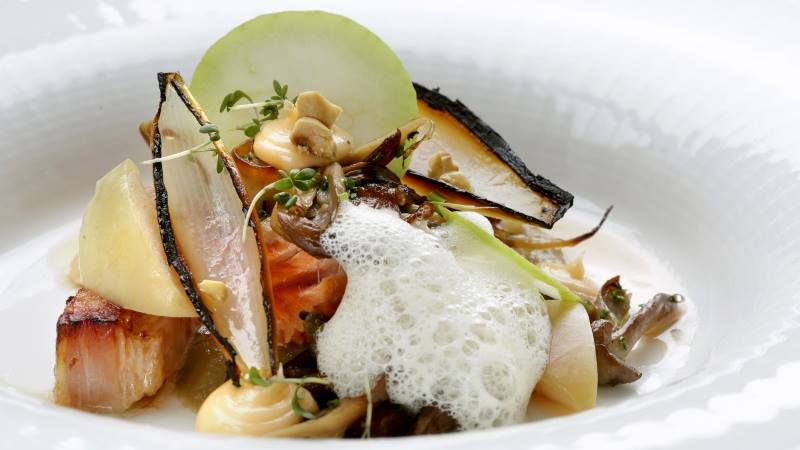 Photo Credit: Eriks Gondolen 
Chef Erik Lallerstedt is a legend in the Swedish restaurant scene with Gondolen being his flagship location.
Enjoy honest, traditional home-cooked food with fresh ingredients such as a catch of the day from Lake Mälaren or meat from the best local suppliers.
With so many romantic date night restaurants available in Stockholm, you're certainly spoilt for choice. From the more casual, to the fancy and even alluring, you're in for a wonderful night with your date. A night that'll be remembered for years to come.