Fish and chips! Oh the smell, the taste. Don't you just love them? I mean what's better than a wrapped-up fish and chip supper? Perhaps sitting on a beach with the wind, rain and crashing waves! Trust me, that's what we do here! It's the UK's national dish after all! The question is, can the fish and chips in the London food scene match the seaside town offerings? And, does London have a culinary scene worth seeking out?

Generally, we get a bad rap regarding our food. But, dig a bit deeper, hunt around, and you'll be pleasantly surprised by what you can find. The London food scene continues to grow, no, actually it's thriving. It's just a case of knowing where to find the best places to eat. London has its fish and chips, of course, but there's a lot more to discover and taste, than just our favourite dish.
At isango! we've walked the streets, tasted the dishes, and drunk the beer to give you our recommendations of the London food places to try out, and also what else you can do in and around the area you're eating in. Well, food and travel go together, wouldn't you say?
Shoreditch
Snuggled between the city of London and towards the newly developed East side of the city (that's Stratford and The Docklands), Shoreditch is start-ups heaven! Small cafes, restaurants and independent stores can be found on every street corner. Jostling for space with other businesses.
The area is also well known for its street art scene. Walk down any street and you'll find artwork from famous artists. Don't just look on street level. You'll need to look up as well, as there are works of art in all sorts of places, on street lamps, on top of buildings etc.
Shoreditch also has a very varied history, so booking a walking tour can help fill in those historical details for you. Visit here and you have an area that can be explored, devoured and shopped in!
Not far from Shoreditch is Brick Lane, one of the famous food streets. It's actually in the borough of Tower Hamlets, where you'll find plenty of top-quality Indian eateries, and is a haven for bargain hunters and fashionistas.
Camden
A London favourite by the Regents Canal, where most visitors head for the market and its counter-culture. Make sure to check out and tuck into some of the independent food stalls and restaurants dotted among the market stalls, along the canal and down alleyways.
By day, the cafes, and the smell of freshly ground coffee are jostling for your attention, and it's very easy to spend a whole day exploring this area. Sipping on a cappuccino,  exploring the market stalls, and then tucking into the variety of food options. You can pick out street food options from across the globe from Japanese noodles to Greek cuisine.
Then you can stay to immerse yourself in the vibrant nightlife scene, the clubs, bars and music venues.  Camden is a great place to have a wander, and an amble, and Regent's Park and London Zoo are close by, giving you even more reasons to stay in this area.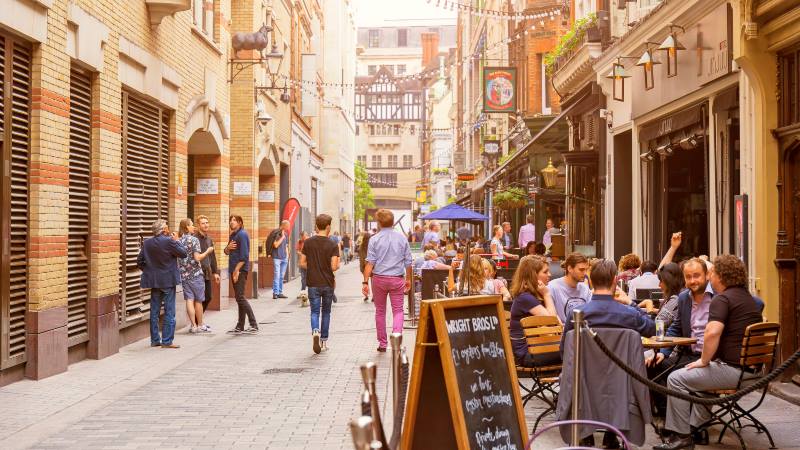 Fashionable in the '60s and still a place for fashionably forward thinkers. Not forgetting the West End theatre scene. Soho continues to draw crowds. This is the place to come for a pre-theatre meal, soak up the West End vibes and try places that have been welcoming customers for decades.
You need to walk the enclosed, narrow streets, and you'll come across culinary delights of every kind. Often hiding in the shadows of the theatres themselves. Here is your restaurant scene, so it's a case of picking a culinary type, be that French, or Mexican, for example, and literally tucking in!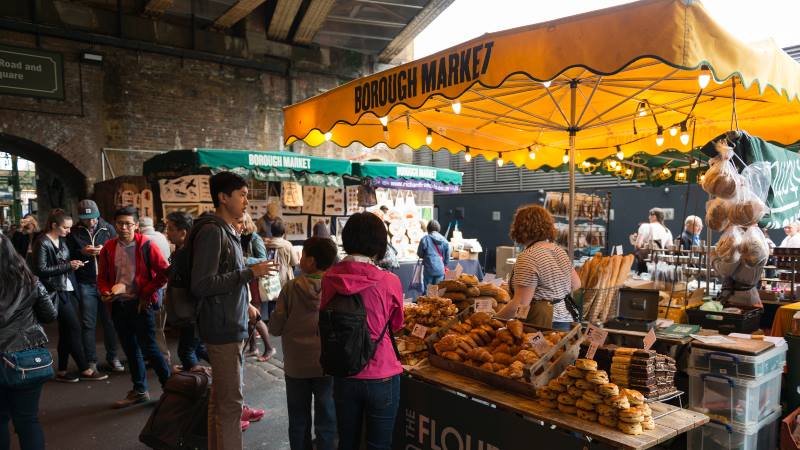 Southwark (Borough Market)
Head to Borough Market, and you'll be finding yourself in, as they proclaim, London's premier food market. The number of people visiting here will testify to that claim. Hidden close to the towering Shard and Southwark Cathedral, Borough Market is found on the popular South Bank side of London, between Tower Bridge and the London Eye, making the market a popular tourist area.
Pop-up stalls and independent culinary companies via for trade and salivating months! It is a come, check out the stalls, walk the market, smell the smells, and take then your pick.
While you are here you can also undertake walking tours and discover the district's gruesome past. Trust me, this was not a place for the faint-hearted back in the day! Wonderful food options and history combine in this part of London.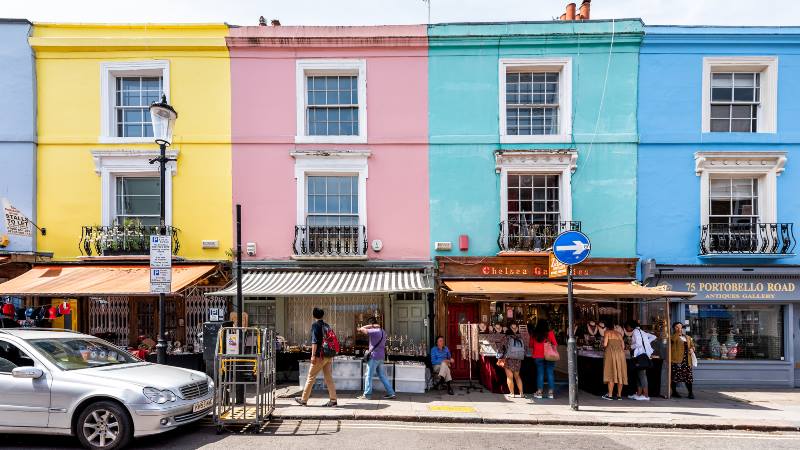 Notting Hill
Don't expect Hugh Grant to be strolling through this area, it was just a film after all. But you can expect plenty of quality independent stores, cafes and restaurants. Not forgetting the coloured doors scattered among the Notting Hills streets.
Notting Hill is a multicultural district which hosts the annual Notting Hill Carnival and is home to Portabello Market. Here you can dine on simple cheap cuisine, yep, fish and chips among them, to up to your Michelin-starred cuisine. That'll depend on your budget.
Head here during the carnival and you'll be joining the thousands in the annual celebration. Party and dance the day and night away, if you can!
Like your fashion blogs? Then Notting Hill is a place you've got to visit. It's one of London's top fashion blogger photoshoot areas. There are a number of pretty streets with colourful doors, where models descend to get that perfect shot. The top tip here, look, but don't annoy or disturb the homeowners. It is their house, after all.
The London food scene is ever-changing, ever embracing the trends and habits. What you'll notice about those featured is that they are all very different, and not only offer food but other attractions to ensnare you for the day. Seek out these districts, and you'll guarantee yourself plenty of culinary options, in places that are always pushing the boundaries and waiting for eager mouths to fill. Enjoy the fish and chips first mind you!