It's a place hidden in the Dachstein mountains aka the Alps and stands next to a stunning lake. It has colourful, doll-like looking houses and is what's believed to be the oldest still-occupied village in Europe. Ladies and gentlemen, this village will take your breath away. This village is Hallstatt – Austria's Fairytale Town. 
You might have heard of it, you might have seen pictures or watched videos about it. One thing for sure, you're most likely itching to visit, and you should be. Even though it can get quite busy, Hallstatt is one of those places that really does look just as beautiful in real life as in pictures.
Actually… maybe it looks even better.
It's freaking beautiful.
In fact, it is so beautiful that China decided to build their own version of it. Yup, it's in the Boluo County. The original Hallstatt is also part of the UNESCO World Heritage region. So what makes this place worth visiting? Well, let us give you some reasons to visit.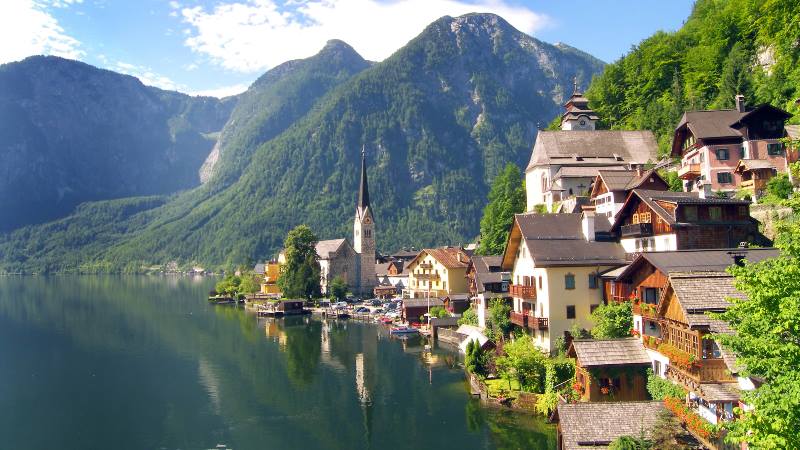 Where is Hallstatt?
Hallstatt is in the northern part of Austria, in the Salzkammergut lake region. It is also right next to the actual lake named Hallstatt. If you find yourself lucky enough to drive to Hallstatt, your mouth will keep dropping at the views in front of you. Austria is beautiful in general but you'll be stunned at just how beautiful. Especially the scenery surrounding Hallstatt.
Never-ending lakes and mountains, tunnels winding their way through the mountains, houses like they just came out of a painting. Can you tell how it has kind of stolen a little piece of my heart? By the way, if you can't get there by car you can also jump on a ferry. probably the second most reliable way as even when getting a train or a bus, you'll have to grab the ferry to cross the lake.
What is Hallstatt known for?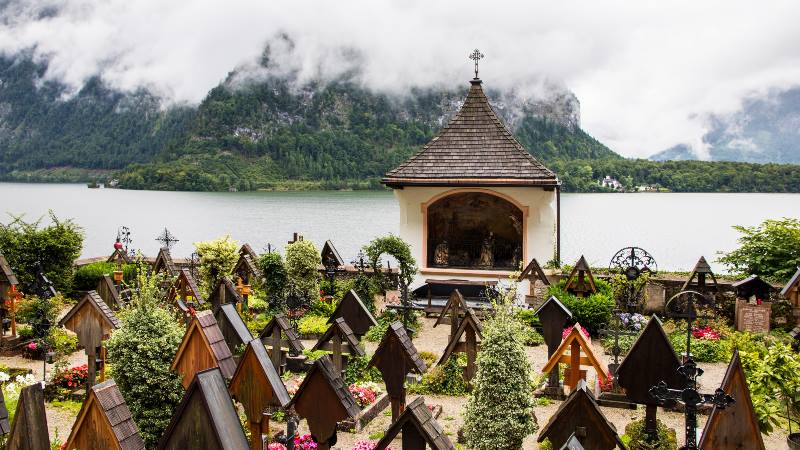 The town has been well known for its production of salt, which goes back 7,000 years! When visiting, it's worth paying the Salz Welten a visit to learn more. They are also one of the oldest mines in the world. So that's something to tell your friends when you get home!
Another interesting fact about Hallstatt is that it only has one cemetery! You might be thinking what's so interesting about that… well! One cemetery means (extremely) limited burial site. Due to this – the time that the locals get 'underground' is also very limited, each person gets up to 10 years to be precise.
What happens to the bones afterwards? They get transferred to a place called Beinhaus, which in fact is a bone house. This place can also be visited (more on this below).
Note:
Hallstatt can get very busy, especially during peak times, but it's definitely worth a visit even then. If you'd like to save money on accommodation, a day in the village is definitely doable. Stay in Salzburg and a trip out to Hallstatt makes for a great excursion.
What to see and do in Hallstatt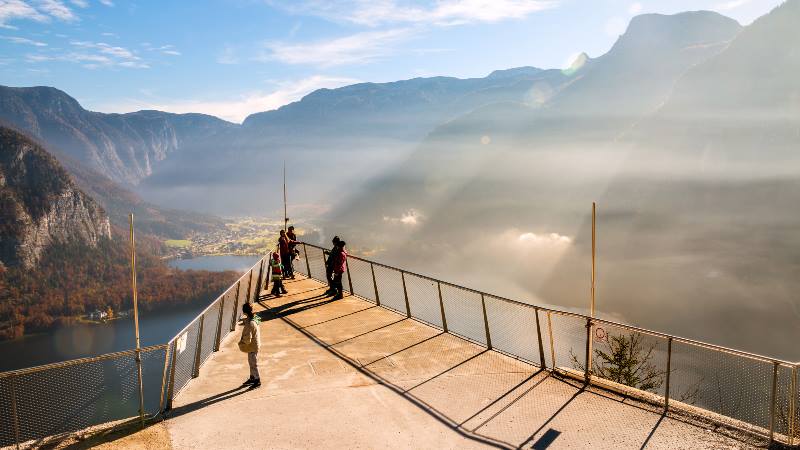 Although this is a relatively small town, there are plenty of activities and experiences you can try, which goes some way to explaining why Halstatt has to be on your radar. We've highlighted five of them here.
Skywalk
The view from the skywalk is classified as the World Heritage View, so you can only imagine just how insane it is when standing on the edge. For panoramic views of Hallstatt, this is pure perfection. You can either take a cable car to get there (yes please!) or… you can walk. It takes approximately 1 hour but let me remind you, this is Austria – so the walk will not be boring.
Explore on foot
Remember to walk around, explore and immerse yourself in the beauty of mountains and lakes. It's not every day that we get to see that kind of scenery (well, not most of us anyway!) so go crazy!
Boat Ride
Seeing Hallstatt from the other side is just as beautiful, so getting a boat is something you will not regret, for sure. There are two options – renting a small private boat or jumping on a ferry, which is not private but they offer a delicious coffee or hot chocolate.
Salz Welten
As mentioned earlier, these are one of the oldest salt mines in the world! It also comes with the oldest wooden staircase in Europe. Visiting this place will allow you to experience history dating back 7,000 years in a very unique and seriously interesting way.
Beinhaus
Again, as mentioned earlier, this is the bone house. Not everyone is brave enough to go inside (I definitely wasn't). It's located next to the most scenic graveyard and a beautiful church, where you can cherish the memory of people who have passed away, without going into the Beinhaus. For those brave enough – it's definitely worth a visit, so don't let me put you off.
So here it is, Hallstatt! Enjoy and remember – go crazy with wandering around and you shall not be disappointed. In regards to the seasons, I honestly think that Hallstatt looks just as beautiful whatever the season. So no excuses not to visit!