Here are some questions for you? Has 2020 flown by or dragged? Has the Pandemic stopped you from looking ahead to travelling and new adventures next year? Hopefully, you are ready to get out there and start exploring once more? We all deserve too, right? So as you think about the where's and when's may I suggest it's to time put some Disneyland® Paris magic into your 2021? 
Many destinations are gearing up and preparing to welcome visitors back. Disneyland® Paris is no exception. Closed until early February 2021, the resort has been working hard to ensure that you, the visitor, will be as safe as possible when their doors open once more. We take a look at what they have done to ensure next year really will be a magical year. 
Limiting Attendance: 
When you go to book your Disneyland® Paris experience, bear in mind that numbers will be limited entering the park. This is to meet the French Government guidelines regarding Covid19 and of course, ensure that everyone remains as safe as possible when they do visit. Our advice, book early to save missing out on the dates you want.
Physical Distancing: 
Physical distancing is problematic, we know, but from the queues to the rides, waiting in line at the shops, to meeting your favourite characters. You know all those staple magical Disneyland® Paris moments. Physical distancing is going to be very important. As it stands even Character Meets & Greets find themselves temporarily unavailable. However, no need to be despondent. Your favourite Disney Character will pop up at locations throughout the park and designated selfie spots. You're not going to miss out completely.
Reinforcing the rules: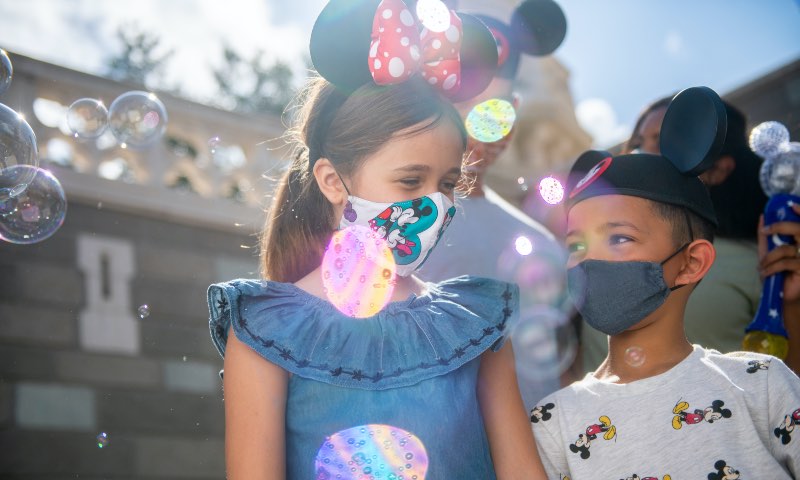 Safety, of course, is the priority and following the standard Covid19 rules will go a long way to ensuring everyone remains safe. For example, wearing a facemask, that's for anyone aged 11+ is MANDATORY. Even cast members will be wearing them, so you're not alone. Just follow their lead.
Also, you'll find there are over 2000 handwashing stations, and the park undergoes extensive cleaning procedures every day. Little things can help go a long way!
Cast Member Training: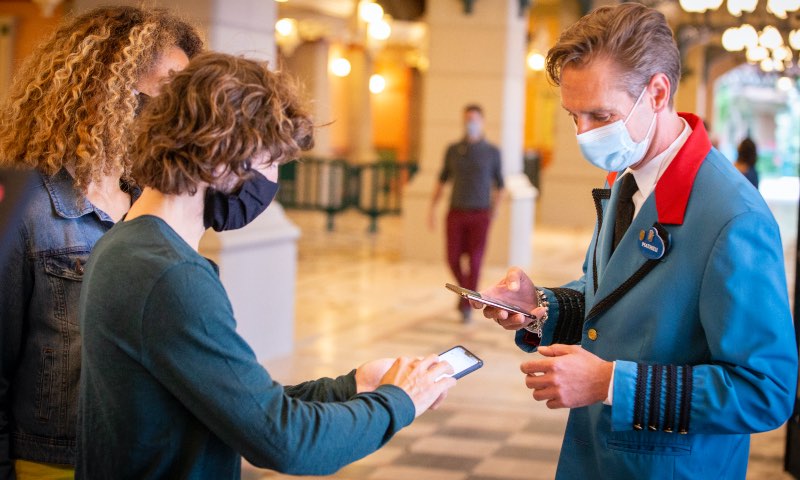 You want to experience that Disney magic, the glitz, the lights, the shows and rides. Well, so do the Disneyland® Paris cast members. Since the Pandemic hit, they have been re-trained to make your experience even more magical. They are there to explain all the new measures and answer your questions. It's good to be reassured and means you can enjoy the Disney magic in as safe an environment as possible.
Disneyland® Paris App:
Disneyland® Paris has bought in other measures and ways for you to keep safe and ensure your experience is as memorable and unforgettable as possible. Download the Disneyland® Paris app; it'll make planning your stay more effortless.
You'll need the app to reserve standby passes for the more popular rides. That helps to cut down on queues and contact with others. Think, secure your rides, and it'll give you more time to explore the park. You could call the app your magic wand!
2021 will be a better year, and Disneyland® Paris will be among those places where we can go to forget about the year gone by and celebrate in the magic of travel and entertainment once more. Destinations and resorts are putting in the measures to ensure our trips are as safe as possible even with the Pandemic lurking in the background. It's time to share in the good times again. Go on, treat yourself and enjoy that Disney magic once more.