It started with a get-together of creative friends, a few musicians were added, and everyone was allowed to join the party. It grew bigger and bigger. Eventually turning into a really great weekend festival and a highlight of Helsinki's social scene every August! That's how Flow Festival was built.
Ask anyone in Helsinki, if they know Flow, they all do, that's for sure! The Festival was created by music producer Tuomas Kallio and his friends from the music collective Nuspirit Helsinki. In just over 10 years, it has grown from a small soul & jazz club event into a significant Northern European music and arts festival. My personal favourites artists over the years have been Röyksopp, Iggy Pop, Patti Smith, Lykke Li and 22-Pistepirkko.
Music and Food
This year, The Cure really ruled the main stage. Jonathan Wilson was as lovely as always at the round Balloon stage, and indie influencer Khruangbin created some amazing vibes at the Black tent. Flow Festival has ten stages and over 170 performing artists and groups. 83,000 attendees dropped by to enjoy the unique atmosphere during the festival's three days. In addition to exciting and topical music, the festival received praise for its quality selection of food and drink. I tried restaurant Andrea's grilled octopus with red bell pepper, fennel, and pomegranate vinaigrette. Which was delicious. Later on, I had some of restaurant Kuurna's Summer potatoes, broad bean tempura, chilli sauce and cumin Fraiche dip, also great. drinking of wine fitted the situation, although they were ridiculously overpriced.
From Indie to Soul and Jazz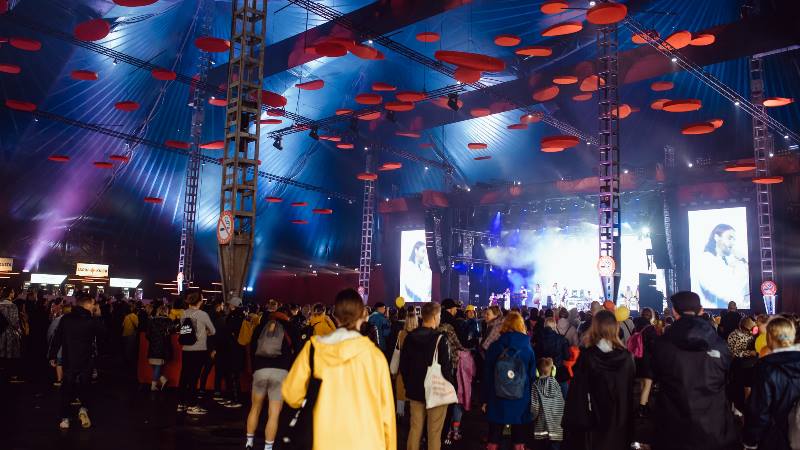 Photo Credit: Flow Festival – Riikka Vaahtera
The music presented at Flow Festival is always a varied selection of artists from indie rock to soul and jazz and from folk to contemporary club sounds. Featuring local Finnish artists as well as the international scene. Flow Festival is also about urban spaces and versatile settings of art, even ballet. The entire festival area and all details are designed to perfection, including visual ideas, ecological and ethical principles and carefully planned service design. Thousands of visitors arrive by foot, bicycle or public transport, as the area is just a short trip from the city centre.
Sustainability
Flow also has a very ambitious sustainability program. It reuses all the waste produced during the festival and is recycles or directs it into power production. Furthermore, all emissions created during the organisation of the festival are also compensated for. This year, the audience was invited to donate their bottle deposits to the Finnish Environment Institute reforestation project. Thanks to the campaign, the number of trees to be planted in Madagascar is nearly 11 700. Impressive, isn't it!
August and September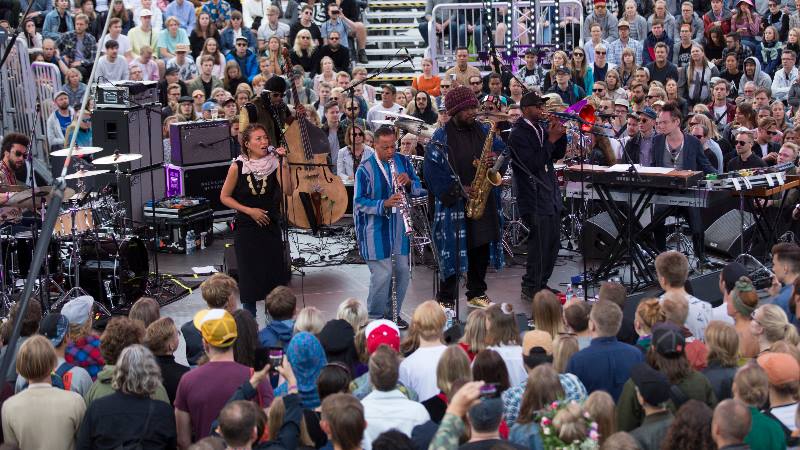 All in all, August and September are great months in Helsinki. The last two weeks of August are filled with Helsinki festival's classical and world music, theatre, dance, circus and visual arts. As well as a wide range of other urban events. A quarter of a million people attend the festival yearly. Last but not least, in September, there will be the Helsinki Design Week, which contains around 230 events every year, and includes both events targeted for professionals and the general public.
Looking forward to seeing you at next year's Flow Festival, which takes place in Suvilahti, Helsinki, 14.-16.8.2020.