After the brutal winter and brisk spring, New York comes alive during the summer and offers a wealth of fun activities, performances, festivals, and more.  To be sure, you'll find no shortage of NYC summer events on offer.
Each summer, visitors and locals can look forward to fireworks displays, music festivals, fashion shows, and sporting events.  But, with so much going on in New York this summer, we felt we should narrow it down to the best events of the season.
Have a look at our shortlist for days out in during the sunny months of New York:
1. Macy's 4th of July Fireworks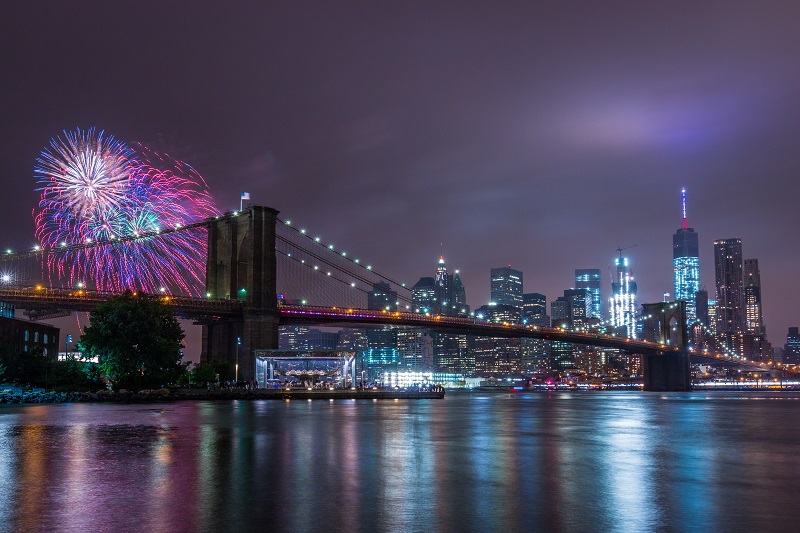 Nothing says summer in America like the 4th of July.  And, New Yorkers find themselves with an embarrassment of riches when it comes to 4th of July celebrations.  The Macy's 4th of July Fireworks spectacular represents the largest pyrotechnic display in the country and one of the most popular summer events in New York.  Each year, the show promises to awe viewers with over-the-top special effects and world-class performances.
With over 25,000 shells fired from the Brooklyn Bridge and a performance by Jennifer Hudson, you can't miss this New York experience.
2. Summer Streets Festival
The Summer Streets NYC celebration turns New York into a pedestrian's dream.  For 3 consecutive Saturdays in August, Park Avenue and Lafayette Street shut down all motorized traffic, allowing revellers to take part in countless free activities.
You'll find a challenging rock wall, zipline, arts & crafts workshops, fitness classes, New York walking tours, and much more!  And, unlike most summer events in New York, you don't have to pay a dime!
3. New York Fashion Week
New York Fashion Week makes headlines every year for its outlandish runway designs and even more outlandish behaviour on the part of the celebrants.  Twice a year, designers, models, tradesmen, and fans flock to the Big Apple to show their work, take the pulse of the fashion industry, and get a glimpse of what to expect during the upcoming seasons.
For those who love fashion, the excitement during the lead-up to New York Fashion Week becomes almost unbearable.  It's clearly one of the most anticipated summer events in New York!
4. Electric Zoo Festival
Every year, Randall's Island Park in New York bursts at the seams with party-goers, dancers, and musicians attending the ever-popular Electric Zoo Festival.  From the end of August to early September, the star-studded lineup will likely draw more fans of electronic music than ever before.
Who will be headlining the main stage, you'll have to check out their website. However you can expect to see the likes of Eric Prydz, Skrillex, Above & Beyond, Zedd, Afrojack, and many others, if past festivals are to go on.  If you plan on attending, just make sure your party safely and be sure to drink plenty of water!
5. U.S. Open Tennis
It doesn't get much bigger than a Grand Slam tourney in New York.  And, every year, the stakes get higher.  With a prize pool of over 50 million dollars, it will be interesting to see who will come out on top and can defend their Grand Slam singles titles from the previous year by navigating the field of worthy contenders.
If you're lucky enough to have a ticket, then we already know what you'll be doing between late August and early September. It's the NYC summer events that no one can miss!
Hi there!  Do you think we missed important NYC summer events?  Let us know in the comments and we just might add it to the list during our next update.