We've all heard about the very cool city destination known as Barcelona. We've seen pictures of the beautiful beaches and insane architecture. There are however some things that most of us have never heard of before and let me tell you, they're definitely surprising! So without further ado..
The beaches are not real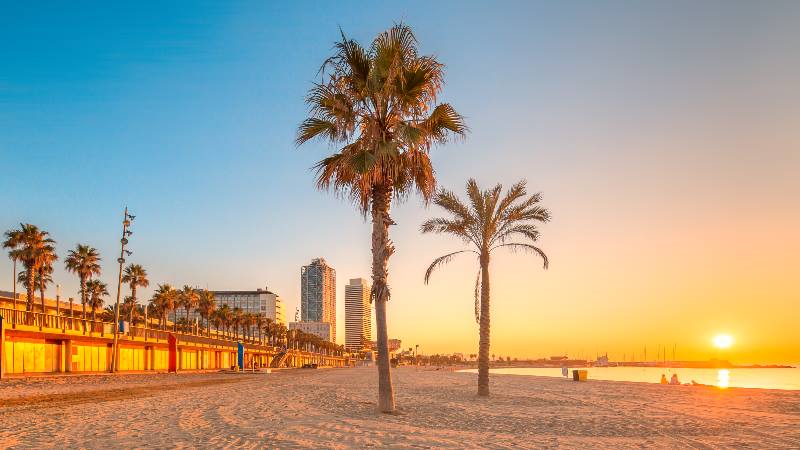 You might have heard that Barcelona is known for being one of the best beach cities in the world. But to make it more interesting, the pretty looking beaches used to be a rocky wasteland not so long ago.
In fact, there were no sandy beaches until the early 90's. The two miles beachfront (4.5 km – 2.8 miles to be exact) was been created for the Olympics in 1992, importing the sand all the way from Egypt. The waterfront now offers a wide variety of beautiful white sandy beaches, nightlife, and food!
12 abandoned stations..
Barcelona has 12 metro stations, which are completely abandoned. Not only that, but the rumor has it, they're haunted. The stations were mainly abandoned due to a modification of the city's layout. So, if this is the kind of thing that floats your boat… then definitely check them out.
Barcelona is home to the largest football stadium in Europe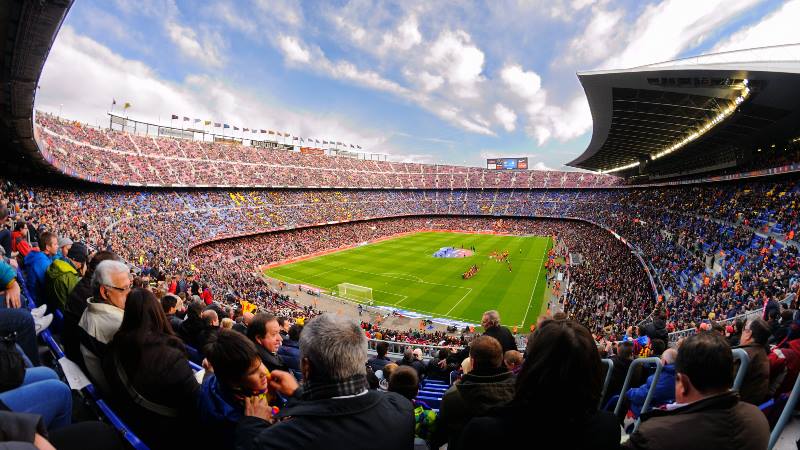 The FC Barcelona stadium known as Camp Nou is the largest stadium in Europe, and one of the largest in the world. It was built in 1957 and has the seating capacity of a whooping 99,354! Not only it's home to the world-famous football team, it's also one of the main attractions in the city. It even has its own museum – one of the city's most visited sights.
All the UNESCO appreciation
Barcelona doesn't only have one, or two, or even three landmarks that have been added to the UNESCO World Heritage Site. No, no, Barcelona has nine different masterpieces that have been listed. Yup – nine! Unsurprisingly, seven of those are Gaudi's and Jujol's work.
La Sagrada Familia takes longer to build than the Egyptian Pyramids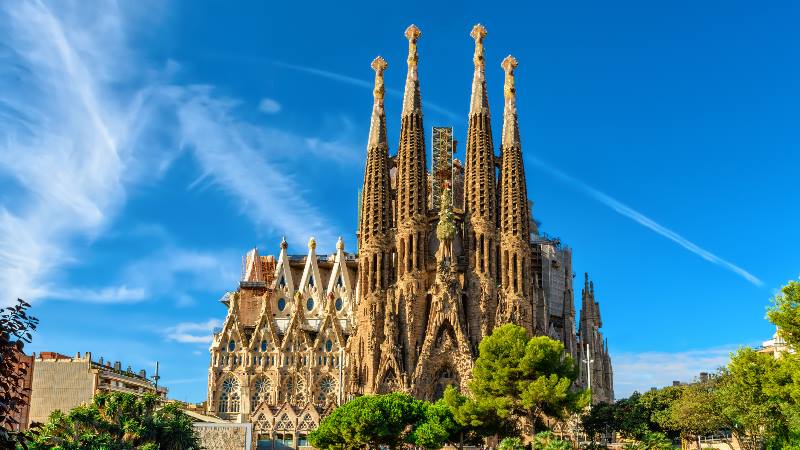 Barcelona's most famous sight, La Sagrada Familia's construction began in 1882 and is planned to be completed in 2026. In celebration of a 100th anniversary of the legend known as Antoni Gaudi, who designed what's known as the Europe's most unconventional church. As well as many other famous creations in the city.
Now if we do the math.. this means that the building progress will take over 100 years. La Sagrada Familia is also one of the UNESCO World Heritage Sites mentioned earlier.
Barcelona was meant to be the home of Eiffel Tower
Now how crazy does it seem now?! Can you imagine Paris without the famous metal sculpture? Or the Eiffel Tower in Barcelona? Gustave Eiffel's original idea was to pitch the proposal to the city of Barcelona, and so he did. However, it didn't go as planned and the city wasn't too convinced so they rejected. They thought the tower wouldn't be anything special and might even be an 'unsightly addition' to Barcelona's landscape.
After the rejection, Gustave decided to pitch to Paris and the rest is history! Also, did you know that the Eiffel Tower was only meant to be a temporary exhibit?
Park Güell is actually a failed housing project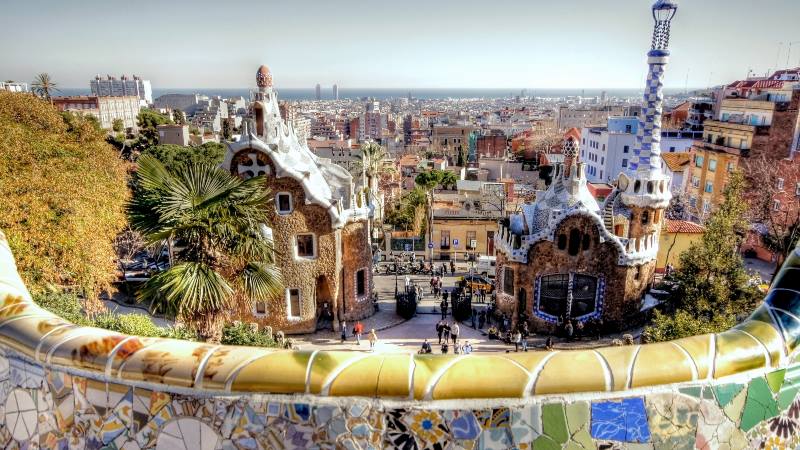 Park Guell, again one of Antoni Gaudi's masterpieces is considered a must-see attraction. It is located on Carmel Hill and is composed of beautiful gardens and unbelievable, colourful architectural elements.
Surprisingly enough, this is actually as some call it a 'failed housing project'. Antoni Gaudi and Eusebi Güell intended it to be a 'visionary housing complex', unfortunately (or fortunately for us tourists?) they received no interest from the investors and had to abandon the original idea. In 1984, the project has been added to the UNESCO World Heritage Site under the 'Works of Antoni Gaudi'.
There's a reason why Eixample's street corners are missing
And no, it's not just so it looks great in aerial photography. In fact, there's an even better reason, which is to make it easier and safer for the trams to turn corners. It also makes it easier for vehicles and pedestrians to navigate. And of course, it looks seriously cool.
La Rambla is five streets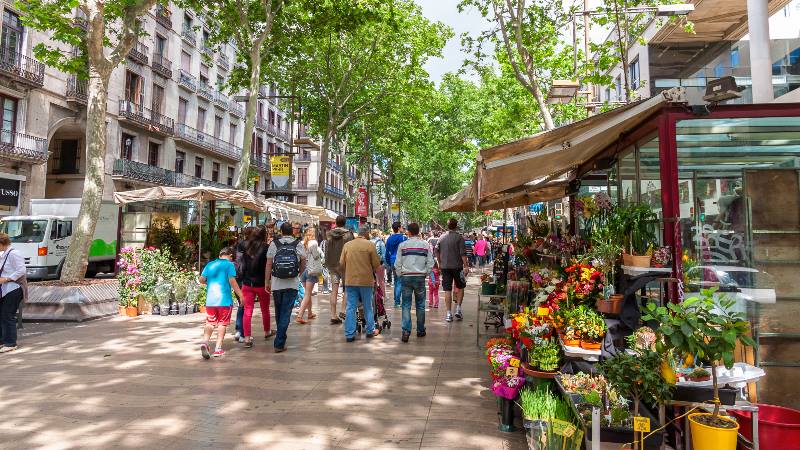 La Rambla is known as the heart of Barcelona's social life, it is a wide, tree-shaded street which divides the old town into two parts. Surprisingly enough, even though we tend to refer to it in the singular. 'La Rambla' is actually a group of five streets! Rambla dels Estudis, Rambla de Canaletes, Rambla dels Caputxins, Rambla de Sant Josep and the Rambla de Santa Mònica.
The area features beautiful (expensive looking) pedestrian sidewalks, many restaurants, shops, cafes and so on. To put it simply – whatever you like, you should find at La Rambla.
It's not just Gaudí's masterpieces
Many of us tend to think that all those brilliant masterpieces are Gaudi's handiwork. Well.. get ready to be surprised –  it's not just him. Some of the city's modernist masterpieces have been designed by Gaudi's partner Josep maria Jojol.
Casa Batlló for example is known as Gaudi's art however it is mostly the often overlooked Jojol's work. Similarly, the same goes with the mosaic benches in Park Güell and the original looking chimney sculptures of Casa Milà.
Now that you have all the facts, there's no excuse for not dropping them into conversations when you're touring around them.