When is a city not just a city but more a region? The answer, when it's Atlanta. This Georgian state city for starters, has over 300 park areas, and the city is just a short distance from the mountains. Yes, there is a city in there, all skyscrapers, shops and restaurants, but it's so much more.
Take visiting there during spring, for example. The azaleas and dog weeds are in full bloom, and the hiking trails are inviting you to explore. The Appalachian foothills and Blue Ridge Mountains are close by. So you'll explore this city, but the outdoors will always have a greater call. From a historical perspective Atlanta also is where the Civil Rights Movement started, and Martin Luther King Jr. was born. Plenty then to get your travel teeth into.
So let's visit there during spring, and head out for a two-day exploration to see what Atlanta can offer, y'all!
Day 1
It's a beautiful Spring morning, the sun is shining, and the air is fresh. Starting the day with a coffee is a must as it's a loaded day ahead. So, with breakfast consumed, your first coffee drunk, it's time to head out and delve into what this city offers. Atlanta isn't short of stimulating attractions, so let's kickoff on a light note. We're heading for the World of Coca Cola. You might not get to learn the secret recipe, but you'll enjoy a trip into the world of this most famous drink. Away from the fizzy delights, other choices of a similar vein are the CNN Studio's tour or the College Football Hall of Fame. That's your morning filled.
The afternoon will take you to one of the most important places you'll visit during your time here. The National Centre for Civil and Human Rights is a compelling glimpse into the movement, and with the city being the birthplace of Martin Luther King Jr, you also can seek various key places around town associated with him. You'll also find there are many other Black heritage places to seek out, including restaurants, churches, lounges, and art galleries.
For an evening out, you have a wealth of options. There are theatres and musicals to see. And you're not short of music venues to ensure your evening is as exciting as the day tripping. Time to rest, tomorrow is going to be just as busy.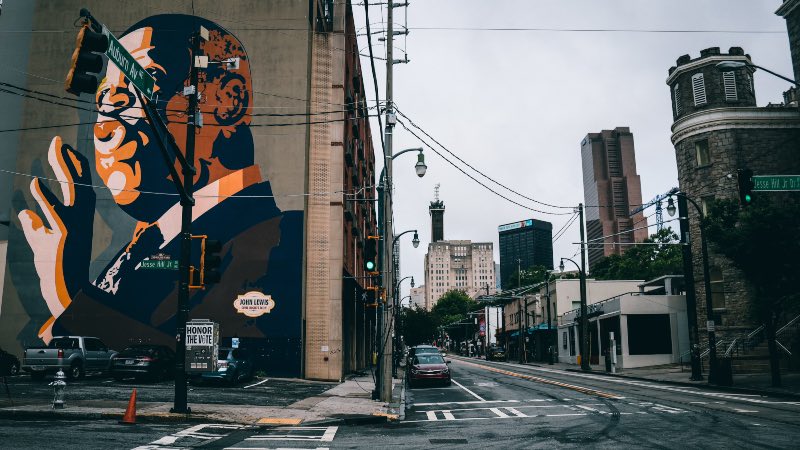 Day 2
How about a view to kick start Day 2? The Skyview Atlanta is a Ferris wheel with a view, so as long as you ok with heights, take a spin and play spot the buildings or just appreciate the views. Then it's onto the Georgia Aquarium for a dive into the deep sea. There's Atlanta Zoo too if you prefer staying above the water!
The afternoon is for visiting the Atlanta Botanical Garden. A stroll among the plants is just what's needed. Or you could, of course, head for a picnic in a park. Atlanta is called the city in the forest, so you have lush parks and green spaces to discover. Piedmont Park is a good option if you are stuck for one. Close to Atlanta, if you have time, is Stone Mountain.  It's 3,200 acres of outdoor fun and depending on when you visit there is always something to celebrate, such as Pumpkin festival and Fantastic Fourth Celebration.
Top tip: Book yourself an Atlanta city pass and you're saving yourself money, and getting into many of the attraction's we've mentioned.
Atlanta is a forward-thinking, ever-changing city. With its historical roots and natural scenery, you have a top-rated destination. Explore the coty, but I'm sure the pull of the wild will be to great. What are you waiting for? Time to visit.